Investec Corporate and Investment Banking UK sponsors Outside In, a charity that provides a platform for artists who face significant barriers to the art world. Through training, support and opportunities it promotes a sense of entrepreneurialism among artists, which closely aligns with our own values.
About the charity
Founded in 2006 by Marc Steene at Pallant House Gallery, Chichester, Outside In aims to provide a platform for artists who face a significant barrier to the art world due to health, disability, social circumstances or isolation. 
 
In 2016, following celebrations to mark the project's highly successful first decade, Outside In became an independent charity. In 2017, Outside In joined Arts Council England's National Portfolio.
 
Since its inception, Outside In has engaged with more than 5,000 traditionally excluded artists. It has held more than 50 exhibitions to date and now provides opportunities and support for more than 2,600 artists.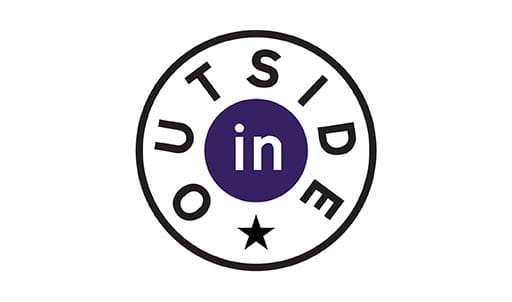 Since Outside In's inception:
250,000
audience members reached
80
partner organisations gained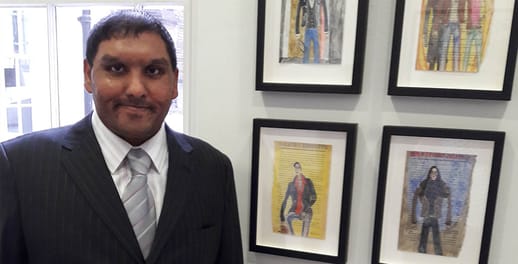 Rakibul Chowdhury
A visit by Outside In's director and founder Marc Steene to the Art Invisable studios in Havant led to many of the artists there joining the charities online galleries. Among them was Rakibul Chowdhury who signed up in July 2017, a decision which would go on to change his life and see his work shown at exhibitions in both Paris and London's Mayfair.
Debbie Lyall, managing director of Right to Work CIC which runs the Art Invisible sessions he attends in Havant, explains: "Art provides a wonderful platform on which Raki can express himself. It also provides a tranquil and productive environment which has enabled him to develop his artistic skills and manage his behaviour."
 
Adding that Raki has gained "immense enjoyment and satisfaction" from his work and that his self-esteem and confidence have grown, Debbie admits "now Right to Work's team stand back in awe when he approaches people to shake their hands and introduce himself."
"When he makes the approach to thank people for the opportunities he's being given, this is not the Raki that first came to us four years ago."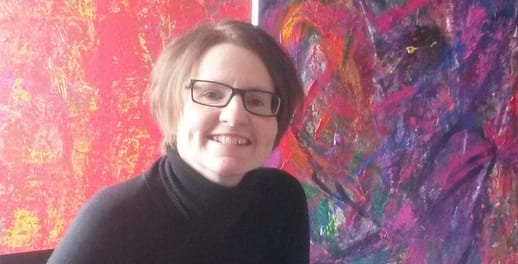 Catherine Reed
Painter and mixed media artist Catherine Reed joined Outside In after a recommendation from a family friend.
"I don't come from a traditional art background so found it hard to break into what is described as the art world," she explains. "I sought advice from many sources and it was curator Laura Hamilton, who has worked with Outside In previously and had exhibited with my mum at Collins gallery Strathclyde University, who suggested Outside In as an excellent resource for artists like myself."
 
As a result, Catherine – who started her own artistic practice as a means of healing after a breakdown - signed up for an artist gallery in July 2017 and says she finds it to be "a great platform" as well as having an ethos and values that she "finds a connection with."
 
In January 2019 Investec purchased her artwork Mountain Snow Storm, something Catherine describes as having been "a huge boost to me and evidence of what being part of charities like Outside in can achieve for all involved."

Headline image: Mountain Snow Storm by Outside In artist, Catherine Reed.