Ranking
22nd on Sunshine Ladies Tour
14th in SA
43rd in Investec Order of Merit
Highlight of career
Representing South Africa seven times 
When did you start playing golf?
What is the goal for 2023?
I want to go to Q school so that I can qualify to play golf internationally and also to improve my ranking in the country. I intend on achieving these goals by putting and maintaining structures for improving my mental and physical well-being and playing as many tournaments as possible to gear up for Q school.
How has your golf career progressed?
I started playing golf on a soccer field back in Mdantsane (East London) where I was born and raised. When I started, I was part of the South African Golf Development Board. 
Everything changed in 2015 when I joined the Ernie Els & Fancourt Foundation and Women's Golf South Africa. That's when I learned the importance of the mind in this game, and also I could play all the tournaments I wanted to play.  As a result that year I went from being number 42 in the Country to number 3 in 11 months. 

Turning professional has always been one of my dreams I was just waiting for the right time, and 2021 was the right time for me. 
Your most challenging moment in 2022?
The most challenging moment was losing my mentor and friend,  Mandy Adamson to cancer.
What did 2022 teach you?
2022 taught me how to overcome mental blocks that influenced how well I played and it taught me patience with my growth in the game of golf.
If you could go back and speak to your 12-year-old self, what advice would you give her?
Appreciate that you are perfect just the way you are. 
Where do you see yourself ten years from now?
I see myself playing amongst the best players in the world and holding my own. Ideally, I want to be number one! One of my dreams is to give back to the game of golf because I believe if it wasn't for the support I have received when I started to this day I wouldn't be where I am right now. 
What advice would you give young women who want to make a profession of playing golf?
I believe a great golfer works hard and is committed and persevering. I have applied this to my game and it has helped me. Anything is possible as long as you put your mind to it and Just keep going eventually things work out. I'm a great example. 
What do you believe can be achieved in the South African women's golfing fraternity through Investec's sponsorship of the South African Women's Open?
It is an excellent opportunity to grow women's golf in South Africa and abroad. 
Best book
"The five love languages" - by Gary Chapman

How do you cope with nerves?
Take a deep breath and say positive affirmations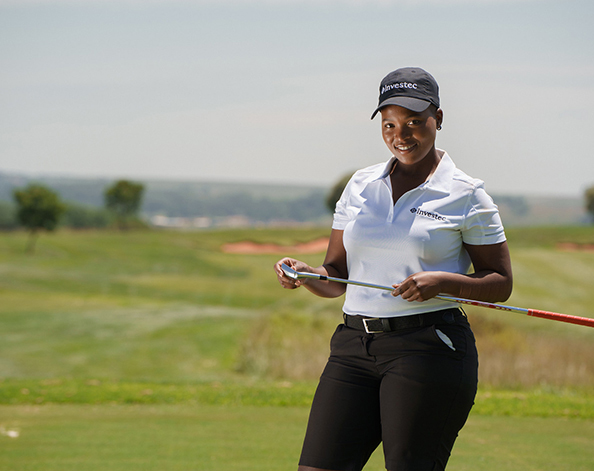 Zethu Myeki, Investec sponsored golfer
As a young girl from Mdantsane in the Eastern Cape, I was able to follow my dream of being a professional golfer. I haven't achieved all my goals yet but I know with hard work, determination and patience, I can achieve anything I put my mind to.
How did your upbringing shape who you are today?
I have come from a previously disadvantaged position, but this has not deterred me from following my dreams and ambitions in life.  I regard myself as someone with a positive attitude and driven to be the best person and golf player I can be.  I am a very resilient person and always willing to learn.  My strongest trait in life is that I am a good problem solver and decision-maker, which I believe has helped me in my life in general and in my golf game.
What's the one improvement or change that you would like to make in the game of golf?
For the prize fund to be equal to our male counterparts. 
How do you keep a healthy balance between your personal life and your career?
I have a schedule and routines that I follow consistently.  From Monday to Friday I play golf. And I go to the gym every morning. Saturday I play with members and Sunday is "me time."
If you could play the last round of golf in your life with anyone, who would you choose? 
Ernie Els, as he has done a lot for the golfing industry and I admire him.
What do you enjoy most about being a professional golfer?
I get to do what I love for a living. Not a lot of people can say that! 
If you weren't a golfer what would you have become and why?
A doctor because I am passionate about helping people.