Our Current Account Switch Service makes it easy for you to switch from one bank to another. Because we understand that you lead a busy life, we've made it refreshingly simple.
Easy transfers

We'll transfer any existing balance plus all existing outgoing and incoming payment arrangements for you. This includes direct debits, standing orders and payees you have already set up, as well as any regular payments you receive, such as your salary.

Switch on your terms

You can choose a switch date that suits you and you won't have to contact your present bank. We'll sort everything for you, free of charge, in just seven working days.
How to switch
Complete a Current Account Switch Application within your Investec Online Profile
Submit a Current Account Closure Instruction Form to authorise your old bank to close your old account
Agree a switch date that is at least 7 working days from the date of application
Relax as Investec manages the switch (you will be contacted if there are any payments that cannot be transferred).
Continue to use your old account until your switch date.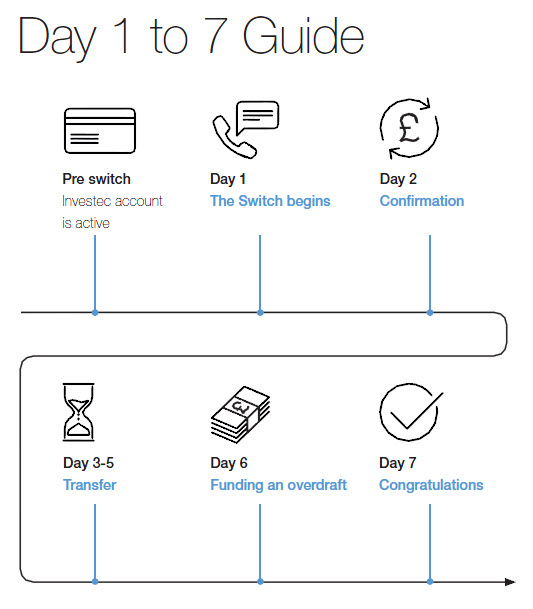 How it works
Day 1: The Switch begins
Investec makes contact with your old bank to arrange the switch.
Day 2: Confirmation
Investec will let you know when your old bank has received your request. Investec will then start transferring your payments to your Investec account.
Day 3-5: Transfer
It'll take a couple of days to switch over your payment arrangements, and make sure your Investec account is ready for the switch date.
Day 6: Funding an overdraft
If you're clearing an overdraft at your old account, you'll need to make sure there are enough funds in your Investec account to cover the transfer.
Day 7: Congratulations
Your switch is complete.
Your payments (such as direct debits, standing orders and bill payments) will have all been transferred to your Investec account. Your old account balance will have been transferred and your old account closed.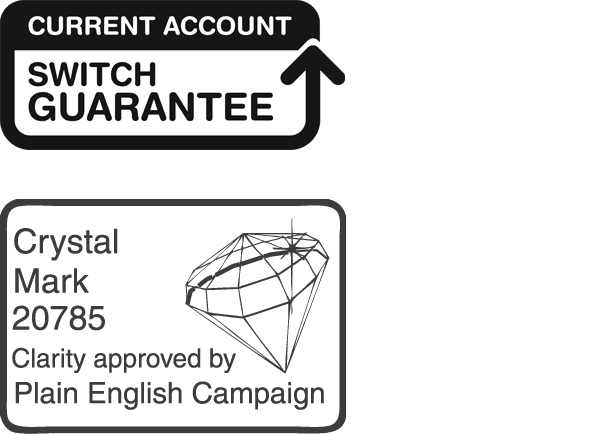 Current Account Switch Guarantee
We have designed the Current Account Switch Service to let you switch your current account from one bank or building society to another in a simple, reliable and stress-free way. It will only take seven working days. As your new current-account provider we offer the following guarantee. 
The service is free to use and you can choose and agree your switch date with us. 
We will take care of moving all your payments going out (for example, your direct debits and standing orders) and those coming in (for example, your salary). 
If you have money in your old account, we will transfer it to your new account on your switch date. 
We will arrange for payments accidentally made to your old account to be automatically redirected to your new account. We will also contact the sender and give them your new account details. 
If there are any issues in making the switch, we will contact you before your switch date. 
If anything goes wrong with the switch, as soon as we are told, we will refund any interest (paid or lost) and charges made on either your old or new current accounts as a result of this failure.
Client Eligibility
If your new bank or building society agrees, bank accounts that include an arranged overdraft can switch using the Current Account Switch Service. And if you'd like to have an arranged overdraft with your new bank account, speak to your new bank or building society before starting your switch. Your new bank or building society will be able to advise if you're eligible for an arranged overdraft, dependent on their lending criteria and your credit status.
Do you want to join a private bank that gets you?
If your old bank is not a member of the Current Account Switch Service, you can use the Switching Service to switch your account from one bank or building society to Investec.
We are here to help
Speak to a private banker

Call our dedicated Switching Team