How to return to work after a career break
Starting a new job after time out can be a daunting prospect, but support is available. As Investec launches its Return to Work programme, psychologist Rebecca Chaffelson answers six key questions about how to mentally prepare for a new chapter
Today, four talented women join Investec in essential roles in some of our fastest-growing business areas. They'll be stepping into positions in teams such as software engineering and working at the heart of our entrepreneurial culture.  
 Like all of our people, these women come from different backgrounds and have different professional skills – we actively recruit people with fresh ideas that can bring energy to Investec and help us drive the business forward.
However, what unites these new starters is that they have each joined us after a career break of more than two years. In some cases, this will be their first position in more than a decade.
The Investec Return to Work Programme is a six-month scheme that consists of real responsibility, mentoring, and learning opportunities, with a view to a permanent job offer. It is open to male and female applicants. Throughout the scheme candidates can receive coaching from our partner Women Returners, as well as a range of health and wellbeing benefits.
"We're delighted that these high-performing women have decided to re-join the workforce with us," says Mel Punch, head of careers. "We were very impressed with the standard of applications, which was incredibly strong.
"We always look for people who bring different life experiences to our work and have a passion for what they do."
Research shows just under half of all women who take career breaks want to return to work specifically for personal fulfilment and enjoyment – it's not just about gaining a salary. But it can be a challenge for anyone to start something new.
With this in mind, we asked Rebecca Chaffelson, an in-house psychologist at Investec – who is on-hand to support all of our employees – to tell us more about how to make the most of new career opportunities in 2020. 
1. In the right role, what are the psychological benefits of having a job you enjoy?
Rebecca: Meaningful and enjoyable work is known to have a multitude of benefits, from improved well-being and enhanced social status to increased access to resources, personal development and a greater sense of autonomy.

In an extensive survey with women who were returning to the workforce, 43% cited the enjoyment and satisfaction they derive from their careers as an important reason to return to the workplace after a career break.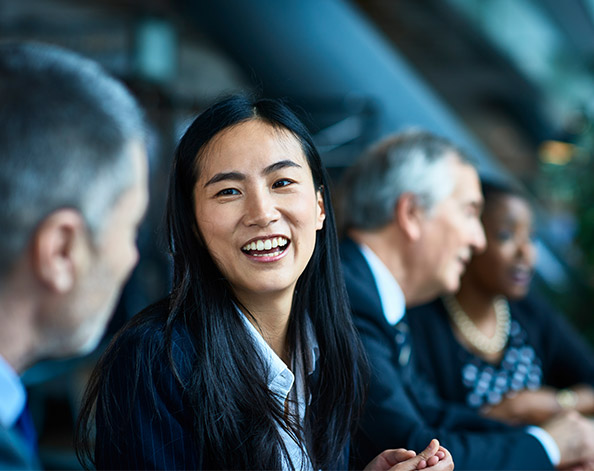 Rebecca Chaffelson, psychologist for Simplify Health at Investec
Forty-three per cent of women said the enjoyment and satisfaction they derive from their careers was an important reason for returning to work after a career break.
2. Are there techniques we can use to learn new skills?
Rebecca: Techniques to learn skills are often specific to the skills themselves. However, what underpins the ability to grow and develop is having a 'growth mindset'. Individuals with a growth mindset believe their talents can be developed through hard work, good strategies, and support and input from others. Through a growth mindset a love of learning is developed, and people are often more resilient to the challenges of the workforce.
3. What kind of workplace culture can support learning and development?
Rebecca: Organisations must have a growth mindset too. They need to support collaboration and innovation, which in turn ecourages learning and development. Workplace cultures that give employees a sense of autonomy and purpose are best for personal development as they support people's intrinsic motivation at work.

4. If you've been out of work for a while, how can you work 
out what role or team might suit you?
Rebecca: When working out what role or team might suit you it's helpful to reflect on the previous roles you have had (in and outside of work) to uncover what you loved and what you are best at doing.
Sometimes people find their skills and interests have changed so it's important to re-assess what you want to do and what you want to get from work.

5. Returning to work after a break can make anyone feel nervous. What advice would you have for anyone looking to start a new job?

Rebecca: Plan for how you want the experience to look: set specific goals and think about how you can reach them.
Try not to compare yourself to others or you will waste valuable energy worrying about them when you could be focused on yourself. Finding joy and performing at your best is not related to other people's experiences. 

6. How can we make the most of new opportunities?

Rebecca: Be ready for them! Studies show that your expectations help direct your attention. This means that if we believe that opportunities are out there, we are more likely to spot them when they arise. Having a clear goal and an understanding of the steps needed to reach that goal can mean that we are better prepared to respond to opportunities linked to these goals.
Rebecca Chaffelson is a psychologist for Simplify Health, a support service available to employees of Investec. 
Find out more about Investec Careers
See more stories from Investec