In our latest GP Trends survey, it is revealed just under 40% of general partners (GPs) are actively managing currency exposure.
Of those actively managing FX risk, larger funds – those with more than $1bn of committed capital – are more than twice as likely to manage the FX risk associated with buying and selling foreign currency assets than their smaller counterparts – those with less than $250m of commitments.
It could be that larger fund managers are more likely to have a multi-geography remit, while smaller funds focus investment activity in the region where the fund is domiciled. 
However, the conversations we are having with GPs suggest that some smaller managers may be neglecting FX risk management. Not because of a lack of FX exposure, but because of a lack of time and resource, as well as concerns over the potential impact on capital.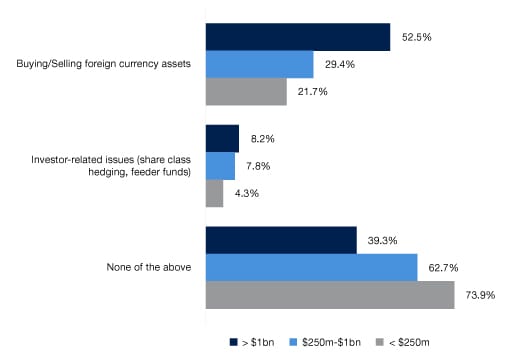 Hedging needn't be a drag
FX risk management can be a drain on capital, deterring smaller managers from hedging. Typically, banks request collateral upfront and on an on-going basis, for most types of hedges that are available to GPs, consequently creating a cash drag.
It is also likely that a fund will have to amend their delivery date of a hedge – either moving the contract expiry further out or bringing it in. Amending the delivery date of a contract can lead to an inefficient use of capital, particularly if there is a negative mark to market to settle prior to any change being possible.
In the right circumstances we may be able to offer uncollateralised hedging lines. These lines may be secured against LP commitments or NAV of the underlying portfolio for example…they may also be unsecured.
Capital efficiency is paramount, of course, particularly for smaller managers, which may have recently launched or spun out. The pressure to deliver on returns in order to secure future fundraisings is intense. And locking up cash in FX hedging tools, simultaneously earning no return, can be a cost too far - not to mention the administrative burden of having to find spare cash at short notice if your FX counterparty suddenly requests variation margin.
But there are alternatives. In the right circumstances we may be able to offer uncollateralised hedging lines. These lines may be secured against LP commitments, the NAV of the underlying portfolio or future distributions from the fund. Equally, they may be unsecured, uncollateralised lines. 
The key here is that we give headroom on a hedging facility so that we don't need to ask for capital upfront to book the contract and, with that headroom, we can reduce the chance of calling for variation margin should those positions become out of the money.
Where an uncollateralised FX hedging facility is available and the circumstances are deemed appropriate, Investec may be able to amend the maturity dates on hedges, without the burden of these cash flow implications.  This would be achieved through the consolidation of the original hedge into the new hedge rate and rolling the deal to new maturity date.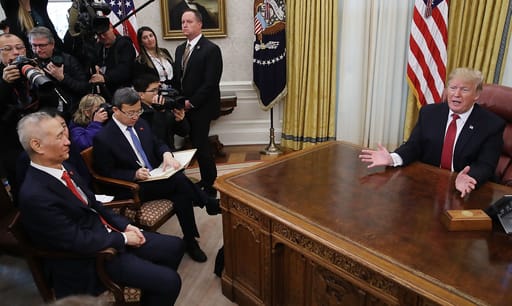 Trade tensions continue between the US and China contributing towards FX volatility. 

Protecting returns
As the future of Britain's relationship with Europe hangs in the balance and trade tensions continue to escalate between China and the US, it seems the potential for increased FX volatility has never been higher.
The reality, however, is that FX volatility is a constant. Analysis of EUR/USD, the most commonly traded currency pair in the world, shows annual swings of between 20% and 30% over the past 18 years.
If you consider that between 2010 and 2015, median IRRs in the private equity world remained flat at around 14%, it is only too easy to see the potential implications of being caught unhedged, even if your exposure is small.
The fact that the larger private equity funds are twice as likely to be hedging FX than the smaller funds is significant. These firms, which have often grown over successive funds and multiple decades, recognize the importance of protecting returns from unpredictable currency fluctuations.
While their exposure may be greater, so too, is the financial and administrative machinery behind them. But for smaller managers, with more limited resources, the need to manage FX risk can be just as great.
Uncollateralised hedging lines and the ability to roll hedges in a simple and cost-effective way, makes FX risk management accessible to every GP, whatever the size of their fund. Currency volatility is a universal risk and currency risk management should be a priority for all.
The fact that the larger private equity funds are twice as likely to be hedging FX than the smaller funds is significant. 
It isn't only asset-related FX hedging that general partners need to consider: overseas investors are also susceptible to FX movements. Offering feeder funds or share class hedging to potential limited partners can broaden a managers' investor base by handling hedging for them.
Just under 11% of GPs are currently hedging on behalf of investors, our GP Trends survey showed, falling to 7% of GPs with a fund size of less than $250m.
The evidence demonstrates that fundraising is tougher for smaller vehicles – $1bn-plus funds represented 62 per cent of the total raised globally last year, according to Preqin. The pressure is on for smaller managers, who should be doing everything they can to make their funds more accessible.
 
Offering share class hedging to non-base currency investors can help make an investment commitment more appealing. Investor hedging is something that all managers should seriously consider.
Please note: unless stated, all data is derived from the Investec GP Trends report 2018/19. 
Highlights from the 2019 Investec GP Trends report
Related articles on business growth