UK equities registered a positive month in July - the FTSE All-Share rose by ​​2.5%​ - following a better than expected improvement in inflation in the UK. However, both PMI and consumer confidence data continued to support the fragility of current economic conditions.


Despite being a relatively quiet month, July witnessed one the biggest IPO of 2023 as CAB Payments was admitted to trading onthe London Stock Exchange at the beginning of the month. CAB Payments' £291m offering was entirely a secondary selldown of shares held by Helios Investment Partners.


UK focussed equity funds continue to see redemptions, with July marking the 26th consecutive month of outflows.


UK public M&A quietened down significantly following a one of the busiest months of 2023.


July's key market drivers
UK inflation surprised on the downside coming at 7.9% (Y/Y) in June, significantly below consensus estimates of 8.2%.

UK house prices dropped 3.5% YoY in June, beating economists' expectations of a 4.0% drop.

The UK economy contracted by 0.1% on the month in May compared with consensus estimates of a 0.3% fall.

UK consumer confidence dropped from -24 in June to -30 in July, the largest drop since the beginning of 2022.

UK composite PMI fell by 2.1 points in July to 50.7, the lowest point in six months. Services and Manufacturing PMI fell to 51.5 and 45 respectively.

The Federal Reserve raised its benchmark interest rate by 25bps to a target range of 5.25%-5.50%, the highest level in 22 years.

US inflation dropped from 4.0% in May to 3.0% in June, beating analyst expectations of 3.1% and marking the slowest rate of inflation since March 2021.

Annual inflation in the eurozone slowed for a third month in June to 5.5% from 6.1% in May.

Global equity market performance & equity market volatility

Source: Bloomberg, FactSet, Macrobond, Calastone
 
Inflation continues to slow across key geographies, except Germany


Source: Bloomberg, FactSet, Macrobond, Calastone
UK focussed funds have experienced twenty five consecutive months of outflows


Source: Bloomberg, FactSet, Macrobond, Calastone

Sector performance drivers and outlook commentary
After posting double digit losses last month, Household Goods stocks, which includes UK housebuilders, and Real Estate stocks gained significant ground as jitters in the housing market stabilised, following the release of better than expected house price data and HSBC cutting its fixed-term mortgages by as much as 0.35%.
Decreasing consumer confidence contributed towards this month's drop in General Retailers stocks. Consumer confidence registered its first drop since the beginning of the year as the rising cost of borrowing and high prices worsened consumers' view of the personal finances and wider economic prospects.

Sector performance (Year to date)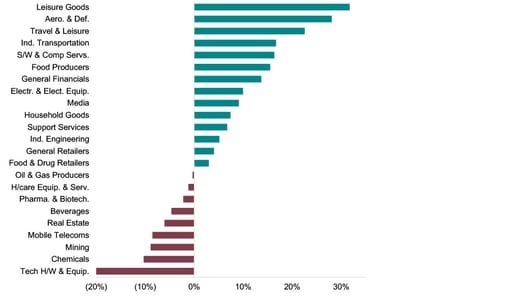 Source: FactSet, Financial Times, Investegate, ONS, Investec Economics
 
Sector performance (July 2023)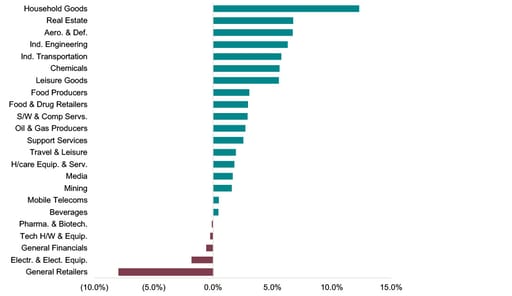 Source: FactSet, Financial Times, Investegate, ONS, Investec Economics

UK ECM activity slows down in July
Deal value continued to lost ground over July after a sluggish June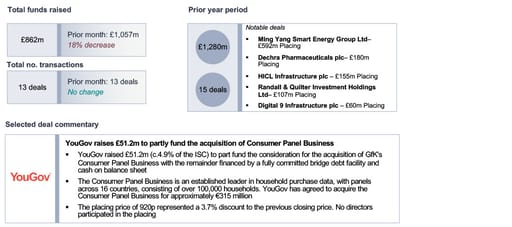 Public equity fund-raises by sector and highlighted deals

Sell-down activity over July

ECM issuance across the deal size spectrum in July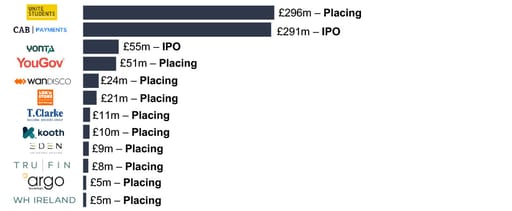 Source: Dealogic. Analysis and commentary only includes transactions greater or equal to £5m, and only includes transactions involving an issue of new shares i.e. primary share issuances.

A snapshot of the current UK public M&A market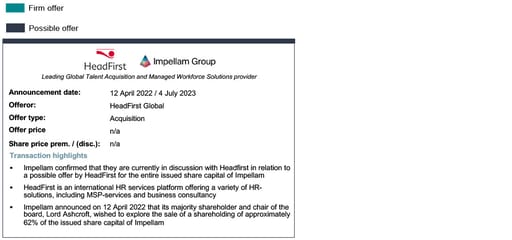 Source: Company announcements, FactSet, Practical Law
Download the report in PDF
Get the monthly Investec Market Review delivered to your inbox
More insight from Investec