This section of our website is for Financial Advisers
This page and the others in this section are only appropriate for Financial Advisers or IFAs and are not suitable for individual investors. If you are an individual, or private investor, please visit our Private Client Wealth Management section.

By proceeding via the button below, you confirm that you have read and agreed to the Investec.com terms and conditions and you are not a US person.
During a career spanning more than 20 years, photographer Fiona Freund has amassed a vast trove of images. Her enviable CV includes glamorous portraits of film stars such as Daniel Craig; features for stalwarts Vogue and The Guardian; and quirky shoots for satirical fashion magazine Blow.
Freund's most recent work, however, is a more serious statement of culture and values.
CorporateQueer depicts LGBTQ+ individuals in a range of environments, including their workplaces, and takes the form of an exhibition and book, which has been sponsored by Investec. With the images, Freund invites audiences to consider the ongoing importance of LGBTQ+ representation in business and to champion the diversity of the modern workplace, at a time when 20% of LGBTQ+ people do not disclose their sexuality to their colleagues, and up to 70% experience some form of sexual harassment at work[1].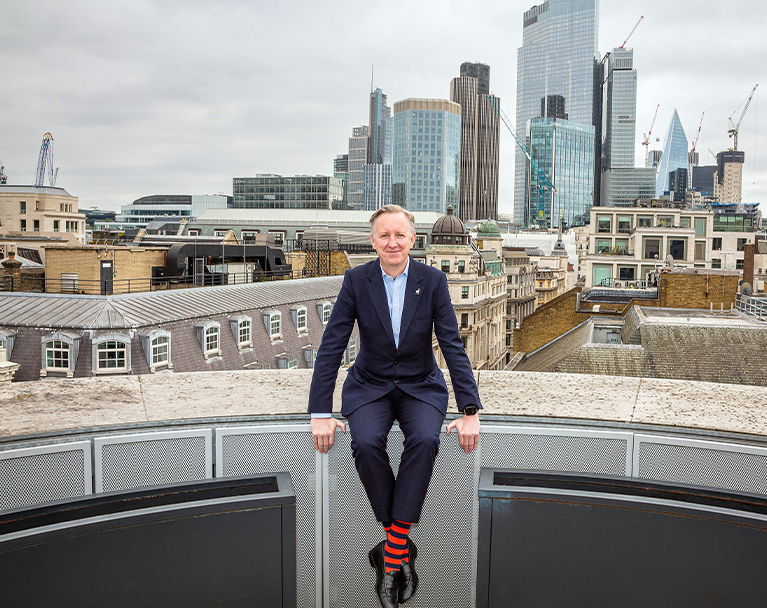 The exhibition champions diversity in the workplace and advocates for LGBTQ+ inclusion.
Being part of a world where I'm able to be campaigning and shouting about key issues with my work is truly special.
The settings of the photographs were chosen by the sitters themselves, and include offices, homes, studios and parks. "I wanted to send the message that queer people exist – and belong – everywhere," explains Freund.
While the banking directors, IT consultants and security guards she photographed were less accustomed to being in front of the camera than a Vogue model, Freund says her subjects quickly got into the swing of things.
"Everybody under the age of 40 knows their good side," she laughs. "Some people do need a bit of direction, but if they're not comfortable I'll goof around a bit – I'm quite self-deprecating, and I'll talk to myself while I'm setting up the camera – that tends to relax people."
One of the series' more technically challenging shoots involved photographing a subject in an expansive glass atrium. Finding the right lighting was difficult, she says, and to complicate matters further, it was the sitter's first day at her new job.
"What was really lovely is that the subject actually came out to her dad through the exhibition," Freund says. "With this picture of her, on her first ever day at the office, posing in the middle of this huge office block and looking fantastic." 
Freund is now shooting new photographs for the series, featuring LGBTQ+ staff at Investec, where belonging, inclusion and diversity (BID) is a key strategic priority. "We're honoured to support – and feature in – this exhibition," says Investec's BID Lead Zandile Ndlovu. "The more conversations we can start about identity, the more we can truly understand and support our people and our clients, and help them achieve their goals."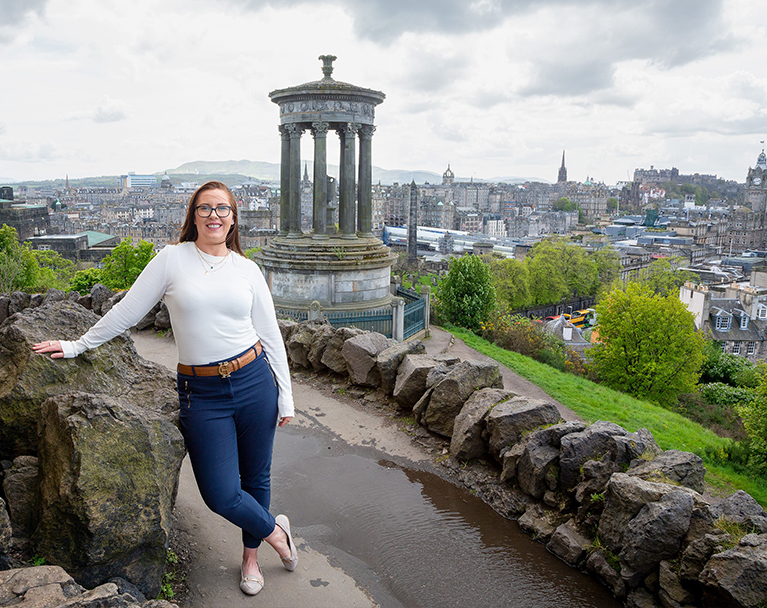 The exhibition is sponsored by Investec as part of its focus on belonging, inclusion and diversity.
An employer has to say to its staff, 'We really want you here'.
Freund has been on the road to Investec offices across the UK. "In Leeds, the shoot was with Danny, a guy who has the best 80s look. We also had a shoot with Joy, a wonderful woman who works for Investec in Liverpool," she continues. "She had just come in on a plane from South Africa that morning, and she met me at ten o'clock with her two daughters, who were running around her and waving the bisexuality flag. We had lots of fun."

Each image in the campaign is accompanied by text written by the subjects about their life experiences. The descriptions range from light-hearted recollections and hopes for the future to painful explorations of trauma. In one, activist Peter Tatchell recalls being arrested a hundred times at protests and demonstrations, and being imprisoned in the same cell that held Oscar Wilde. In another, ally and campaigner Hilary Lowe – who poses outside her church in her portrait – discusses the personal loss that drove her to become an advocate for LGBTQ+ rights.
"Hilary tells parents to have conversations and make sure their kids know that it's ok for them to be whoever they want to be," says Fiona. "And that's what CorporateQueer is about as well. We need to understand that it's not enough to not be homophobic. You have to be proactive. A parent has to say to their kids, 'Whoever you want to be is fine.' An employer has to say to its staff, 'We really want you here.'"
CorporateQueer photography exhibition, by Fiona Freund, celebrates the LGBTQ+ community and their allies and encourages employers to invite everyone to bring their whole self to work. The 100+ bright, bold, portraits and stories will be on show for Pride in London in Guildhall Yard, Gresham St, EC2, 24th June - 2nd July 2023. The exhibition is open every day and entry is free.

Images (from top):
Fiona Freund, Photographer and Curator of CorporateQueer
Iain Clark, Marketing Director, Investec Wealth & investment (UK)
Megan Craig, Paraplanner, Investec Wealth & investment (UK)

All images © Fiona Freund
Further news and insights
Important information
The information in this document is believed to be correct but cannot be guaranteed. Opinions, interpretations and conclusions represent our judgment as of this date and are subject to change. Past performance is not necessarily a guide to future performance. The value of assets such as property and shares, and the income derived from them, may fall as well as rise. When investing your capital is at risk. Copyright Investec Wealth & Investment Limited. Reproduction is prohibited without permission.

Award-winning solutions for financial advisers
Investec Wealth & Investment (UK) is a trading name of Investec Wealth & Investment Limited which is a subsidiary of Rathbones Group Plc. Investec Wealth & Investment Limited is authorised and regulated by the Financial Conduct Authority and is registered in England. Registered No. 2122340. Registered Office: 30 Gresham Street. London. EC2V 7QN.