The alarming weather conditions that have hit much of the northern hemisphere this summer have put a renewed focus on climate change mitigation and the race to meet global energy requirements sustainably.
Governments are making increasingly ambitious targets to reach net zero emissions. The UK is phasing out internal combustion engines by 2030 and mandating carbon neutrality among all businesses by 2050 (lest they lose the right to Government contracts). But questions remain about how far we've come, how far we must go, and how sustainable the path is.
Figure 1.11 The global weighted-average LCOE and Auction/PPA price learning curve trends for solar PV, CSP, onshore and offshore wind, 2010 - 2021/23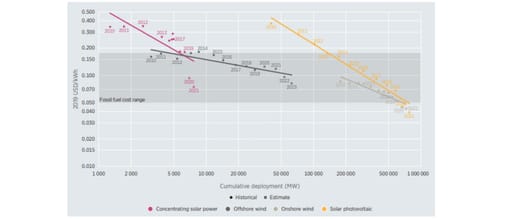 There is more good news in that global energy demand fell 4.5% in 2020, and carbon emissions from energy use fell 6.3%. But it must be noted that this improvement is, in part, due to the pandemic, so the challenge now is to carry this momentum forward as the economy recovers and grows. 
For context, the 2020 decline in carbon emissions will need to be repeated every year for the next 30 years for the world to meet its commitments under the Paris climate goals. Though there are reasons for optimism, this is quite a task.
The challenge of electrifying energy usage without incurring extra emissions
The gradual electrification of transport systems is a good example of the challenges we face. It represents a fantastic opportunity to reduce carbon emissions (particularly given this is a big slice of the overall emissions pie, as seen in the chart below). However, the manufacture of electric cars is five times more materials intensive than the manufacture of conventional vehicles, due to the array of different metals comprising the batteries . 
A potential issue, therefore, lies in the emissions associated with upstream mining operations and their fragmented, inefficient supply chains. Creation of battery cells might involve mining in Peru, processing in China, refinement of the battery material in Japan and, finally, deployment of the electric vehicle in the EU.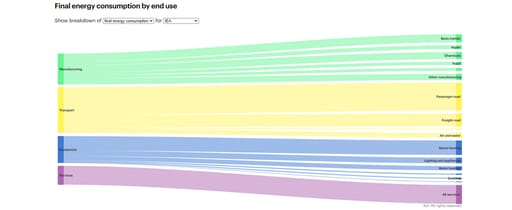 This is not intended to undermine the case for a sustainable energy transition, but it does raise questions over quite how this aim can be met and whether our proposed antidotes are as effective as we hope. 
The rapid deployment of clean energy technologies as part of energy transitions implies a significant increase in demand for minerals

Additional challenges in sourcing crucial commodities
Looking at materials, there are further issues regarding the quantity, location, and quality of resources, all of which must be overcome to reach a future with zero emission energy consumption.
The materials most critical to the energy transition are generally to be found in hard-to-reach, politically turbulent countries, such as the Democratic Republic of Congo, which currently accounts for more than 70% of the world's cobalt production (a key component of many batteries, see chart below.)
The cost of developing new mines is in many cases prohibitive and, in any case, the failure rate is extraordinarily high (estimates suggest only 1 in 3000 new mines ultimately achieving financial success.
Nevertheless, the pace of change being targeted internationally will have deep implications for commodity prices and technological changes in the decades ahead.
Production of many energy transition minerals today is more georaphically concentrated than that of oil or natural gas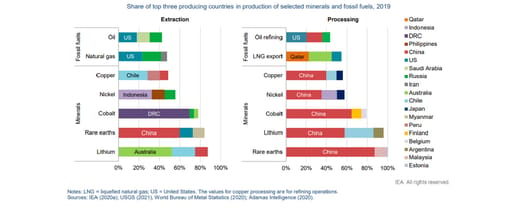 Investec Wealth & Investment (UK) is a trading name of Investec Wealth & Investment Limited which is a subsidiary of Rathbones Group Plc. Investec Wealth & Investment Limited is authorised and regulated by the Financial Conduct Authority and is registered in England. Registered No. 2122340. Registered Office: 30 Gresham Street. London. EC2V 7QN.