The climate crisis poses a great threat to the economy and society. To help address this, we work hard to reduce our operational environmental footprint, promote positive behaviour, and preserve biodiversity.
Sustainable action from within

Our environmental initiatives are coordinated and communicated by a group of Investec employees and contractors passionate about the environment called Team Green. The group is led by our sustainability team and contains 83 volunteers, across 22 of our offices including the UK, Ireland,  Channel Islands and Switzerland. Team Green
runs coordinated national campaigns as well as local events.


Award-winning initiatives

We're proud to set the bar high when it comes to environmental best practice. Our external recognition includes 16 consecutive annual Clean City Awards, from the City of London Corporation, for best practice in our waste management efforts, including three Chairman's cups, a Plastic Free Cities award, and a Communication and Engagement award for our internal campaigns.

Promoting sustainable operations

A business is only sustainable within a healthy natural environment, and we work hard to reduce our carbon footprint. Our operational environmental programme focuses on six key areas of sustainability: energy, waste, water, air quality, sustainable procurement and sustainable travel.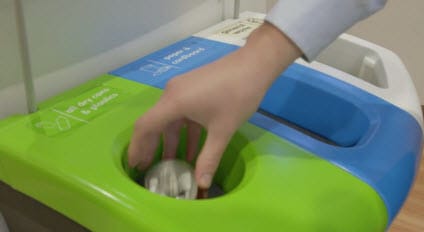 Managing our waste
Our mantra is to avoid producing waste at all costs – and we believe no waste should make it to landfill.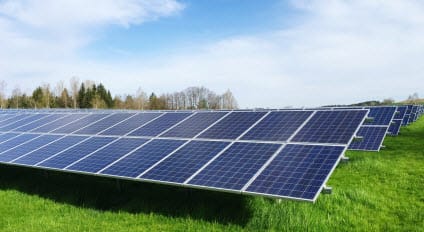 Reducing energy use
We're always looking at ways to reduce our use of energy.
Use of water
Water is a precious resource, and we strive to use it responsibly.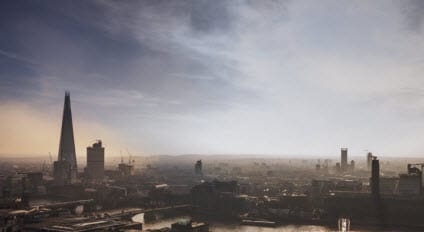 Air quality and travel
We invest in green and effective alternatives to business travel.
Managing our waste
Our waste policy is simple: no waste should make to landfill. Following the Waste Hierarchy, we recycle whenever possible and as a last resort. To do that, we first look at what we consume and how. We then do everything we can to source and promote reusable alternatives to disposable products. 
As an organisation, we've made significant progress since 2006 in reducing our waste streams, including single-use plastics in our UK head office in London, where we operate a zero-to-landfill waste policy. This includes both behaviour change initiatives targeting our people, and working collaboratively with our third parties. Our UK head office's waste management system has been certified to the Carbon Trust Waste Standard since 2014, when it scored a best practice management score of 85%.
Reducing energy use
We have smart meters installed in our offices to help us better measure and manage our energy use.  We first achieved international energy standard ISO50001 for our UK, Channel Island and Ireland offices in March 2018, and retain today. We also replaced our PCs with energy-efficient laptops.
Use of water
Water is a precious resource, and we strive to use it consciously across our offices. We installed the state-of-the-art toilet system Propelair, exclusively in our new London offices in 2018. Propelair uses 1.5 litres of water per flush compared to a standard toilet system that uses approximately seven litres.
We also run education campaigns in our offices, for example in support of World Water Day, to help our people save water at home too.
Air quality and travel
As employees return to work post-Covid, air pollution is on the rise with employee travel among its major causes. As a global organisation, our people need to travel regularly to meet client requirements. We invest, however, in effective alternatives to business travel, such as telepresence alternatives across our buildings.
We will continue to encourage and incentivise active travel among our colleagues through our cycle-to-work scheme and facilities, as well as promoting greener commutes to work through cleaner air walking routes and the use of public transport. We include our travel footprint under scope 3 of our annual carbon footprint. 

Some of our achievements
Net-zero
direct carbon emissions achieved by Investec Group since 2019
CDP B-list rating
awarded to Investec Group for our commitment to mitigate climate change
Carbon Neutrality
achieved carbon neutrality in Scope 2 (electrical energy) using renewable energy certificates for our plc offices
Environmental certifications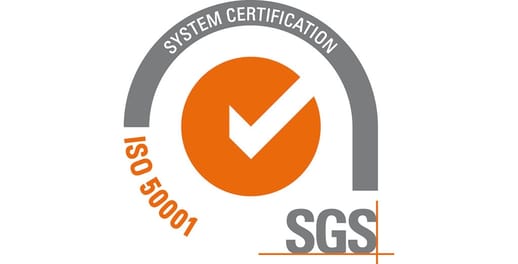 Investec's Energy Management System has been certified to the international energy standard ISO5001 in 23 of our UK, Ireland and Channel Island offices since 2018.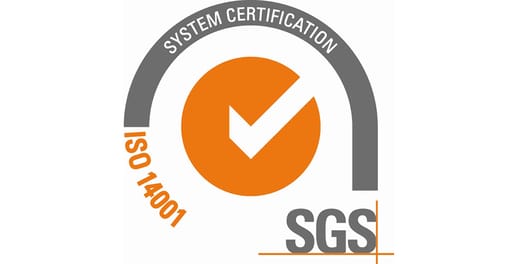 The Environment Management System which covers the operational aspects of 21 of our UK and Channel Island office buildings has been certified to the international environment standard ISO14001 since 2021 (London since 2012).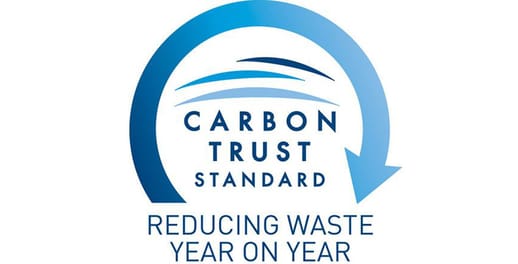 Investec Gresham Street has been certified to the Carbon Trust Waste Standard since 2014. This reflects a best practice approach to managing and reducing waste output and improving resource efficiency.

Recent awards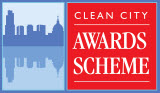 We won our 16th Award in the City of London's Clean City Awards. These prizes include the Chairman's Cup in 2006, 2013 and 2017, and Special Commendation Chairman's Cup for 2020.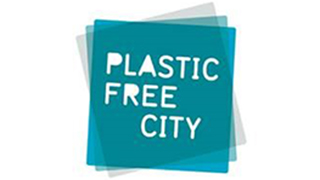 Investec London won the City of London Corporation's 2020 Plastic Free City award for our efforts in eliminating single-use plastics in our London offices.
Trees for Cities partnership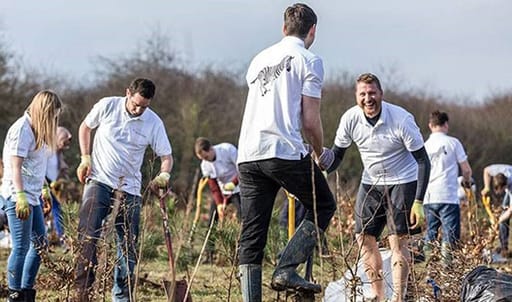 Trees for Cities delivers projects with both social and environmental impacts. They engage with local communities and schools to plant trees, shrubs and to grow food, helping to reconnect people who live in cities with nature. We first partnered with them in 2010.
Volunteers from our London, Manchester, Leeds and Reading offices regularly roll their sleeves up to improve their local environment with Trees for Cities.
In addition, we support the charity's Planting Healthy Air in Schools project, which helps address London's poor air quality around specific schools and the detrimental effects this has, particularly on children. The programme involves redesigning areas of the school playgrounds where air quality is particularly poor, including planting trees and other vegetation and creating woodland shelters and wildlife areas to help create greener, healthier playgrounds for play and outdoor learning.

Volunteering during the Covid-19 pandemic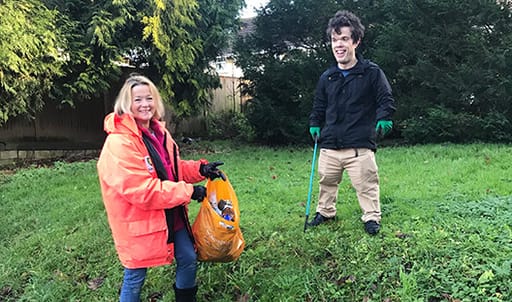 As an alternative to in-person volunteering during the Covid-19 pandemic, we launched a programme that gave home-based, safe and inclusive volunteering opportunities to our UK colleagues. These opportunities focused on reconnecting our people with their local communities to create a lasting positive impact. 
These included offering colleagues mini allotment packs to grow plants and vegetables at home, inviting colleagues to undertake litter picks in their local areas, and encouraging colleagues and their families to become citizen scientists by collecting data and photos of plants and animals on behalf of the Centre for Ecology and supporting the National History Museum's Project Plumage programme by contributing to the analysis of rare bird species.
Protecting our wildlife

Our global approach to conservation aims to protect critically endangered species and the environment they inhabit. 
Our projects aim to uplift vulnerable communities living alongside national parks and reserves, promote a clean environment through carbon-reducing initiatives, and combat illegal wildlife trafficking, using our business systems and resources.
Hawk Conservancy Trust partnership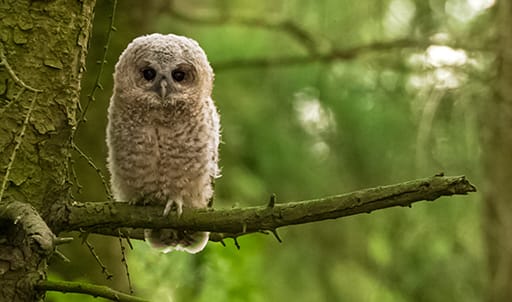 In the UK, we focus on the rescue, rehabilitation and release of birds of prey through our partnership with the Hawk Conservancy Trust (HCT) in Hampshire. We also work closely with our team in South Africa to rescue vultures via poison response training and equipment in Southern Africa through the HCT and the Endangered Wildlife Trust.
We work with the HCT on creating new opportunities to inspire future generations of conservationists by working with local schools, and on understanding the wellbeing and health benefits of engaging with nature.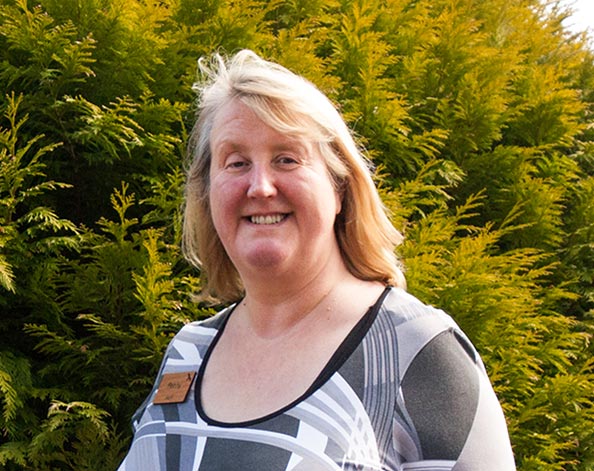 Penny Smout,

Chief Executive, Hawk Conservancy Trust
It's an honour to work alongside Investec, who's shown real leadership in sustainability and conservation, in the UK and in South Africa. We share a common goal to create a lasting positive impact for birds of prey, their habitats, and also our own species, by getting people closer to nature.
Conservation efforts in South Africa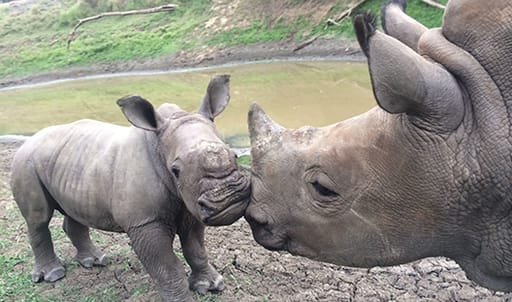 Investec's heritage fuels our passion to ensure the continued existence of African species. 
We do this by partnering with specialist and trusted NGOs through Investec Rhino Lifeline.
Since Investec acted to save the African rhino from decimation in 2012, we have supported the rescue and rehabilitation of dozens of rhino orphans, raised awareness with millions of people internationally, reached thousands of children in South Africa with conservation learning, and provided conservation learnerships to hundreds of young people through the Youth Employment Service (YES). 

We believe that investing in biodiversity and inclusive conservation is vital to sustaining our rich wildlife and will lead to a better future for us all. 
Download our policy statements and reports
Group environmental policy and climate change statement
PDF
319.97 KB
Project grants for charities
Outside our partner organisations, we support small to medium charities through small project grants. If you represent a charity that works in our focus areas – education, entrepreneurship and/or environment – and are local to one of our offices, you can apply for a grant. Please read the full criteria below to find out more, and get in touch.
You may also be interested in:
Supporting our communities
Our award-winning community programme focuses on education, entrepreneurship and the environment. 
Investing in our people
It's the passion and dedication of our people that enables us to deliver superior client service and value for stakeholders.
Operating responsibly
Our business decisions are driven by our values and the intention to live in society, not off it.