Demand Reduction
Getting to the source of the problem
We recognise that demand reduction is vital to winning the war on poaching. Investec is one of only a handful of corporates working in both the supply and demand side of the crisis. By leveraging our international brand and presence, we raise awareness in the key rhino horn consumer countries of China and Vietnam.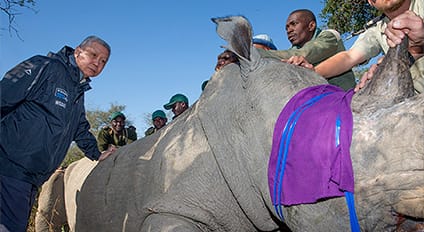 Chinese celebrity Mr Ma Weidu's first glimpse of Africa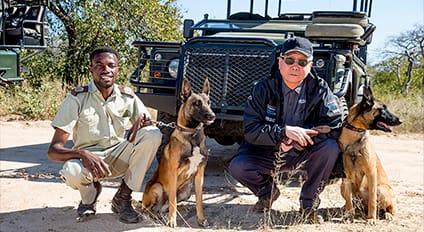 Tracking dogs trained to sniff out poachers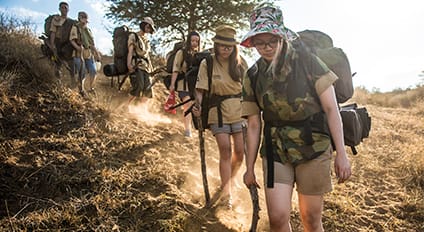 Vietnamese teenagers get a taste of the wild
Chinese celebrity Mr Ma Weidu's first glimpse of Africa
WildAid ambassador Mr Ma Weidu experiences first-hand the darting of a large male rhino. During the experience he said, "In my wildest dreams, I never imagined I would touch a rhino. It's an incredibly moving experience to see such a powerful animal so completely vulnerable."
Tracking dogs trained to sniff out poachers
Mr Ma Weidu spent time with our partner HESC to see the K9 anti-poaching unit and learn how they are trained to track poachers.
Vietnamese teenagers get a taste of the wild
Investec Rhino Lifeline previously partnered with Wilderness Foundation and PeaceParks to bring Vietnamese students to South Africa to learn about rhino and the need to preserve our wildlife and environment.
Our partners in demand reduction:
WILDAID
In May 2017 we partnered with WildAid, a global environmental organization in a unique position to impact on the rhino crisis. WildAid's mission is to end illegal trade in wildlife in our lifetimes, by using influential ambassadors and awareness campaigns.
WildAid is registered in the United States, U.S. Service Mark Registration No. 2.448.907

HESC
Investec Rhino Lifeline partners with HESC in both rescue and demand reduction. In June 2017 they hosted Mr Ma Weidu on the WildAid initiative, and in the future they'll be working with us to host Chinese youth on educational trips, to learn about rhino poaching and wildlife conservation.
HESC is a project of the Wildlife Conservation Trust, IT586/2015 (G) PBO 930 049 115

Cathay Pacific
Cathay Pacific Airways partnered with WildAid and Investec Rhino Lifeline to bring Mr Ma and his team safely to South Africa. Cathay Pacific are very supportive of our demand reduction strategy and publicly state that they carry no animal trophies in their cargo.

WildAid and IRL bring Chinese influencer to SA 
In June 2017, Investec and WildAid, with the support of Cathay Pacific Airways and HESC, brought Chinese celebrity and WildAid ambassador, Mr Ma Weidu to South Africa, for an authentic bush experience and to see rhino in the wild. Mr Ma is an eminent antique collector in China, with a number of private museums, his own online talk show and a following of almost 63 million online viewers. He joined WildAid in 2016 as an ambassador to send the message to collectors to stop buying all ivory products, and is now assisting WildAid with their rhino campaign. With Mr Ma's influence and extensive following, and the combined reach of WildAid and Investec, we can reach millions of people with the message, "When the buying stops, the killing can too."
'As long as there is demand for rhino horn we will never be able to truly solve the poaching crisis.'
Steve Blake, WildAid

Vietnamese Youth Campaign
In 2015, Investec Rhino Lifeline partnered with Wilderness Foundation and PeaceParks in their demand reduction programme. This included an awareness campaign in Vietnam and a week long bush experience for 22 Vietnamese teenagers who were exposed to nature, conservation and all elements of rhino poaching.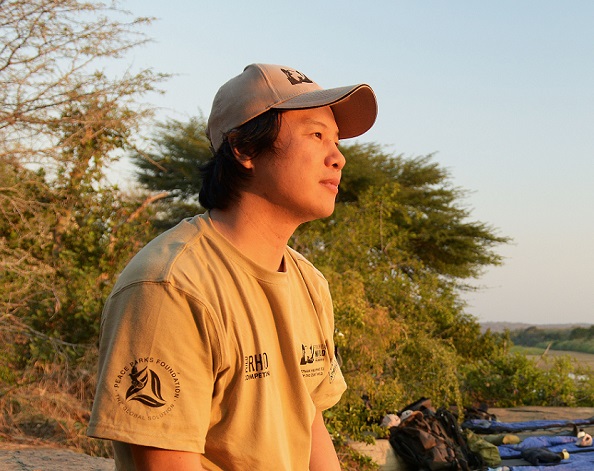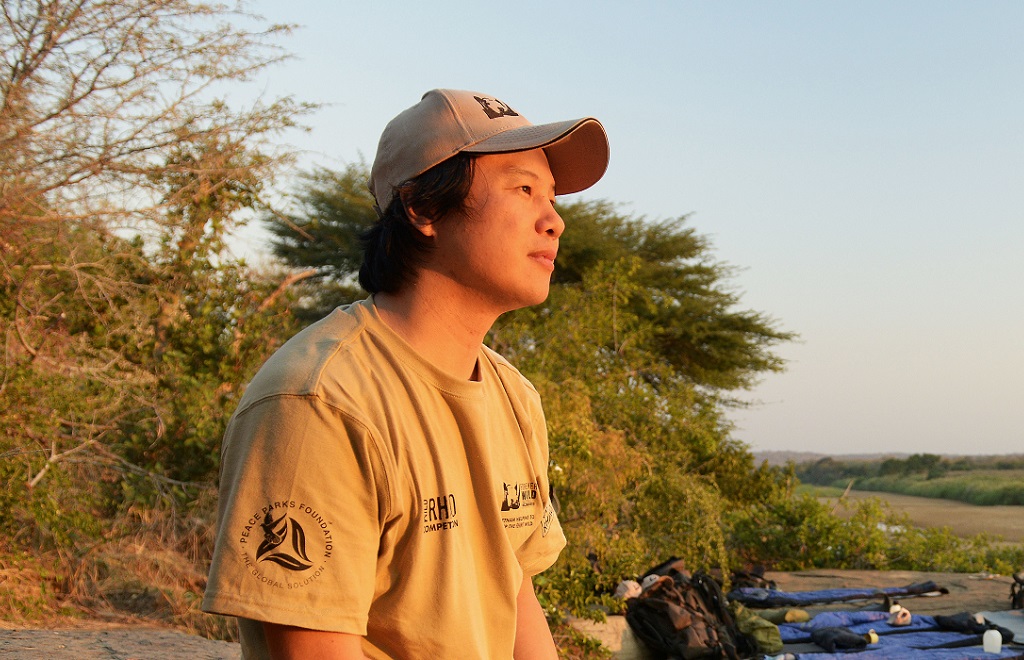 'We have to educate the children who will then educate the parents. Education is the key to this process. When the kids speak, the adults will listen.'

Than Bui, Vietnamese popstar and rhino ambassador
Interested in donating or learning more about our work with rhino?