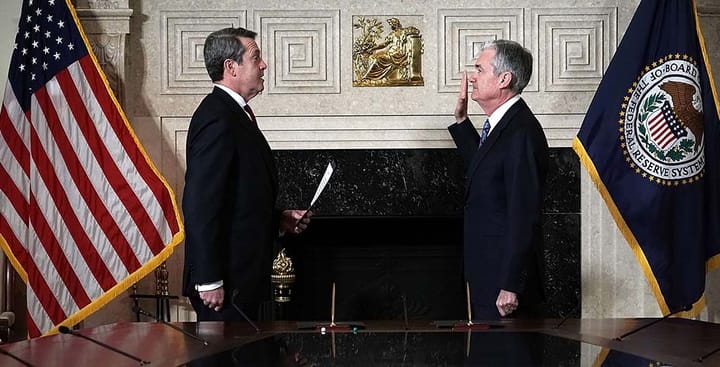 Market Commentary: March 2018
2018 began much as 2017 ended, with good gains for investors willing to accept a modicum of risk. Once again, however, there was little sense of euphoria.

Overview


2018 began much as 2017 ended, with good gains for investors willing to accept a modicum of risk although, once again, there was little sense of euphoria, even as many equity markets continued to post new all-time highs. If anything, there was a constant feeling of vertigo in the financial community. Headlines were dominated by geopolitical events, not least as the great and (not always so) good gathered in the Swiss resort of Davos to ponder and pontificate on the health of the global economy. Consumers and companies around the world continued to do their best to ignore the news, leading to expectations of the highest levels of global economic growth since 2010 and strong corporate earnings.
This happy equilibrium was shattered at the beginning of February by one piece of US economic data. Annual wage growth jumped from 2.5% to 2.9%, igniting inflation fears and setting off a chain of events that culminated in a 10% correction for many equity markets around the world. The jump in wages was interpreted as a precursor to higher inflation, which would be driven by companies raising prices to preserve their margins, which in turn would spur even higher wage demands. The potential for higher inflation would force the Federal Reserve to raise interest rates, thus dampening economic activity. Bondholders demanded higher yields to compensate for the risk of higher inflation, raising the cost of capital for companies and putting downward pressure on the valuation of equities.
In other circumstances, the potential for higher corporate profits and dividends might have outweighed the negative effects of higher bond yields, but the return of volatility after a long period of calm created an environment of near panic. Certain funds that relied on volatility remaining low to generate profits suddenly lost almost all of their value within a couple of days and two high profile exchange-traded notes were liquidated, but not before there had been a rush to buy volatility in an attempt to mitigate losses. Other funds that base their asset allocation between bonds and equities on the current level of volatility found themselves having to sell higher risk assets such as equities. Hedge funds that base their strategy on momentum also had to sell equities, which had been performing strongly in recent months. All in all, it is estimated that there were forced sellers of several hundred million dollars' worth of shares. Although in the grand scheme of things this is not a huge sum, the selling pressure at the margin was enormous – a lot more buyers than sellers – and the immediate demand for liquidity created extra pressure.
The good news is that this storm blew itself out in a few days, and there was minimal contagion into other asset classes. The relatively resilient performance of High Yield corporate bonds was a testament to the fact that investors remained upbeat about economic growth prospects. However, the inflation cat has now got at least one paw out of the bag, and the next developments in inflation trends along with central banks' reaction to them are going to be crucial for the next leg of the market cycle. 

'The jump in wages was interpreted as a precursor to higher inflation, driven by companies raising prices to preserve margins, which in turn would spur even higher wage demands.'

Key influences
 
Two of our main investment themes of recent years have focused on the effects of the rise of populism and the unfolding shift in global monetary policy, and they both remain on our radar. However, the fear factor associated with both themes has diminished over the last six months, allowing risk assets to continue their upward path.
On the political front, it would be premature to declare that the populist tide has turned, but it certainly has not delivered the destructive force that was feared. Last year voters in the Netherlands, France and Germany resoundingly rejected far-right parties in the final rounds of voting, although it must be recognised that France's Front National and Germany's Alternative für Deutschland did make serious gains in the polls. Indeed, in Germany this meant that Angela Merkel's Christian Democrats were in no position to form a government, and, at the time of writing, coalition negotiations remain inconclusive. The next hurdle to overcome is an Italian election in March, and the outcome is currently uncertain. Still, we believe there is enough underlying economic momentum in Europe for the Continent to continue to recover in spite of its politicians. This is very much what has happened in the United States, where Donald Trump's inability to push through much in the way of legislative change until very late in the year failed to hinder the economy.
In the UK, all policy is overshadowed by Brexit negotiations. There seems little doubt that investment in the UK has suffered from the uncertainty, and it is hard to see that situation reversing dramatically until the full terms of Brexit are decided. But all is not lost. The weaker pound, despite its recent rally, means that UK assets and products look cheap to overseas buyers, who themselves are operating in a brighter economic environment. It is always easier to weather a period of domestic stress when external conditions are more positive.
Monetary policy presents a greater challenge. The US, UK and Canada, amongst major developed economies, have already raised the local base rate of interest, with the US on track to deliver another three quarter-point rises in 2018, and possibly the same in 2019. That might appear alarming, but would potentially only take the Fed Funds rate back to "normal", offering investors a safe positive real return. We continue to believe that central banks will continue to fine tune interest rates depending on the economic situation. There is no set path which leads into a brick wall. Future decisions will depend greatly on the behaviour of inflation, which has so far been notable by its absence. Eminent economists are unable to reach a consensus on the outlook. Crudely, there are two major camps: the "inflationists", who believe that it is only a matter of time before tight labour markets lead to a traditional wage/price spiral; and the "deflationists", who believe that technological and demographic trends will continue to dampen inflationary pressures. We have no strong opinion either way, but do believe that the greater short-term threat to markets would be provided by a sharp upward move in wages and/or consumer prices leading to a negative repricing of bonds and other asset classes that take their cue from bond yields. We will monitor the data very closely.
The other big monetary threat comes from the reduction and ultimate reversal of Quantitative Easing. The Federal Reserve is already shrinking its balance sheet, and the European Central Bank will halve its monthly purchases from €60bn to €30bn in January 2018, potentially reducing that to zero later in the year. Even the Bank of Japan, with its apparently bottomless well of liquidity, has been reducing its purchases of bonds as yields have stabilised. The central banks of the UK and Switzerland are currently on hold. It is widely projected that the aggregate size of these five central banks' balance sheets will begin to shrink around the turn of 2019. Why is that important? While it is impossible to calculate the full impact, it is beyond question that financial assets have been buoyed by central bank liquidity since 2009. If that liquidity provision is not increased, or even reversed, then it is not unreasonable to expect financial assets to struggle to make progress. That does not mean a crisis is imminent, or even a bear market, which would probably require a recession to unfold in at least one of the major economies, but it certainly presents a meaningful looming risk for investors. 
 
'There is enough underlying economic momentum in Europe for the Continent to continue to recover in spite of its politicians. This is very much what has happened in the United States.'

UK
UK equities failed to avoid the correction, despite already being a laggard amongst major international bourses, at least when measured in local currencies. Much of this has been down to the recovery of the pound – itself partially a function of the weaker dollar – owing to the high overseas earnings content. Brexit negotiations continue to dominate the headlines, and progress in this area has been a key factor in supporting the pound. Mrs May's government continues to cling on to power, if only by its fingernails, but this at least blocks the entrance to Downing Street for Labour's Jeremy Corbyn, a figure who is judged to be hostile to investors' interests. The underlying economy is putting in a mixed performance. Domestic demand, tempered by weak real wage growth, is sluggish, but there are signs that the pound's 2016 devaluation, along with growing global demand, is beginning to boost exports.

US
The S&P 500 Index made no fewer than seventy-one new all-time highs during 2017, and ran hard out of the gate in 2018. Furthermore its progress was the smoothest in history, with every month of last year producing a positive total return for the first time since records began. However, higher bond yields resulting from concerns about higher inflation and also greater fiscal deficits as a result of Donald Trump's big tax giveaway rattled investors and led to the first major sell-off in a couple of years. Given that the economy has good underlying momentum, investors were soon tempted to hunt for bargains, and the S&P 500 index ended February just 5.5% below its all-time high. 

Europe 
Europe is finally throwing off the shackles of the financial and euro zone crises, and growth is accelerating. Banks are much better capitalised (although the job is not complete), unemployment continues to fall and most election banana skins have been avoided. The region is generally viewed as being two to four years behind the US in terms of its recovery, so it seems far too early to be taking profits. March's Italian election is the main cloud on the horizon, but even here the main anti-establishment parties appear to have become far less hostile to the EU and the single currency. A stronger euro has created a headwind for company profits, but the total return to investors outside the area has been boosted by the same strong euro. 

Japan
Growth is picking up, albeit relatively slowly, and there is a feeling that the rot has stopped in Japan. Prime Minister Abe strengthened his position in a snap election in November, and he, alongside central bank governor Kuroda, remains committed to reflationary policies. The spring wage round will provide some measure of the progress they have achieved. Japanese companies, in aggregate, still sport high cash balances and have the potential to increase returns to shareholders, with improving corporate governance adding more support. Demographics, in the shape of an ageing, shrinking population, remains the biggest domestic challenge to overcome, but also spurs innovation in solutions to the problem.

Emerging markets
Emerging Markets led the performance tables in 2017, bolstered by a recovery in commodity prices and global trade as well as a weaker dollar (which tends to underpin fund flows as well dampen the value of dollar-denominated liabilities). China remains the key driver of both growth and sentiment, and has once again defied the doom-mongers. Although the country has high levels of debt, it owes little to the rest of the world, so is at limited risk of an exodus of funds. The government is acutely aware of imbalances within the economy, and is taking measures to maintain some sort of equilibrium. This might end up taking some gloss off short-term growth, but should support more sustainable expansion in the longer term. China is also now relying much less on being the world's source of cheap labour, and continues to add more and more value to its output, creating greater investment opportunities within the country. 
Fixed Income 
As alluded to in the Key Influences section, there is a battle royal being fought in the bond market between the inflation and deflation camps. There is no clear winner emerging, but the inflationists have gained the upper hand. The US rate of inflation expected a decade ahead, as inferred from bond prices, has risen from 1.85% in November to 2.11%. The US 10 Year Treasury yield (2.86%), UK 10-year Gilt yield (1.5%) and German Bund yield (0.65%) are all markedly higher than at the start of the year. None have yet reached levels that are expected to derail equity markets and other risk assets, but the rising trend is definitely causing nervousness. 
Inflation expectations are not the only influence on bond yields. Supply and demand is also an issue. Yields have been suppressed by almost a decade of Quantitative Easing, a factor that is forecast to end (in aggregate) by early 2019. Many governments, notably the US, also seem less committed to austerity. This might be good for demand in the economy, but also raises the threat of too much growth and an increased supply of government debt.
The risk/reward ratio for sovereign bonds still looks unattractive, given that a small shift upwards in yields can wipe out a year's income very quickly. They are held mainly to insure against unexpected economic or geopolitical shocks. Index-linked bonds are currently preferred for their protection against the risk of higher inflation. The higher yields on emerging market sovereign bonds and high yield credit offer a modicum of protection against falling capital values.
UK Gilts have delivered a total return of -2.41% over the last six months and -1.22% over the last year. Index-Linked Gilts returned -3.2% and –1.81% over the same respective periods. Emerging Market sovereign bonds produced a total return of -8.0% in sterling over the half year to February (-6.79% over 12m). Global High Yield bonds delivered -5.21% (-3.74% over 12m).
Conclusion and outlook

The upward grind of risk asset prices had been relentless and yet rarely trusted. There was certainly not the sort of euphoria normally associated with market peaks. Investors consistently found things to worry about – Trump, North Korea, various elections – but none of them have derailed the economic recovery, and, ultimately, it is the profits growth of companies that drives returns. In the end, it was the threat of too much growth rather than too little that was the catalyst for a market correction. We feared that a heavy-handed central bank might eventually slay the bull market, and that was certainly investors' fear in February. However, given past performance (which, of course, is not necessarily a guide to the future!), we maintain the opinion that central bankers are more worried by the threat of too little growth than too much and will be slow to choke off demand.
We were not at all surprised by the recent correction, although the timing was always going to be difficult to pin down. Thinking constructively, it is positive that some of the froth has been blown off the top of the market. It is also good that a decent portion of the "short volatility" positions have been reduced, thus mitigating further risks. That is not to say we have been give an "all clear", but it is always healthier when market risks have been recognised. Even though we do recognise that this economic and market cycle is long in the tooth, it still has some legs, although equity gains from here are likely to be harder won and subject to greater volatility. It is still hard to make a strong case for owning conventional government bonds, other than as insurance against some sort of unanticipated crisis. One thing became clear in the recent turmoil: in this particular set of circumstances (rising inflation and bond yields), there were very few places to hide other than cash.