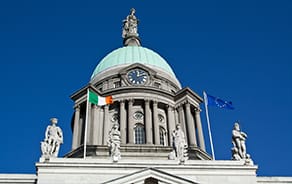 Investec upgrades Irish growth forecasts
High frequency indicators show that while the inclement weather cooled growth in Q1, activity has picked up since the start of Q2.
 
The PMIs are at multi-month highs; the annual rate of growth in tax receipts surged to 8.6% in May; and exports are performing strongly. Given the strength signalled by recent data, we raise our GDP growth forecasts by 60bps (to 5.0%) for 2018 and by 50bps (to 4.5%) in 2019. The forecast for this year is still probably a little conservative, although the bad weather in February and March and (presumed) revisions to national accounts from the new approach to measuring housebuilding in Ireland warrant caution.
The labour market remains the key highlight where Irish economic data are concerned. Total employment rose 3.1% y/y in Q417 and we believe that the Q118 data, when released, will show that the total number of people with a job in this country has finally eclipsed the Celtic Tiger (Q407) peak of 2.24m. Unemployment stands at a 10 year low of 5.8%, with the employment components of the PMIs suggesting that it has further to fall. Tighter labour market conditions have seen the return of modest wage growth, with earnings rising 2.4% y/y in Q118 following growth of 2.0% last year.

In addition to higher wages, Irish households are also benefitting from rising asset values. Total household net worth accelerated to a record €727bn in Q417, bringing the cumulative recovery from the Q212 trough to a remarkable €297bn. Of this improvement, €55bn comes from financial assets, €36bn from debt reduction and €206bn from the uplift in residential property prices.

The housing sector remains the biggest domestic issue in the economy. Residential property prices climbed 13.0% y/y in April with this growth attributable to a significant disconnect between housing output and demand. The CSO's new measure of counting housebuilding activity shows that only 14,446 dwellings were completed across Ireland last year, which is less than half of the low point of the range of estimates (30k – 50k) of annual new household formation. Lead indicators such as planning permissions data suggest that output will continue to increase from here, but it could be 2021 or 2022 before supply rises to meet demand, which underpins our (unchanged) view that the path of least resistance for both prices and rents remains to the upside. Elsewhere, we note that the fundamentals remain very strong for the commercial property sector, with office take-up remaining at last year's record level (while vacancy rates are at an all-time low); retail benefiting from rising core (ex-auto) sales; and industrial well-placed to benefit from not just the broad economic uplift but also supply chain recalibrations as a consequence of the UK's Brexit vote.
 
Turning to trade, monthly merchandise trade data show that goods exports are +5.9% y/y in the year to date which, combined with the 1.4% y/y growth in imports, produces an €18.3bn trade surplus for the period to end-April, +13.0% y/y. We await official data on services exports, but as the export component of the Investec Services PMI points to growth having quickened to the fastest in the 18 month sequence of expansion we are optimistic about the outlook for this sector. 

As alluded to above, the public finances continue to strengthen. Growth in tax receipts has accelerated as the year has gone on, turning an undershoot into a 40bps outperformance by the end of May. Lower than expected spending has also helped the year to date general government balance (-€2.4bn) come in €603m better than had been guided. We have pushed back our expectation of a return to surpluses by one year (to 2019) due to a recent CSO ruling which has included Approved Housing Bodies in the general government sector, adding c. €0.5bn to the deficit. 

There is better news for the public finances from the recent NAMA results. While the agency has upped its lifetime profit forecast to €3.5bn (from €3.0bn) this still looks too low to us because: (i) its underlying retained earnings at end-2017 stood at €3.4bn; (ii) its business model is extremely profitable, with a NIM of 7.0% in 2017; (iii) by its own admission the adoption of IFRS 9 from the start of this year will add an estimated €150m to retained earnings; and (iv) rising asset values should see more write-backs from its €1bn stock of impairments. We now think that NAMA could make returns totalling €4.5bn to the Exchequer, €500m above our previous assessment.

In terms of the key risks to Ireland, these haven't changed since our last report, namely: how the Brexit negotiations progress; rising protectionist sentiment; and the potential fallout from monetary policy normalisation moves. In terms of domestic politics, as we discuss in Slide 12 of the attached we don't see a credible 'window' for an election until 2019, when Brexit considerations and the logistics of waging national campaigns may see the government opt for an unprecedented triple crown of general, European and local elections on the same day next May. In any event, the government's poll lead suggests that a general election, whenever it comes, is unlikely to result in meaningful policy changes.