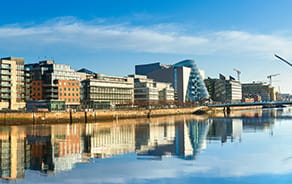 Irish Commercial Real Estate - Foundations in place for further growth
Ireland has the distinction of having been the fastest growing economy in the EU28 in three of the past four years

The latest national accounts show that the economy exited 2017 with a strong tailwind behind it (GDP +3.2% q/q in Q417), with high frequency data confirming a good underlying performance in early 2018. A pleasing aspect of this growth is its broad nature, with the multinational-oriented part of the economy and the domestic-facing sectors both showing positive trends.
Data from the real estate agents showcase how the commercial property sector is benefiting from this favourable backdrop. Total take-up in the Dublin office market (which accounts for c. 80% of the total stock across the country's urban centres) was a record 3.6m sq ft in 2017, a remarkable 20% above the previous peak of 3.0m sq ft in 2007. Office rents are at an all-time high and the vacancy rate is flirting with its all-time low. With limited availability of Grade A space in Dublin city centre, we see the capital's suburbs and Ireland's secondary cities – Cork, Limerick and Galway – playing an important role in meeting the needs of occupiers in the coming years (45% of gross jobs created by the multinationals here in 2017 were in locations outside of Dublin). The government's Project Ireland 2040 capital plan will see €116bn of investment in infrastructure projects to enhance regional accessibility, among other priorities.
The narrative is similarly positive in the industrial market, where prime rents have climbed 52% over the past four years. As with offices, we see Brexit as providing a structural 'kicker' to demand, with the segment set to benefit as companies revisit supply chains. Rounding off the commercial property space, the retail market is a key beneficiary of the positive transformation in both the labour market and household finances. While sterling weakness has weighed on new car sales here, the other segments of the retail market are performing resiliently.
JLL data show that capital values have risen by between 63% (industrial) and 104% (office) from the trough. With strong demand (both in terms of take-up and investment), substantially reduced vacancy rates and disciplined supply additions, we see scope for continued growth in rents and further yield compression.
In the attached discussion piece we examine the prospects for the commercial property sector, with an emphasis on how these positive economic fundamentals are underpinning a bright outlook.
To view the full report, please click here.