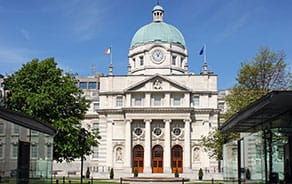 Irish Economy: GDP to increase by 7% this year
We have released our Q3 2018 Irish Economy Monitor today. The report provides an overview of developments in the Irish economy and sets out our forecasts in detail.
At a headline level, economic growth is broad-based and running ahead of our previous expectations. National accounts data for H118 surprised to the upside, revealing annual growth of 9%. While the comparatives become trickier as the year goes on, were quarterly GDP to hold steady on the Q2 outturn this would imply full-year growth of 6.5%. With the latest PMIs (Manufacturing 57.5, Services 58.0 and Construction 58.3) indicating strong, broad-based growth in Q3, our sense is to increase our previous GDP forecast by 200bps to growth of 7.0% this year, keeping Ireland at the very top of the EU28's "growth charts". 

As mentioned, there is broad growth across the economy. Goods exports are +11% y/y in the year to date, producing a January-July trade surplus of  €31.0bn, 17% above year-earlier levels. The Investec Services PMI shows 21 successive months of expansion. Retail sales were +5.1% y/y in value terms in July. While the headline investment figures are distorted by the multinational sector, we note strong underlying investment trends, with dwelling completions +34.1% y/y in Q218 while the volume of non-residential construction was +12.7% y/y in the same quarter. Sales of new goods vehicles were +6.2% y/y in January-August, with sales of second-hand vehicles imported from abroad +7.8% y/y. 

Households are benefiting from this uptick in activity. Total employment was +3.4% y/y in Q218 as the economy creates 1,400 additional jobs every week. Total employment stands at 2.3m, the highest since independence, while unemployment is at a 10 year low of 5.6%. Household net worth was a record €732bn at end-Q118, 2% above the high water mark of the Celtic Tiger period, but far stronger on an underlying basis as the latter was inflated by a credit bubble. Household debt is at its lowest level since 2005, a function of sustained deleveraging, while the ratio of household debt to disposable income now stands at 133% versus a peak of 213%. 

Despite a recent rise in output, housing supply remains well below demand. Completions totalled 16,314 units in the 12 months to end-June, but this is only about half the low end of the range of estimates (30,000 – 50,000) of annual new household formation. Two important points to consider here are: (i) the latest CSO data show that population growth has recently accelerated to a 10 year high, which suggests that demand is likely to come in towards the top end of the aforementioned range; and (ii) new household formation is endogenous – it doesn't happen absent available dwellings, so the 'stock' of unmet housing need has steadily grown as annual housing output has been sub-30,000 for close to a decade now, and is likely to remain so until 2020 at the earliest. Our view has been, and remains, that the path of least resistance for both house prices and rents remains to the upside. Staying with the property market, the outlook remains positive for commercial real estate assets. Office take-up in H118 was 1.8m sq ft, so on an annualised basis it is matching last year's record 3.6m sq ft. The industrial sector has seen increased activity levels on the back of supply chain tweaks by firms looking to minimise the risk of Brexit disruption. Retail is benefiting from the uplift in domestic demand, while the segment is likely to escape the worst of the structural headwinds evident elsewhere in Europe due to a combination of the minimal completions activity following the crash of a decade ago and Ireland's low population density relative to most EU countries. 

Turning to the public finances, while tax receipts have marginally undershot expectations in the first eight months of the year, a much larger underspend on discretionary items and national debt servicing costs means that the public finances are likely to show a de minimis deficit in 2018, absent any surprises in next month's Budget. The NTMA has raised €13.5bn so far this year from bond sales with a weighted average maturity of just under 12 years and blended cost of c. 1.03%, which is well below the 2.7% average interest rate on the total in-place stock of general government debt. As the process of replacing costly crisis era issuance with cheaper new borrowings continues, this should deliver further meaningful interest savings for the Exchequer over the coming years. In terms of the tidying up of other legacy matters, we note that the last of the ELG government-guaranteed liabilities rolled off without any fanfare in Q118 (at the end of September 2008 the State was exposed to up to €375bn under the ELG scheme's predecessor), while NAMA has been quietly buying up its subordinated bonds (it extinguished the final government-guaranteed senior bonds last year). The State so-called 'bad bank' guides lifetime earnings of €3.5bn, but this forecast is excessively conservative given that the agency already has retained earnings of in excess of that figure. We continue to envisage a return of at least €4.5bn to the taxpayer from NAMA.  

Looking ahead to next year, while Brexit, the fallout from monetary policy normalisation moves and uncertainty about global trade and FDI flows all pose risks, these are mitigated by a number of factors, notably very strong lead indicators in the construction sector (national residential planning permissions were +66% y/y in H118, while the number of cranes over Dublin stood at 93 in September, up from 34 in February 2016 when The Irish Times and Savills commenced their monthly census of the machines) and signs that Ireland is winning a higher share of foreign direct investment due, at least in part, to the absence of the type of policy uncertainty that is present elsewhere. Domestically, the housing crisis and wage growth that is running at almost 5x the (admittedly low) rate of increase in the headline CPI are issues that need to be monitored closely. Politics is likely to be a focus of attention next year. European and Local elections are scheduled for next May and given the government's substantial opinion poll lead and lack of a majority in the Dáil (lower house of parliament) we continue to see a good chance of an unprecedented 'hat trick' involving a General Election being called for the same day (such a move would favour the larger parties on a number of levels). In any event, given the lack of meaningful policy differences between parties commanding two-thirds of the seats in the Dáil, we don't see any significant risks from a fresh election. Our sense is that this year's strong momentum will carry through into 2019, particularly in terms of investment and consumer spending, leading us to retain our previous 4.5% GDP growth forecast for 2019 (although it should be noted that this is off an upwardly revised base), while we see the public finances transitioning to surplus next year, helping to push headline debt/GDP to below the key 60% level.  

For more information on the above, please view the report (pdf).