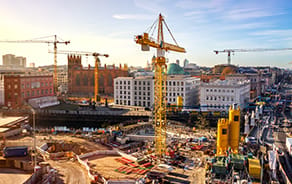 Irish economy - House prices and employment continue to grow
Irish Economy: Residential prices +12.5% y/y in January

News: The latest Residential Property Price Index (RPPI) release from the CSO shows that Irish residential prices were +0.9% m/m and +12.5% y/y in January.
Analysis: The RPPI has increased for 13 successive months, reflecting the ongoing mismatch between demand and supply in the housing market. Since the early 2013 trough, national prices have increased by 73.4%, led by Dublin where prices are 89.2% above their low point. In the rest of Ireland, prices are 65.7% above their nadir. Despite this growth, national prices are 22.3% below their all-time high, but that is a distance above the 30-40% declines that we understand the domestic banks have incorporated into their provisioning models.
The RPPI data also show that transactions were +4.2% y/y in January, with this growth entirely driven by sales of new dwellings (+37.4% y/y to 683 units). While the increase in activity is welcome, it needs to be put into context. The latest Property Price Register data show that 54k transactions took place in 2017, which is equivalent to 2.7% of the housing stock (a level of activity that implies properties are changing hands once every 37 years on average).
Action: The RPPI increased by 10.9% in 2017, which was the third time in the past four years that double-digit growth was recorded. Usually such a rate of increase would give grounds for concern, but a range of indicators (affordability measures, employment and earnings data, residential yields and new mortgage lending) suggest that this recovery is very sustainable. We see house prices rising by 8% over the course of 2018.
Irish Economy: Employment 0.5% below the Celtic Tiger peak
News: The latest Labour Force Survey from the CSO shows that total employment rose by 3.1% y/y in Q417. On a seasonally adjusted basis, employment rose 1.3% over the previous quarter.
Analysis: Over the 14 different sectors of the economy, 12 posted annual growth in Q417, with noticeable increases posted by Administrative & Support Services (+11.7% y/y); Construction (+9.9% y/y); Accommodation & Food Service Activities (+8.8% y/y); Public Administration & Defence (+8.1% y/y); and Education (+7.1% y/y). This is mainly explained by the strong growth seen in the domestic economy, which has allowed the government to loosen the purse strings a little. One surprise is the growth in ICT employment (+3.3% y/y) – we would have anticipated a stronger increase given bumper IDA Ireland jobs data, but this may be explained by sampling issues.
The seasonally adjusted unemployment rate fell to 6.4% in Q417, -30bps q/q. The latest (revised) data show that the unemployment rate has fallen further since the start of 2018, to 6.1% in February.
Action: As a result of these data we can now see that overall employment rose 2.9% in 2017 (we had forecast growth of 2.7%) following the very strong 3.7% increase that was recorded in 2016. Total employment is now just 0.5% lower than the Celtic Tiger peak, but the sustainability of this is far more solid than it was a decade ago, when a credit bubble inflated construction sector employment to a record 241.3k in Q207. Construction employment currently stands at 133.8k. We anticipate total employment to grow by 2.3% in 2018, with this forecast supported by the employment component of the Investec Manufacturing and Services PMIs for Ireland.