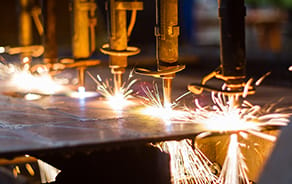 Investec Manufacturing PMI Ireland April 2018
The latest Investec Manufacturing PMI Ireland report shows that growth of output has rebounded from March's weather-related slowdown.
The headline PMI strengthened to 55.3 in April from the 12 month low of 54.1 that was recorded in March.
The improvement in the headline PMI does not, however, map on to each of the components of the survey. New Order growth cooled to the slowest since November 2016, while New Export Orders advanced at their weakest pace since October 2016. On the latter point, Asia and Europe were seen as the strongest sources of demand in the month.
The moderation in client demand has had a knock-on effect on other components of the report. While Backlogs of Work have increased for 12 successive months, the latest rise was only slight. Employment growth cooled to a six month low, with only one-in-seven firms adding to headcounts in April.
On the margin side, Irish manufacturing firms signalled a further sharp increase in input costs last month, with higher raw materials prices (including paper, steel and timber) blamed for this. That inflationary pressure, in turn, has led to a strengthening in the rate of growth in output prices, to the fastest in a year, as firms seek to pass on higher costs. However, higher sales prices were not enough to prevent a deterioration in the Profitability Index, where the rate of decline has quickened to the strongest since the three months to end-March 2017.
Notwithstanding the uptick in costs, firms stepped up their Quantity of Purchases last month. Admittedly, some of this may have been down to an element of catch-up following the snow in March. Our suspicion in this regard is driven by the rate of accumulation in Stocks of Purchases accelerating to the joint-fastest since November 2014.
The forward-looking Future Output index cooled to its lowest for six months, although it remains well into positive territory, with around 95% of panellists saying that they anticipate output to be either the same or higher 12 months hence. With global growth at a seven year high, we think that this optimism is well-placed.
To view this full report please click here.