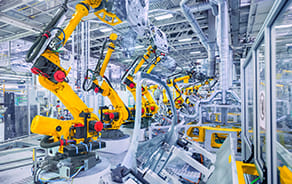 Investec Manufacturing PMI Ireland May 2018
The latest Investec Manufacturing PMI Ireland report shows that overall business conditions continued to improve in the sector during May.

The headline PMI ticked up to 55.4, a three month high, from April's 55.3 reading.

A key positive from the latest survey was a marked acceleration in the rate of growth in New Business, which rose at its fastest pace since January amid stronger demand from both home and abroad (growth in New Export Orders recovered after a sharp moderation in April).

Despite this stronger demand, Backlogs of Work rose only modestly. This was, we suspect, largely due to the utilisation of inventories to meet customer orders (Stocks of Finished Goods depleted for a third successive month), as the rate of increase in the Employment index slumped to an eight month low.

The report also shows that inflationary pressures remain very high for Irish manufacturers, with the latest rise in Input Costs driven by rising oil, plastics and metal prices. Companies were, however, able to pass some of this cost pressure on to end-customers, but this wasn't enough to prevent a fourth successive sub-50 reading for the Profits index.

Notwithstanding this margin pressure, firms remain very upbeat on their prospects, with close to three-fifths of panellists expecting to see a rise in output over the coming 12 months. This confidence was linked to expectations of increases in New Orders, particularly from overseas. Given the supportive international backdrop, we think this optimism is warranted.

To view this full report please click here.

Click here to view our infographic.