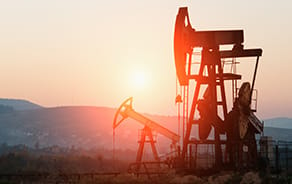 Libya oil supply pushes Brent below $73/barrel
Oil markets fell heavily last week after surprise news on Wednesday that crude terminals were reopening in Libya and the internationally recognised National OilCompany (NOC) based in Tripoli, was lifting force majeure, brining at least 500k b/d of crude back in to the market.
This occurred after the group controlling the east of the country handed back control of key ports, including Ras Lanuf, back to the NOC. On top this, a ratcheting up of trade tensions between the US and China sent assets markets lower and the US dollar higher. There was also news that the Canadian unit which shut down at the end of last month removing 350k b/d from the market, will deliver on average around 200k b/d to the market in July. The market initially hit lows of 73 $/b near the close on Wednesday evening, which was around the 100-day average and a long term trend-line support, for the first time since March, but negative momentum continued on pushing Brent to a low of 72.67 $/b. This marks a tentative break of those key technical support levels. This continued weakness came in spite of the monthly IEA report which suggested that the global "spare capacity cushion, may be stretched to the limit" by current supply crises. Still, with two of the key supply side disruptions/uncertainties that had been worrying the market removed, the question is whether the additional 400k b/d of supply that Saudi Arabia pumped in June is now too much for the market? Given that Libyan and Canadian disruptions have ended, the answer might be yes. However, the elephant in the room is still Iran. It is still very hard to gauge what the impact of US sanctions will be because we don't know whether the largest importers of Iranian crude, India and China, will comply with them. Another angle is Trump's desire to bring down domestic gasoline prices ahead of US mid-term elections in the autumn. It is quite likely oil prices will be on the agenda when he meets Putin next week.

To read more, please click here.