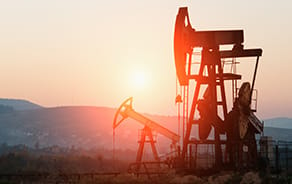 Oil rises with supply concerns
The decision by OPEC to increase output has been completely overtaken by events last week.
Libya – 800k b/d at risk: a very confusing situation has arisen in which a militia leader handed control of some of the country's largest crude export terminals (capacity of 800k b/d) from the internationally recognised, Tripoli based National Oil Company (NOC) to its Benghazi based rival. The NOC looks set to declare force majeure while international buyers are likely shun exports from the Benghazi run oil company. France, Italy the US and UK have issued a joint statement to that effect.

Canada – 350k b/d offline: A plant in Canada that converts heavy crude produced from local oil sands into lighter oil for the US market has been shut down and may remain offline until the end of July.

Iran – 3.82m b/d at risk: last week a US State Department official said the US is demanding zero Iranian exports by Nov and that it will not grant waivers for countries and companies that do business with Iran as it did under the previous round of sanctions. This marks a significant toughening of the US stance on Iran. As China is a key buyer of Iranian crude this move can perhaps also be set in the context of the on-going trade dispute between the two nations.

This pushed Brent up to 79.70 $/b late on Friday and has not been significantly upset by a bizarre tweet from Trump over the weekend in which he claimed to have persuaded King Salman of Saudi Arabia to increase production by 2m b/d! But of course this Tweet is probably intended for US motorists unhappy about the high price of gasoline, rather than to international oil markets.
 
It is worth noting that while speculators have recently been increasing their bets that the market will go higher, the extent of those bets are still well below levels seen in April, suggesting there is scope for investors to drive prices to fresh highs if they do decide to jump on the bandwagon of pricing in these emerging supply risks. As such it is entirely possible that we could see Brent breaking the highs of the year set so far and to test 85 $/b or even higher. The market will be very sensitive (in both directions) to news on Libya and Iran.


To read the full article, please click here.