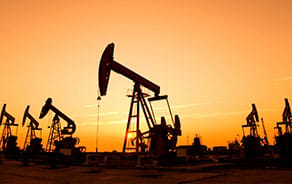 Risk Aversion brings oil prices lower
In spite of the very real danger of a significant proportion of Iranian crude being shut out of the market in the next few months, oil prices fell sharply last week.
The move down was exacerbated into the end of the week by a meltdown in the Turkish Lira which has fallen to roughly half the value it was trading at earlier this year and this led to general risk aversion, a sell-off in EM currencies and USD strength. All of which has proved negative for oil.
On Friday Brent reached a low of 71.40 $/b which is under the low from the start of this month and not far off the 71.19 $/b low from July. Brent is now well below the100-day and 50-day moving averages while the 50-day average could soon break down through the 100-day average forming a so called death-cross technical pattern.As the name suggests, this would be not a positive development for oil prices. The last time a death-cross occurred was last April and was followed by Brent reaching a low just under 45 $/b that summer. The summertime can often prove a weak point for oil prices if, as the season progresses, it becomes clear that summer demand has been adequately provided for. However, last year Brent recovered quickly from its summer lull: by September it was close to 60 $/b and broke 70 $/b in January.If history repeats itself (at least relative to current levels) it may be that oil does not have very much further to fall and, particularly with the introduction of US sanctions on Iran looming, we might see prices recover in the autumn.
The EU has attempted to push back on US sanctions through its Blocking Statue which it claims will nullify their effect on EU companies. Not only does the statue prevent sanctions from being recognised in courts in the EU, it requires that EU companies do not comply with them. This puts EU companies that have dealings withIran in a position where if they continue they will be subject to US sanctions, but if they stop they will have infringed the EU Blocking Statute. Meanwhile Trump has said "Anyone doing business with Iran will NOT be doing business with the United States". For many it may be a simple case of deciding which market would they rather put at risk: the US or Iran? Having announced they are terminating planned work in Iran Daimler, Renault and PSA have clearly chosen the latter. All of this makes the problem of working out what impact the sanctions might have on oil markets as intractable as ever.
The next key level to look out for in Brent is the 71.19 $/b low from last month. If this breaks a test of 70 $/b is on the cards.
To read more, please click here