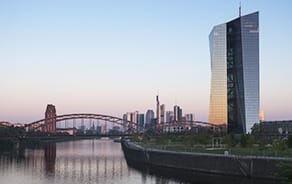 The ECB Governing Council (GC) will announce its July policy decision at 12:45 today, with President Draghi set to hold his usual post decision press conference at 13:30.
Given the ECB's June decision to announce a planned end to QE this December and an evolution of its interest rate guidance, today's meeting should not yield any policy changes. As such we and markets expect no change in policy with the key rates held at -0.40% (deposit rate), 0.00% (refi rate), +0.25% (Marginal Lending rate). However, the press conference may be worth keeping an eye on for any information on the ECB's rate guidance or a possible operation twist.
 
Market expectations
 
While the ECB is effectively hinting that it aims to raise rates in September next year, the Eonia curve is currently not factoring in a (20bp) increase in the deposit rate until Q1 2020. This is despite recent activity data helping to reinforce the perception that weakness at the start of the year was temporary. It will be interesting to see whether Mr Draghi attempts to trigger an adjustment in market expectations to bring them more into line with ECB guidance. Beyond this, some GC members reportedly claim that last month's guidance is consistent with a tightening in July next year. To our minds the phrase 'at least through the summer of 2019' is clear and suggests a September hike. We view anything earlier to be inconsistent with this. We will see if Mr Draghi has anything to say on this subject, bearing in mind his claim that the measures agreed last month gained the unanimous backing of the GC.
 
Possible ECB operation twist
 
Media reports have suggested that the ECB is considering reinvesting maturing QE bonds into longer term debt, in a variant of the Fed's 'Operation Twist' strategy in 2011 to flatten the yield curve. Stories have circulated claiming that various officials fear the impact of a significant increase in 10 year yields on the economy. If Mr Draghi were to confirm this it would have a further impact on the shape of various Euro area sovereign curves. Additionally one might read this as an indication that the GC's confidence in its normalisation strategy is fragile.
 
Any other business
 
Separately Mr Draghi may well be asked to comment on the new Italian government's fiscal policy, particularly its impact on Italy's public finances, plus the dismantling of previous reforms to liberalise the labour market. Although the ECB attempts not to comment on the policies of individual governments it is difficult to imagine Mt Draghi not issuing a warning that these measures represent a retrograde step.
 
Positive EU-US trade talks
 
The EU and US appeared to step back from the brink of an escalating trade war yesterday as they announced steps to try and soften tensions and avoid further tariffs threats. Indeed, speaking in the Rose Garden at the White House, President Trump and European Commission President Jean-Claude Juncker said they had agreed to hold off on proposed car tariffs, whilst they planned to work to resolve their disagreement on steel and aluminium tariffs and also pursue a bilateral trade deal. It is being widely report that whilst that work is underway, the EU will import more American soybeans and LNG, although Jean-Claude Juncker has suggested that that that would be "if the conditions were right and price is competitive" in a speech he gave later in the day. Note also that President Trump did not definitively agree to suspend steel and aluminium tariffs against EU countries. For now though, it is clearly reassuring that we are seeing an apparent pause and settling in the US-EU trade dispute, with this helping risk appetite; the S&P 500 closed yesterday's session 0.9% higher.
 
Cairn Homes: Planning success in Kildare
 
The State planning authority, ABP, has granted permission for two schemes by Cairn Homes in Co. Kildare (to the west of Dublin). CRN submitted applications in respect of a proposed housing and apartment scheme at Mariavilla, Moyglare Road and student accommodation at Maynooth under the Strategic Housing Development process at the end of March. The company has been successful in both applications, with ABP green-lighting the 462 unit (320 houses and 142 apartments on a 49 acre site) scheme at Mariavilla and the 483 bed (179 unit) student accommodation scheme at Maynooth. CRN has identified Mariavilla as a potential commencement in either 2018 or 2019, so this planning success means that the company has discretion to move forward with its plans. The student accommodation scheme has been labelled a longer-term project, although its proximity to the town's third level institution and in-place permission also provides the group with optionality on the timing of commencement (particularly given CRN's funding position, which has been helped by the recent sale of a PRS scheme for €101m, and supportive market conditions).
 
Economic releases
 
09.30 UK Finance Loans for Housing
12.45 EC ECB rate decision
13.30 EC ECB's Draghi press conference
13.30 US Initial Jobless Claims
13.30 US Durable Goods Claims