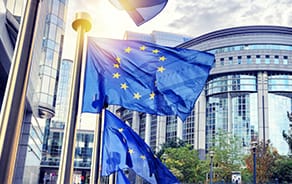 The ECB's Governing Council (GC) meeting takes place in Riga, Latvia later today.
This is a critical gathering as it is approaching crunch time for the ECB to make a decision on whether to wind down its asset purchase programme, currently running at €30bn per month until September. At this stage, we expect no debate on a timetable to alter the level of key interest rates. And certainly for now the ECB's deposit rate is set to remain at -0.40%; the main refinancing rate at 0.00%; and the marginal lending rate at +0.25%. The decision itself, plus a very brief explanation, is due at 12.45 time. ECB President Mario Draghi's press conference takes place 45 minutes later. The GC has been signalling its intention to taper its asset purchases to zero over Q4 this year, following a period of buoyant economic activity through the course of 2017 but the eurozone economy has been weaker than expected with GDP, Industrial Production and composite PMI's all disappointing in the first few months of the year.
 
No QE taper today
 
It is quite possible, likely even, that the Euro area economy regains its momentum again later this year. Indeed our GDP forecast for this year remains a relatively upbeat 2.3%, implying precisely this but at this juncture, the evidence over the upswing does not appear convincing enough for the ECB to announce an end to its asset purchases later today. Various GC members have maintained a publicly upbeat tone recently. Only last week, Chief Economist Peter Praet argued that the underlying strength of the economy persists and that inflation is converging towards the ECB's aim. In addition (hawkish) Bundesbank President Jens Weidmann stated that he thought market expectations of an end to asset purchases by end-year were plausible. Part of this tone may be thanks to the strength in May's flash HICP data – headline inflation rose to 1.9%, while the 'core' (ex-food, energy, alcohol and tobacco) measure strengthened to 1.1%, from +0.7% in April. There have however been few remarks on what in our view has been a relatively poor set of real economy indicators over the past two to three weeks. A detailed discussion at next today's meeting may well have the effect of making GC member more cautious.
 
Normalisation on track
 
Overall the ECB remains of the view that its normalisation timetable, i.e. ceasing asset purchases at the end of this year, remains on track. While this is still our baseline scenario, the run of soft economic data suggests that the GC will play safe and keep its options open for the time being. Our expectation for today's meeting is that the Council is set to debate terminating the programme but press on with its normalisation plans at the next meeting on 26 July, depending on the strength of the economic data between now and then.
 
Fed hikes rates, pointing to two more this year
 
The Federal Open Market Committee opted to raise the Federal funds target rate range by 25bps, taking it to 1.75-2.00%. This was in line with market expectations and our own forecast and was backed unanimously by the FOMC. The Fed also gave the nod to its next step up in the pace of QE roll-off, which occurs in July and will see up to $40bn a month of assets allowed to roll off the Fed's balance sheet - this shift had also been well flagged in initial QE guidance.
 
The tone of the accompanying policy statement and press conference was a notably upbeat one. Economic activity was described as rising at a solid rate (the wording was 'moderate' previously), alongside other upgrades to the economic language in the policy statement, whilst on inflation there was a further reference to the symmetric nature of the Fed's inflation goal inserted. On the forecasts, GDP growth and inflation projections for this year were pushed up and the unemployment rate projection down, but the shape of the medium term outlook was similar for all three. As such the median dot plot outlook was fairly similar and is still suggesting gradual rate increases. Despite the dot plot now pointing to four (was three) hikes this year (i.e. with two more to come), Powell was quick to dispel the idea that the US economy is overheating, stating "there is no sense in our forecasts (that inflation with take-off)". "If we thought inflation would take-off, we would be showing higher rates".
 
IRES/HBRN/Irish homebuilders and banks: Residential prices continue to surge
 
The latest Residential Property Price Index (RPPI) release from the CSO shows that residential prices in Ireland increased by 13.0% y/y in April, the highest rate of annual growth since May 2015 (when the price level was more than 30% lower). National prices rose by 0.7% m/m in April (a 16th successive monthly rise) and the annual rate of inflation has now been in double-digits for each of the past 12 months. In the capital, where all of IRES' and HBRN's residential exposures are located (the vast majority of CRN and GLV's land assets are also located in the Greater Dublin Area), prices are 12.5% higher than one year ago despite a slight decrease m/m. Outside of Dublin prices climbed 1.5% m/m and were +13.6% y/y. Overall, national prices are now 21% below the 2007 peak while Dublin prices are still 23% below their peak more than 11 years ago. The RPPI release also shows that 3,170 household market residential dwelling purchases were filed with the Irish tax authority in April, which is +13.7% y/y, although the growth in the first four months of the year was a more pedestrian 4.6% y/y.
 
Irish Economy: NAMA upgrades its projected lifetime surplus to €3.5bn
 
NAMA released its annual report for 2017 yesterday in which it reported a profit of €481m for the year and increased its projected lifetime surplus from €3.0bn to €3.5 billion. While NAMA's profit last year was much reduced from the €1.5bn in 2016, this reflects a smaller balance sheet and a reduced pace of asset disposals. Cash generation totalled €2.56bn during the year with the vast bulk of this arising from the sale of assets. Net loans and receivables ended the year at €3.2bn, a reduction of €0.7bn from end-2016. With the last tranche of senior debt redeemed last year, NAMA redeemed almost €500m of its subordinated debt in recent months through a combination of a tender and bilateral transactions. Much of NAMA's annual report was devoted to its revised strategic objectives and it continues to make progress on its residential delivery funding programme and the development of its assets in the Dublin Docklands SDZ.
 
Grafton: RICS data
 
May's UK RICS housing market survey was better than expected with the house price balance firming to -3% from an upwardly revised -7% in April, erasing almost half of April's surprise fall. Consensus expectations were for an outturn of -5%. Activity indicators presented a healthier backdrop for sales with new instructions continuing to rebound, turning positive for the first time since February 2016, whilst agreed sales also firmed to -1.5 from -3.6. On the demand side, new buyer enquires edged back to -6.8% from -3.0%.
 
Economic Releases
 
09.30 UK Retail Sales


12.45 EC ECB's Rate Decision


13.30 EC ECB's Draghi press conference


13.30 US Retail Sales