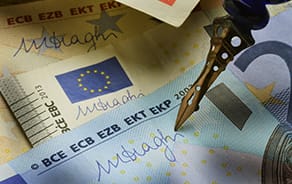 The ECB's Governing Council (GC) is set to make their policy announcement at 12:45 this afternoon and the President's press conference at 13:30.
There should be no changes in policy with the key ECB rates held steady at -0.40%, 0.00% and +0.25% (deposit, main refinancing and marginal lending) respectively. Given changes to its QE guidance in March, next week's meeting certainly looks to be one of watching and waiting. March's Governing Council meeting yielded a further gradual step on the path to policy normalisation as the ECB dropped the statement that it stood 'ready to increase the asset purchase programme in terms of size and/or duration', effectively removing the ECB's easing bias on asset purchases which had stood since 2016. Given the central bank's concerns over euro volatility this would seemingly represent a policy change well done- the euro is basically unchanged on the levels just prior to March's meeting. Nonetheless the ECB is set to maintain its view that euro volatility warrants monitoring.
Momentum slowing
A strengthening economic outlook and increasing confidence in inflation returning to target (2%) have been the critical influences driving the cautious normalisation of ECB policy this year. How the policy path develops from here remains very much dependent on data, which means that there will be a degree of interest in the ECB's evaluation of recent data outturns. Firstly, key indicators since March's meeting have been weaker than expected. At the time growth momentum was described as being strong and robust, but weak survey evidence and negative industrial output growth in January and February may prompt some acknowledgement from the ECB that there has been some loss of momentum. Winter storms may have played at least some part, but the turn in data may prompt the ECB to revise its view that near term growth could be 'somewhat higher' than expected. In fact figures to date suggest strongly that Euro area Q1 GDP growth is set to be weaker than the ECB's current estimate of +0.7% q/q, indeed there is a risk that Q1 undershoots the lower end of the range of its forecasts (+0.5%). With inflation still below target, a more pronounced loss of momentum would become a concern for the ECB, given that its policy moves have been driven by its assessment that current rates of growth are running above potential, reducing spare capacity and hence strengthening its confidence of inflation rising to target.
Inflation concerns
March's HICP inflation reading was revised down to 1.3% from 1.4%. However, whilst the softer than expected reading may prompt markets to expect a more dovish assessment from the ECB, it is worth noting that the HICP outturn for Q1 as a whole is exactly in line with the ECB's 1.3% central projection for the quarter. Recent German pay deals may also provide some positive background news on inflation. Following in the footsteps of IG Metall's pay-deal earlier this year Germany's public sector workers have this week agreed pay increases of just over 3% in 2018 and 2019, suggesting that tighter labour markets may be filtering through into higher wage growth, at least in Germany. It is unlikely that a couple of, perhaps weather related, data points will alter the ECB's view of the outlook at this point, meaning that next week's meeting is set to reiterate the ECB's catchphrase of 'prudence, patience and persistence' on policy. Current asset purchases are set to continue at €30bn/month until September, but given the consistent view that purchases will not end abruptly, a gradual pace of tapering should be witnessed across the last three months of the year. A decision on this next week is highly unlikely. Instead the focus appears to falling on June for the next step in policy, given comments from a number of GC members and the fact that the ECB will have its latest set of forecasts.
No hikes until mid-2019
Any change in ECB interest rate policy remains some way off. Current market pricing is for a mid-2019 hike, which a number of GC members have acknowledged as being a reasonable assumption. Indeed our own view is that the first rise will be a 20bp hike in the deposit rate to -0.20% in Q2 2019. Ahead of then there will need to be some evolution of the ECB's interest rate guidance. Indeed there has been an acceptance among the GC that clarity needs to be provided on the current wording of interest rate policy, which currently states that the ECB expects rates 'to remain at their present levels for an extended period of time, and well past the horizon of our net asset purchases'. Given the expectation that asset purchases will run until the end of this year, it would seem reasonable that the ECB provides a bit more granularity on the outlook for interest rates at its September meeting, but obviously much will depend on how the data evolves between now and then.
Rising yields strengthens USD
The USD is trading near 3 ½ month highs, bolstered by rising US Treasury yields, with the 10 year benchmark breaching the key 3% threshold level for the first time is 4 years. 10 year US treasuries yields reached a high of 3.025% yesterday, as concerns of the growing supply of government debt and inflationary pressures from rising oil prices continues. This rise in US bond yields has caused US yield differentials versus both German and Japanese counterparts to widen even further, thus strengthening USD, leaving the yen and euro lower.
Irish Banks: Tracker mortgage increases at AIB and Ulster Bank
The Central Bank of Ireland yesterday issued its latest update on the progress being made in its Tracker Mortgage Examination. The CBI Tracker Mortgage Examination has now found that c.37,100 customers have been impacted by incorrect treatment of their tracker mortgage products by Irish lenders, a 10% increase on the c.33,700 they had included within the scope of the examination at their last update in December. Although the CBI does not identify which lenders are responsible for the latest increase, Irish media is reporting that AIB (+1,400 from their December update) and Ulster Bank (+1,500-2,000) are the primary source of this increase. It is unclear whether any additional provisioning will be required by either bank to deal with this increase in impacted customers. The CBI update notes that total redress and compensation of €459m has now been paid out by lenders to affected customers as at end-March, with 88% of all accounts identified having received redress and compensation offers. This level of remediation offer varies significantly from institution to institution, with three of the five main high street banking groups close to 100% (100%/97%/96%), but two laggards much further behind in their progress (71%/48%). As a result of the examination, the CBI has now initiated enforcement proceedings (potentially leading to fines against the companies and sanctions against any staff or management held responsible) against all six lenders still operating in the Irish banking sector (both AIB and its building society subsidiary EBS face enforcement actions).

REITs: HBRN linked with New Ireland; JLL comments on the industrial market

According to a report in today's Irish Times, Hibernia REIT (HBRN) is one of four bidders that have made it through to the second round of bidding for the New Ireland building in Dublin City Centre. Elsewhere, JLL has released its latest Dublin Industrial Market Report, covering Q118. Located next to Green REIT's One Molesworth Street office development, the New Ireland building is seen as occupying a site with significant redevelopment potential. It is expected to be replaced with a new mixed use block (of up to 67,000 sq ft of space) comprising office and retail elements. The agents (Savills) have guided in excess of €35m for the property. According to The Irish Times, apart from HBRN the other remaining bidders are Chartered Land, Meyer Bergman / BCP Asset Management and developer Mr. Eamon Duignan. Elsewhere, the JLL report shows a good start to the year, with take-up in Q1 of 713,830 sq ft a little ahead of the quarterly average over the past 10 years of 596,000 sq ft. Take-up was mostly lettings (422,819 sq ft), with sales contributing the other 41%. As has been the case for some years, there is a chronic shortage of good quality prime industrial units. This is reflected in the 77% share of take-up that is accounted for by secondary stock, with tertiary providing a further 6%. The 17% quarterly share of take-up accounted for by prime is lower than the average over the past five years of just 25%. Rents were flat in the quarter at €8.75 per sq ft for prime and €6.75 for secondary, although JLL believes that the former will climb to €9.20 by the year-end.
SKG: SCA profits driven by Kraftliner
SCA has reported Q1 results with Group EBITDA +47% to SEK 1,175m, with the improvement driven by higher prices in Kraftliner, Pulp and Wood. On a sequential basis EBITDA grew by 9%. Within the Group's Paper division (41% of Q1 sales), EBITDA more than doubled to SEK 586m from SEK 268m driven by higher selling prices for Kraftliner with the division's margin expanding to 24.6% from 13.1% in Q117 and 15.8% in Q417. Deliveries of Kraftliner were actually down 8% yoy and up just 1% vs Q417.
Mincon: Q1 update
Today's Q1 interim trading statement, with numbers which exclude the Driconeq acquisition, is in line with expectations, given the integration of acquisitions in 2017 which has changed the sales mix. Coming off a high base and with capacity still to come online revenue has grown 6% though the higher proportion of Mincon manufactured product in the sales mix has resulted in c.2% increases in both the gross and operating margins. The trading statement also gives more detail on Driconeq, with a full year contribution to revenue estimated to be c. €20m and gross margin currently at 22%.
Economic releases
12.45 EZ ECB Interest Rate Decisions
13.30 EZ ECB President Draghi Press Conference
13.30 US Continuing Jobless Claims
13.30 US Initial Jobless Claims
13.30 US Core Durable Goods Orders