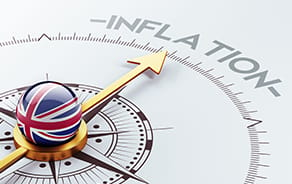 The targeted rate of inflation has fallen back by 0.5% over the past two months with the March print standing at 2.5%.
This has occurred principally as price increases linked to the post-referendum decline in sterling have dropped out of the calculation. Our expectation for April is that this lower trend will be interrupted due to the following factors: i) a rise in petrol prices (and a decline 12 months ago); ii) a rebound in furniture prices after a decline in March; and iii) an increase in soft drink prices from the sugar levy. Overall our forecast for CPI inflation is for a modest increase to 2.6%. We would stress that we believe the trend to be down over the remainder of this year and that there is a good chance that inflation falls below the 2% target towards the end of this year. However this will partly depend on the path of oil prices, specifically that there is some downward adjustment following the recent increases in petrol prices.
 
ECB keenly eyeing EZ PMI's
 
April's Composite PMI edged down to 55.1 from March's 55.2, marking a 16-month low. Both the manufacturing and service sectors witnessed slowing levels of activity. The Composite PMI has now witnessed a 3.7pt drop since January, but at 55.1 it still represents a solid pace of expansion. However a key question for the ECB is whether the current level of the PMI reflects a moderation to a level seen as consistent with more sustainable medium term growth rates, or if it represents the start of a more pronounced deceleration. The true picture may take a month or two to become clear. We would expect the PMI to begin to stabilise around these levels. Whilst poor weather, strikes and even flu have weighed on activity in recent months, companies have also cited a number of other factors restraining activity. These have included global trade concerns, Brexit, and the strength of the euro. Whilst progress on Brexit has been slow, sentiment around global trade tensions appears to have eased slightly more recently and the euro has softened, which may ease some corporate concerns. At the same time a reversal of the temporary factors above may help to drive a small rebound in the PMI this month to 55.3.
 
Italian update
 
Despite 5 Star and Lega Nord reaching an agreement on a governing coalition last week, markets are still awaiting formal news on the Prime Minister and key government positions. Giuseppe Conte has been put forward as the coalition's candidate for Prime Minister. However he has yet to be approved by President Mattarella, with reports suggesting that there are various concerns about his lack of political experience and his ability to manage the role.  A decision could come today, but a report in La Repubblica has also suggested that 5 Star leader Di Maio may be back in the running, which if true would likely upset Lega Nord. The key position of Finance Minister has also yet to be announced, although Paolo Savona looks to be the front runner for the position, but again reports have suggested that the President is uncomfortable with the nomination. Overall, Italian problems are set to rumble on, with the key issue of the of the Prime Minister and the make-up of the Cabinet very much up in the air.
 
Dalata: Hyatt to enter Irish hotel market
 
US hotel group Hyatt, with a presence in more than 50 countries, is to enter the Irish market for the first time next year with the opening of a Hyatt Centric hotel in the Liberties area of the city. The 234-room hotel is currently under construction and will be operated by the family-controlled Hodson Bay Group under a franchise arrangement with Hyatt. Hyatt's regional vice-president for franchises commented that the group was attracted to Dublin's "booming economy" and remained interested in opening further properties in Ireland. The new hotel will be a short distance from Dalata's Maldron Hotel on Kevin Street that is due to be complete in June and is currently taking bookings for early July.
 
UK Construction: Polypipe results
 
Polypipe, the largest manufacturer of plastic pipe in the UK, has issued a pre-AGM trading update. While trading was disrupted by bad weather they remain confident of delivering full year expectations. Revenue for the first four months of the year was £135.7m, -0.9% lower than the prior year. The company estimates that adverse weather conditions in late February and March impacted revenue by c.-£8m and that underlying revenue growth was c.+5%. Recent trading has been more consistent with this adjusted rate. Commercial and infrastructure growth has been weaker than residential with delays in road and commercial projects adding to the disruption in weather. The company points out that latest CPA forecasts are for a broadly flat construction market for the UK in 2018.
 
Irish REITs: Investors chasing Dublin assets
 
Media reports (Irish Times, Irish Independent) cover a number of large deals in the Dublin Docklands. Ballymore and Oxley are today bringing Phase II of the Dublin Landings scheme in the North Docklands to market. The 100,000 sq ft No. 2 building has been pre-let to WeWork on a 20 year lease with no break options. Assuming standard acquisition costs, the €99.8m price tag implies a gross yield of 4.5%. No. 1 was sold for €164m to German fund Triuva several months ago following a bidding war involving 10 institutions. Dublin Landings is a 1m sq ft mixed use scheme comprising five office blocks, 298 apartments, restaurants and bars. Less than 1km to the north of Dublin Landings, The Comer Group has agreed to sell the 190,000 sq ft Beckett Building to South Korea's Kookman Bank for €101m, which represents a return of c. 2.5x on the money the group put into the building since agreeing to buy it in 2013. Facebook is the tenant at Beckett, with a 15 year lease at an annual rent of €4.53m or €23.50 psf. Beckett Building is said to have received significant international interest. Travelling slightly west of the Beckett Building, a 27,000 sq ft five storey vacant block at Crosbie's Yard is being brought to market with potential for conversion to either apartment or office use. The building was completed in 2006 and has been vacant ever since. The €5.5m price tag likely reflects the cost of this refurbishment. Finally, while not a Docklands asset we note that 11 apartments (six one-bed and five two-bed) at Elmpark Green in Blackrock have been sold for c. €3.6m just four weeks after bids were received. The sale price works out at €327k per apartment and will deliver a gross yield of 4.83%. The identity of the buyer has not been disclosed.
 
Economic Releases
 
09.00   EZ   PMI

09.30   UK   CPI

09.30   UK   PPI

14.45   US   PMI

15.00   US   New Home Sales

19.00   US   FOMC Meeting Minutes