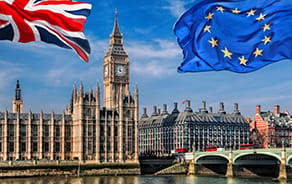 Bank of England to hike 0.25%
Later today the Bank of England's Monetary Policy Committee (MPC) will face the decision of whether to raise rates for just the second time since the financial crisis.
Our expectation is that the MPC will vote 8-1 in favour of a 25bp hike to take the Bank rate to 0.75%. With regard to Quantitative Easing, we expect unanimous votes to maintain the stock of gilt purchases at £435bn and that of corporate bonds at £10bn. The decision will be announced at 12:00pm, with the minutes of the meeting and the Inflation Report (IR) published simultaneously. Like every 'Super Thursday', Governor Carney will follow with his customary press conference half an hour later.

Data reinforcement

Recall that the MPC had seen its rate hike plans put on ice in May by a bout of wintry weather which coincided with softer data. Though the committee judged that the heavy snowfall was the main culprit behind the slowdown, it chose to sit back and see if this was confirmed. In the event, the data has evolved broadly in line with the Bank's most recent Inflation Report (IR) projections. The inaugural release of monthly GDP showed that growth had firmed to a six-month high of +0.3% (mom) in May. Even accounting for some moderation in June, Q2 growth looks set to firm to (or even above) the +0.4% projected in the May IR. Alongside this, CPI inflation moderated as projected from 2.7% in Q1 to 2.4% in Q2, while the unemployment rate looks on course to drop to 4.1%. Serving as the cherry on the top, Q1 GDP growth has been revised up to +0.2% (from +0.1%), taking it closer to the +0.3% the MPC believes it will eventually be revised to.

Broad consensus

It has therefore come as no surprise that policymakers have appeared increasingly assured that the Q1 slowdown was temporary. Indeed, Chief Economist Andy Haldane voted to raise rates at the June meeting, an important move given that he has historically been regarded as one of the more dovish members of the committee. We think Governor Mark Carney will agree this time, having recently expressed greater confidence that the slowdown earlier in the year was "largely due to the weather, not the economic climate". Meanwhile, Deputy Governor Sir Jon Cunliffe will probably provide the sole source of dissent to the hike, having argued in July that there remained a case for a little "stodginess" in setting interest rates. His views were not too surprising, given his disagreement with the last rate rise. Still, the other opponent to the November 2017 hike, Deputy Governor Sir Dave Ramsden, now looks set to vote with the majority of the committee given his comments over recent months.

McCafferty bids farewell

It's also worth noting that August will mark the final meeting of hawk-in-chief, external member Ian McCafferty, whose second term finishes at the end of the month. An August hike would therefore serve as a parting gift of sorts for Mr McCafferty, who first voted to raise rates to 0.75% in August 2014. He is set to be replaced by Professor Jonathan Haskel, whose policy bias (if any) is currently unknown. However, our expectation is that this changing of the guard will not shift the path for rates. Rather, the outcome of Brexit negotiations is a bigger unknown with regard to its potential impact on monetary policy.
Fed leaves rates unchanged

The Federal Open Market Committee unanimously opted to hold policy steady last night, in line with market expectations and our own forecast. As such the Federal funds target rate remains at 1.75%-2.00%, the level it was raised to in June. QE holdings are also continuing along the same planned path, with up to $40bn of assets permitted to roll off the Fed's balance sheet each month. The statement, unsurprisingly given recent economic news including last week's above 4% (saar) GDP print, was upbeat. It described a number of economic indicators (the pace of economic activity and job gains) as "strong", an upgrade from the previous language of "solid", leaving markets continuing to bet that another rate increase on 26 September would be forthcoming and that we will see further gradual increases after that too. Indeed debate continues amongst investors over whether the Fed could even step up the pace of rate rises next year as it adds a planned press conference to every meeting from January. 10-year Treasury yields had already breached the 3% mark earlier in the day, but had slid back ahead of the Fed. The US dollar made gains after the 7pm Fed announcement and has strengthened further overnight amidst talk that the US is considering lifting tariffs on Chinese imports.

Irish Banks: New SME lending increases by 2.7% y/y in Q118

The Central Bank of Ireland's SME Market Report for 2018 has indicated that gross new lending to non-financial, non-real estate business sector increased by 2.7% y/y in Q118, with new lending totalling €3.7bn in the period, unchanged since the previous CBI SME report, but significantly lower than the +31% y/y figure seen in Q116. Credit outstanding to the sector stood at €16.2bn in Q118, with CBI data suggesting this had fallen by approximately 2% y/y (though this data can be impacted by reclassifications, FX revaluations and other non-transaction effects). The figures are in line with commentary from both AIB and Bank of Ireland in their H118 results released this week, which indicate only sluggish growth in credit demand from the SME sector, with Brexit uncertainty being highlighted as a significant concern impacting sentiment. The new lending was driven by Primary Industries +11% and Hotels & Restaurants +3.7% with declines in Manufacturing -26.5%, Construction -12.6%, Wholesale/Retail/Trade/Repairs -6.4%, and Business & Administrative Services -5%. Market share among the top three lenders remains high, at 86% of new lending flows, but concentration has trended downwards since 2016.

Irish Economy: Dublin output growth accelerates in Q2

The latest Dublin Economic Monitor, published this morning, shows that output growth ticked up in the second quarter of the year, an outturn that is presumably supported by the soft comparative provided by Q1's extreme weather. The Markit Dublin PMI firmed to 58.5 in Q2 from Q1's 58.0, extending the sequence of growth to 23 quarters. All three sectors saw sharp increases in output, led by construction. While New Orders growth moderated a little in Q2, it remains very sharp, with a similar narrative in place for the Employment component. A round-up of previously released economic data shows a broad improvement in the capital's economy. Total employment has increased by 34.5k (to 685.4k) in the past year, meaning that Dublin has been the location for 56% of national job creation in the period, which is double its share of the national population. This growth is broad-based, with both the public and private sectors adding to headcounts at a rapid clip. Property indicators showcase the ongoing mismatch between supply and demand, with capital values advancing at a double-digit pace while average rents of €1,527 a month are at an all-time high. New housing supply may be growing at 15.3% y/y (in Q118), but annualised completions of 4,856 are well below the 10,000+ that the city needs. In the commercial property space, rents were +4% y/y in Q2, with new supply helping to temper the inflation rate here (the headline vacancy rate across Dublin rose 30bps to 6.2% in Q2, although pre-lets mean that the 'real' vacancy rate is lower). Transport indicators also reflect the city's growth, with 2.4m additional trips made on public transport (53.9m trips in total) in Q118, +4.6% y/y, while both the airport and Dublin Port saw higher throughput relative to year-earlier levels. The hotel sector reported a new high in ADR of €145 in May, with occupancy at 83.5% in June (+0.3pc y/y).

Applegreen: To acquire majority stake in Welcome Break for €361.8m

Applegreen has this morning announced an acquisition which will see it acquire a majority shareholding of Welcome Break, a group with a portfolio of 24 Motorway Service Areas (MSAs), two Trunk Road Service Areas and 29 hotels across 35 locations in the UK, for a cash consideration of €361.8m. The transaction will be financed by a new debt facility of €300m and a proposed equity fundraising of a minimum of €100m. The vendor in the transaction is NIBC European Infrastructure Fund I C.V. The Admission Document is expected to be published in September 2018. This transaction will see Applegreen become a leading MSA operator in the UK. Welcome Break was founded in 1959 and has an established position as one of the three dominant owners and operators of MSAs in the UK. It is described as having "very stable" earnings and generated revenues of £723.4m and Adjusted EBITDA of £66.4m in the year to January 2018, with 85m customers per annum. Applegreen sees a "significant" asset management opportunity to enhance performance of the enlarged group through operational efficiencies and synergies achieved through the combination of support functions.

Economic releases

09.30 UK Construction PMI
10.00 EC PPI
12.00 UK BoE rate decision
12.30 UK BoE's Carney speaks
13.30 US Initial Jobless Claims