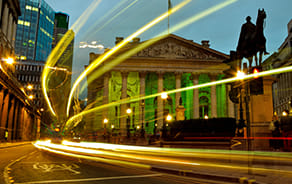 BoE to stand pat after run of soft UK data
Two weeks ago, a second hike in the BoE interest rate cycle next week seemed virtually nailed on.
Minutes to March's MPC meeting were on the hawkish side of expectations. Two members (Ian McCafferty and Michael Saunders) backed a 25bp hike, from 0.5% to 0.75%, while the minutes referred to 'an ongoing tightening' being appropriate. Since then, GDP figures (27 Apr) showed that the economy grew by a mere 0.1% in Q1, general doubts about a May hike began to set in. Indeed we shifted our own forecast to 'on hold' at 0.5% from an increase at the start of last week.
Additionally the disappointing rebound in April's services PMI, to 52.8 after March's near three point drop to 51.7, opens up more doubts over how much of the weakness in Q1 was due to the snow. At this juncture, the MPC does not have to take a heroic view over whether the economy's current sluggishness is temporary or something more malign. Indeed at 2.5%, CPI inflation has fallen faster than the BoE's forecasts so far this year and this will give the committee a degree of cover in planning a postponement of a hike to later this year.
August hike
The balance of the vote on rates will give markets an indication of the degree to which the committee as a whole may be reappraising economic prospects. Here we note Mark Carney's warning a fortnight ago from Washington, when he spoke about 'mixed' data, but also remarking that there were likely to be differences in view among members. Indeed we doubt that dissent has evaporated completely, and our suspicion is that the vote will mirror that in March i.e. that it will be 7-2. We judge that Dr Carney will stress the uncertainties connected with recent soft data and that the path of rates will be dependent on how the economic numbers evolve. But at this point, our baseline case is that today will mark a three month postponement to rate increases, with the next 25bp hike occurring in August. We are also pencilling in two 25bp moves over 2019, taking the Bank rate to 1.25% by the end of next year. This of course is based on our premise that GDP growth returns to levels prior to the start of the year and that the Brexit process is not too dysfunctional. If not, interest rates will rise only very slowly over the next 18 months, if at all.
Oil rises as markets react to looming geopolitical risk
Oil continues its ascent with front month contracts rising to new YTD highs this morning. The major factor driving the bullish narrative is the geopolitical backdrop in the Middle East – US President Donald Trump pulling out of the Iranian Nuclear deal has analysts across the globe testing potential outcomes that are far from clear at present. Trump has 180 days to reintroduce sanctions on Iran and as yet it not understood what those will be. Europe on the other hand is scrambling to protect the deal given that its trade with the Iranians has risen three-fold since 2015. The Russians have entered the fray with Bloomberg reporting that a potential summit between Donald Trump and Vladimir Putin is "extremely important" to safeguard global stability in the wake of the American president's decision to quit the Iran nuclear agreement, according to a top Russian diplomat in charge of relations with the U.S. "A summit meeting, of course, could seriously help to limit its negative consequences and give diplomacy another chance" even though Trump's move "won't be reconsidered," Russian Deputy Foreign Minister Sergei Ryabkov told Bloomberg News on Wednesday. What is clear however is that the global geopolitical status is at its most fragile in many decades and given the fact that much of this centres around the Middle East, it is not surprising to see oil underpinned by a build in risk premium.
Irish Economy: House price inflation data

The latest Residential Property Price Index (RPPI) release from Ireland's CSO shows continued upward pressure on prices in March. National prices rose 0.7% m/m (a 15th successive monthly rise), helping the annual rate of inflation to come in at 12.7% (the fastest pace of growth on this measure since May 2015). In the capital prices rose 0.3% m/m and were 12.1% above year-earlier levels. Outside of Dublin prices climbed 1.1% m/m and were +13.4% y/y. The RPPI release also shows that 9,842 household market residential dwelling purchases were filed with the Irish tax authority in Q118, which represents growth of just 2.0% y/y. The extreme weather events in late February / early March are unlikely to have materially skewed these data given that the RPPI is compiled from stamp duty returns, which have a 44 day submission deadline.
Grafton: SIG trading update

SIG (specialist building products distributor, UK & Europe) has issued a trading statement in advance of its AGM later today. Group revenues are up 2.2% in the first four months, boosted +2.0% by FX and +0.5% by working days. In the key UK & Ireland division (mostly UK), like-for-like sales were down -4.4%, the company citing poor weather conditions in February and March with the Exteriors business being particularly badly hit, -10.6% lfl.

ICG: Trading statement

Revenue was +1.4% to €96.4m for the four months to April 30th with the Ferries division -2.4% to €52.3m (due to lower charter income following on from the sale of the Kaitaki and redeployment of the Westpac), while the Container & Terminal (C&T) division was +6.1% to €46.8m. Net cash grew to €69.3m from €39.6m at Dec 2017 boosted by the sale of the Jonathan Swift. For the year to May 8th Car volumes were +2.4% and RoRo +3.9%. The Terminal Lifts business recorded 4.8% growth, while the number of container freight volumes shipped grew 1.1% (mainly mix). Within the statement ICG points out that having been informed by the German shipyard, FSG, that the W.B. Yeats would be delayed it cancelled a number of sailings, the cost of which to the Group is expected to be €2.5m in lost revenue. Customers were offered alternative sailings or a full refund and all customers received a voucher of €150 for 2019. At this stage 94% of customers have chosen to reroute on alternative Irish Ferries routes, 5% have sought a refund with 1% yet to decide.
Economic Releases
09.30   UK   Industrial Production

09.30   UK   Manufacturing Production

12.00   UK   BoE Decision

12.30   UK   BoE Carney press conference

13.30   US   Initial Jobless Claims

13.30   US   CPI