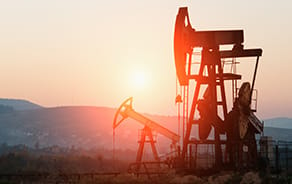 Brent retreats from $80/barrel high on Trump tweet
The price of a barrel of brent crude oil has been threatening to set fresh 4 year highs, with a break through $80 per barrel, the price level which markets have been flirting with since May of this year, seeming imminent. The price reference hit $79.8 per barrel yesterday morning, as US sanctions on Iran, due to come into place in November, draw closer. However the price reversed sending the price of a barrel over $1 lower on Thursday afternoon as Donald Trump took to twitter to criticise OPEC member. The president wrote;
We protect the countries of the Middle East, they would not be safe for very long without us, and yet they continue to push for higher and higher oil prices! We will remember. The OPEC monopoly must get prices down now!
Oil has recovered slightly this morning, and we are now back above $79/barrel. While the US president's twitter rant is unlikely to have too much influence on OPEC (many of its members have a history of fraught relations with the US), but it may result on increased pressure on US producers to raise domestic supply if the president wants to exert downward pressure on price levels.
APGN: Solid earnings and site growth in H1
Applegreen released its interim results for the period ended 30th June this morning which show another period of double-digit earnings growth, although no new details on the transformative acquisition of a majority interest in Welcome Break were provided. Group revenue increased by 27% to €854.9m in H118 with adjusted EBITDA 17% higher at €19.4m. Non-fuel (food and store) gross profit increased by 3.5% on a like-for-like constant currency basis in H1 2018 (7.4% in FY17) and the group noted the "difficult trading conditions" caused by severe weather in March. The group expanded its footprint by 26 sites (7 in ROI, 15 in UK, 4 in US) in the six month period to 368 sites. The interim dividend has been increased by 5% to 0.63 cent/share. The shares remain suspended on both the AIM market of the London Stock Exchange and the ESM market of Euronext Dublin pending the publication of the Admission Document in relation to the Welcome Break transaction.
Irish Economy: NTMA T-bill sale
Ireland's NTMA yesterday raised €500m from the sale of 12 month T-bills. This scheduled auction attracted €1.255bn of demand (2.51x covered), helping the sale to price at a yield of -45bps. Approximately 1% of State borrowings are from these short-term instruments, with each of the last 13 auctions having been completed at a negative yield.
Sterling slips as Tusk rejects Chequers plan:
Theresa May suffered a difficult day in Salzburg yesterday as EU Council President Donald Tusk delivered a press conference which seemingly rejected the government's Chequer's proposal. Mr Tusk stated that the UK government's suggested framework for economic cooperation would not work, as it undermines the single market. Tusk also failed to formally confirm a 17-18 November EU Summit, as some had expected. Instead the President stated that the possibility of a November summit would be considered at October's EU Summit and would depend on whether sufficient progress had been made by that point. As well as the push back against the government's Chequers proposal on future arrangements, there was also a call for further progress on the Northern Ireland border issues. Clearly there remains much that still needs to be agreed and the EU's apparent rejection of the government's plans leaves little time between now and the 18-19 October EU Summit to achieve Tusk's 'maximum progress' to enable a November summit. Bloomberg has reported that PM is preparing fresh plans to break the deadlock, but this has not been confirmed anywhere else as of yet. Sterling is off the highs of yesterday afternoon with EUR/GBP trading back up over 0.8900.
UK retail sales beats f/cast:
Another day, another strong UIK economic print. Yesterday it was the turn of retail sales Figures out yesterday morning showed that retail sales had risen 0.3% (mom) in August following an upwardly revised July expansion of 0.9%. This marked a beat on consensus expectations for a fall of 0.2%, but matched our own forecast. There were further signs of the ongoing structural shift in consumer spending away from the traditional high street, with online shopping accounting for a record 18.2% of all retailing in August.
Economic Releases
09.00    EC        Manufacturing PMI
09.00    EC        Services PMI
09.30    UK        Public sector finances
14.45    US        Manufacturing PMI
14.45    US        Services PMI