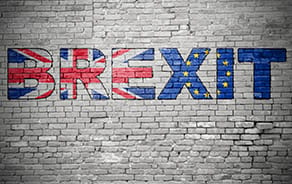 Brexit issues still front and centre
News yesterday that UK Prime Minister looked to have been successful in hammering out intra-Cabinet differences at Chequers last week, paving the way for her to portray a cohesive government position in her third major Brexit speech this coming Friday.

Still, media reports over the weekend suggested that the Prime Minister has come under fresh pressure to resign, with suggestions that her Foreign Secretary had considered quitting himself ahead of the Chequers gathering. Additionally, at a fundraising event last Thursday around a quarter of 50 donors reportedly demanded her resignation, something which Eurosceptic MPs have been keen to jump on. Meanwhile, UK opposition leader, Jeremy Corbyn, yesterday confirmed in a speech that Labour will be looking for the UK to form a customs union with the EU. This shift raises the chances that the prime minister will lose key upcoming votes on the trade and customs bills over the coming months, as well as the final brexit deal, if labour sides with pro-EU conservative MPs in their proposed amendments to the bills.
Brexit calendar
There's no let-up on the release of brexit related papers and scheduled speakers this week. UK international trade sec. Liam Fox, EU chief negotiator, Michel Barnier and the euro parliament brexit chief coordinator, Guy Verhofstadt are all due to speak today. Tomorrow we will see the EU release its full legal text of britain's exit treaty. Then finally on Friday, UK PM Theresa May is due to make her third 'major' brexit speech in which she is said to be setting out her stall to display her vision of the UK's future relationship with europe. Following on from Mr. Corbyn's game changing show of cards yesterday, Mrs. May will be under pressure to deliver something substantive.
Fed Chair Powell's testimony to drive Dollar
Newly appointed Fed Chairman Jerome Powell gives his first semi-annual testimony to the houses of US government today when he appears before the House Financial Services committee at 3pm today (Irish time). The meeting comes at a key time, the US stock markets have suffered from their first major correction in over 2 years and US government borrowing costs are heading towards their highest levels in 5 years as the 10 year treasury yield approaches 3%. At the same time, the Fed is widely expected to hike rates at their next meeting.
Equity markets will eagerly anticipating Powell's view on the recent correction and recovery. FX markets will also be keen to hear his views on both the likely hood of a March hike (currently almost 100% priced in by markets) and the view on the number of rate hikes the US are likely to enact by the end of the year. Anywhere between 3 and 5 hikes have been suggested by economists, but the market until recently was only pricing in 2 to 3 hikes, so a more hawkish stance from Powell could give the dollar a boost.
Overall, Powell, who never dissented with the Fed on a monetary policy decision in the 6 years he served on the board of the Fed is seen as a continuity candidate to the Obama appointed Yellen. If this is true, he will likely continue the "slow and steady" approach that Yellen personified, and he will no doubt aim to emulate her achievement of hiking rates 5 times over a 2 year period while also watch equity markets grow from strength to strength.
FBD Insurance: FY17 results
FBD has published its FY17 results this week. The main highlights were as follows, GWP of €372.5m (FY16 €361.8m), +2.7% y/y, an underwriting profit of €44.9m (FY16 €3.2m), and a profit before tax of €49.7m (FY16 €11.4m). Basic EPS of 123c (FY16 26c) and NAV of 784c (FY16 651c). Loss ratio of just 62.9% (FY16 76.4%), expense ratio slightly higher at 23.3%, leading to a combined operating ratio of 86.2% (FY16 99.0%), though this is 93% when prior year improvements and the MIBI release are excluded. Investment return of 1.2% (FY16 1.9%). Net cost from Storm Ophelia of €5.4m after reinsurance. Return on equity of 17% and a proposed dividend per share of 24c (FY16 0c). Solvency coverage ratio (SCR) increases to 164% from 126% at FY16.
Dalata: FY17 results
Dalata reported FY17 results this morning with adj. EBITDA that was +23% y/y. This came on the back of revenues of €348.5m that were +20% y/y. Group RevPAR was 10.4% higher in FY17 to €88.51 with both Dublin (+11% excluding Burlington Road) and Regional Ireland (+9.2%) again performing strongly and beating the wider market. Net debt/adj. EBITDA was 2.4x at year-end. Dalata will initiate a dividend in 2018 with an interim dividend to be declared at the time of the H118 interim results. The group expects a payout of 20-30%. Current trading is described as marginally ahead of expectations for Q1 with a positive market outlook. While no new projects in the UK have been announced this morning, the group has been successful in its planning application for a new 140 bedroom Maldron hotel (and 69 residential units) at the current Tara Towers site. Construction will commence this year.
Economic Releases
13.30      US     Durable Goods Orders
13.30      US     Fed Powell testimony released
15.00      US     Fed Chairman Powell testifies before House Financial Services committee