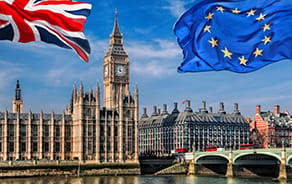 Brexit negotiations resume amid no deal chatter
Brexit negotiations resumed yesterday with growing pressure on both sides to reach an agreement.
Talk of the UK crashing out of the EU has grown considerably since the last round of negotiations, with senior politicians on both sides warning that the risk of a no deal was growing. Initial reports suggest that progress has been limited so far, with UK officials stating that there hasn't been much progress made on the key issue of the border between Northern Ireland and the Republic. The EU's backstop proposal has been for the North to remain in the EU customs union until such a time that the UK & EU come to an agreement on trade and custom's, however this has proved contentious particularly with the Tory party relying on the DUP for support. The UK's counterproposal to keep all of the UK in a trade agreement with the UK, is unacceptable to the EU without similar concessions on free movement of people. With negotiations back underway we expect focus to return to Brexit over the coming days. We also expect the UK government's No-deal papers covering contingency plans for a wide range of difference subjects to be released from next week onward. Recent headlines about hoarding food and medicine shortages brought the impact of a no deal Brexit into sharp relief recently and weighed on the pound. We expect the pound could remain vulnerable for the coming weeks.

Turkish developments

New Turkish Finance Minister Berat Albayrak addressed about 6000 investors via a teleconference earlier yesterday afternoon. In short, his main thrust was to underline the credibility of the economic outlook, with the key message that Turkey would emerge stronger than ever. The top priority, he said, was to control inflation (currently 15.9%) and that the government would deliver on fiscal targets. A new medium-term economic plan is currently under consideration. When addressing the subject of rollover risk he stated that the corporate sector has a net long position in USD. But of course one should note that aggregate figures are of little relevance if institutions that need to refinance are unable to do so. Albayrak did stress that Turkey would be looking at arrangements with partner countries (a $15bn deal with Qatar has already been announced). He also emphasised that at 3%, the level of bank non-performing loans was not a problem. He repeated a number of times that Turkey had never and would never introduce capital controls (it would be a major surprise if he did not say that!). In short, he was unconvincing on how banks and corporates will be able to roll their FX loans over (estimated to be $66bn and $76bn, respectively over the next 12 months). And of course he remained tight lipped over the governance issues that have plagued Turkish markets (Albayrak is President Erdogan's son-in-law). The Lira traded slightly firmer post conference, also boosted by rumours that the German government would be in favour of granting some form of assistance, however the lira dropped later in the evening after US Treasury Steve Mnuchin threatened further sanctions if Turkey refused to release American pastor Andrew Brunson immediately.

No deal Brexit - FX scenario

While the Brexit deadline is technically now less than 7.5 months away, the reality of the situation is that the format of an agreement needs to be in place by the end of this year, so that the relevant legislation can be passed in time for the end of March deadline. The worrying lack of progress has seen the Investec FX Desk field a number of calls in relation to our forecasts for EURGBP. Currently our end of year forecast stands at 0.8700. However, this is our central case forecast, which assumes a deal is complete with an orderly transition.We expect that most other bank forecasts also make a similar assumption when compiling their forecasts. In the case of a 'Hard Brexit' where we assume a no deal situation, no transition period, no customs union and little regulatory agreement (but do however make the assumption that this is not the worst case, i.e. planes are still allowed to fly), our forecast for year end is 0.9500 which rises to 0.9700 by Q2 2019. Interesting times ahead.
If you wish to know more, please call the treasury team.

Yew Grove: Initiation note – From little acorns do mighty oaks grow

Ireland's newest REIT, Yew Grove, came to market in June. It is targeting well tenanted Irish commercial real estate located outside of central Dublin, where yields are higher, using strong covenants to mitigate regional risks. Yew Grove has acquired €57m worth of assets to date and has the capacity to deploy a further €38m (plus costs). Yew Grove's management team has more than 50 years of combined experience in Irish commercial real estate. Prior to the IPO its executives spent four years constructing and managing the seed portfolio, whose investors saw their dividends double between 2015 and 2017. Management owns c. 7% of the shares, while their interests are further aligned with shareholders through an LTIP structure that is contingent on growth in NAV and dividends, along with TSR. The board is further enhanced by the presence of high calibre non-executive directors.

IRES/HBRN: Residential rents at a new all-time high

The latest report into the Irish rental market from Daft.ie, the country's largest property website, shows that average asking rents have increased to a new high of €1,304, +3.3% q/q and +12.4% y/y. This is despite a slight uptick in the stock of units available to rent across Ireland (3,070 units on 1 August, +5% y/y and the first August increase in nine years). The report shows that some of the strongest rates of rent inflation are evident in Dublin, where all of IRES and HBRN's residential exposures are concerned, and the capital's commuter belt. Rents across Dublin rose by between 9.9% and 14.1% y/y in Q2 (and by between 3.2% and 3.5% in the quarter). Across the commuter belt (Louth, Meath, Kildare and Wicklow), rents increased by between 11% and 13.4% in the year to Q218. There was particular strength evident in the country's secondary cities, with rents across Limerick, Waterford, Galway and Cork cities climbing by 12.8% and 20.7%. As we have noted before, care must be taken in interpreting these rents as the headline growth rate is skewed by mix effects (the inclusion of new rental properties that are exempt from the 4% annual rent caps that are in place across most population centres) which are amplified by a highly illiquid rental market.

Economic releases

10.00 EZ CPI
15.00 US Michigan Consumer Sentiment