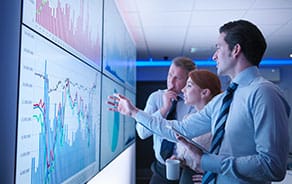 The Irish Independent reports that the minority Fine Gael led government and the main opposition party, Fianna Fáil, with whom it has a confidence and supply arrangement needed to steer its policy measures (including Budgets) through the Dáil (the only part of Ireland's houses of parliament with any real power) are clashing over the nature of tax cuts set to be unveiled in October's Budget.
Fine Gael contested the 2016 General Election on a platform centred on the abolition of the USC (an income tax). Following last year's change of leadership, the party dropped this policy. With net fiscal space of €0.9bn (after adjusting for the new 'Rainy Day Fund', where €500m a year will be parked into a new reserve), this implies about €300m for tax cuts and double that for discretionary expenditure increases (with most of this set to be devoured by housing and healthcare).

According to The Irish Independent, the government is minded to use most (€213m) of the available wriggle room on raising the entry point at which workers' pay the higher (40%) rate of income tax by "at least €1,000" (the Tax Strategy Group papers suggest this is equivalent to an €1,100 hike in the cut-off point). For its part, Fianna Fáil would like tax cuts to be focused on USC reductions (this is consistent with its tax policy platform from the 2016 election). The Tax Strategy Group's analysis shows that 531,700 workers pay the higher rate of income tax, versus the 1.9m who pay the lowest (0.5%) rate of USC. Abolishing the lowest rate of USC would cost the State €129m of revenues in a full year, while: (i) spreading the benefits of the economic strengthening far more widely than by upping the entry level to the marginal income tax rate; and (ii) leaving fiscal space for other tax measures, such as increasing the 'Earned Income' tax credit for the self-employed by €500, thus eliminating the unfavourable tax treatment of the self-employed versus PAYE workers at a cost of €76m in a full year.

There will, no doubt, be plenty of horse trading between the government and Fianna Fáil ahead of the Budget announcement on 9 October. It is worth noting that it is likely to be a pre-election Budget – we have previously outlined (see our Q2 2018 Irish Economy Monitor) why we think the government may opt for an unprecedented combination of Local, National and European polls on the same day next May.

Dalata: Apollo to buy Tifco
Apollo Global Management has agreed to acquire Tifco, Ireland's second-largest hotel group (behind Dalata) at a cost of up to €600m, according to The Irish Times. Tifco owns 18 hotels and sites for two new hotels in Dublin and has management contracts for a number of other properties. In total, the group controls over 2,300 rooms and several of the properties operate under the Crowne Plaza and Travelodge brands. The group had revenues of €37m last year. Goldman Sachs took a controlling stake in Tifco in 2014 when it bought the company's debt from IBRC, the entity formed in 2011 to manage the exposures of Anglo Irish Bank and Irish Nationwide Building Society.

ECB – No change
The ECB Governing Council (GC) is set for its final announcement before its planned halving in the pace of QE purchases to €15bn per month from October. As usual, we can expect the policy announcement at 12:45 this afternoon with President Mario Draghi's press conference following at 13:30. With regard to the three key rates (deposit, main refinancing and marginal lending), these are almost certain to be left unchanged at -0.40%, 0.00% and +0.25% respectively. When taking stock of the data published since it last met in July, the GC will be presented with a Eurozone economy that has broadly similar contours.

Inflation on target
On the inflation front, HICP continued to run modestly above ECB's target of below, but close to, 2.0% (yoy) in August, though the 'core' measure (i.e. excluding food and energy) remains stubbornly low at just 1.2%. Despite weak core inflation, ECB policymakers may be encouraged by early indications that the tightness of the labour market may be set to give rise to inflationary pressure. These developments look to remain consistent with the GC's medium-term inflation outlook, which currently sees HICP at 1.7% across the full three-year horizon with the core measure effectively reaching the ECB's target of 1.9% in 2020. As such, we expect the language of the accompanying statement to be tweaked to specify that the GC "confirms" that asset purchases will be halved in October. This would be broadly consistent with the communication approach it took in December 2017 just before the pace of QE was cut to its current monthly pace of €30bn. In addition, the GC is also likely to signal that it still "anticipates" that it will end net purchases completely by year-end.

Steady as she goes
Our general feeling is that it's not exactly an opportune time for the ECB to provide a clearly more hawkish signal on interest rates, given that the balance of risks has drifted further to the downside. Over the summer we have seen turmoil in Italy, emerging markets and an escalation in trade tensions in addition to growing concerns of the prospect of a "no deal" Brexit. Until the GC has closer sight on whether these risks will materialise and what impact they may have on the Eurozone economy, it will no doubt want to be careful in boxing itself into a corner on policy.

No change expected at BoE meeting as Brexit remains very much in focus
The ECB is not the only major central bank set to hold a rate announcement today, with the UK's Monetary Policy Committee (MPC) meeting taking place at midday. Having enacted only the second hike in Bank rate in 11 years in August, we expect policy to be kept on hold this time. Indeed, we expect Bank rate to remain at 0.75% and with no changes to the £435bn total for the gilt purchase and £10bn corporate bond (Quantitative Easing (QE)) programmes either. We suspect votes on the Bank rate and QE decisions will be unanimously supported as new external MPC member Jonathan Haskel replaces the relatively hawkish Ian McCafferty who left the MPC at the end of August.

The minutes to today's meeting will be published alongside the midday decision and latest report on economic conditions from the Bank's Agents. We would be surprised to see any new policy steers evident within the minutes. In August, when the Bank of England published its latest economic projections, it appeared keener than usual to avoid giving precise steers on its likely policy path, not least because of the added uncertainty Brexit brings. We have seen plenty of newsflow on Brexit since the 2 August Inflation Report, and much movement in sterling too, but we have certainly not seen sufficient clarity on the likely path of Brexit to encourage the Bank to provide more specific guidance on, say, the likely timing of its next move in Bank rate. As such we expect no shift away from the line BoE Governor Carney took back in August, that an interest rate increase of a quarter of a percent per year for the next few years more or less gets inflation back to target over the right horizon.

Economic Releases

12.00 UK BoE rate decision
12.45 EC ECB rate decision
13.30 EC Draghi press conference
13.30 US CPI data