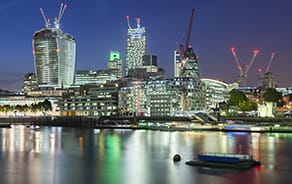 Building Materials: CPA raises UK construction forecasts
The UK based Construction Products Association has released its forecasts for 2018 to 2020. The main changes are an increase in forecasts for Residential output in 2018 and an increase in forecasts for Commercial, Industrial and Infrastructure output in 2019.

RMI forecasts have also improved, especially for Private Housing in 2019. Overall construction output is expected to be almost flat for 2018 (-0.1%) with a rise to +2.7% in 2019 and then +1.9% in 2020. While the previous forecast for 2018 were a little higher at 0.2% there is a clear pick up in the 2019 forecast which was +1.7% previously. The Housing figure for 2018 has increased to +4.7% (from +3.0%) with forecasts remaining unchanged for the following year +2.1%. Commercial, Industrial & Infrastructure output has deteriorated a little for 2018 to +0.3% (from +0.6%) but is increased to +3.4% (from +2.7%) in 2019. CPA are forecasting quite a large swing in forecast for Private Housing RMI in 2019 to +2.0% (from -2.0%) but maintain forecasts for a flat market in 2018.
Dollar strengthens as risk sentiment improves
Recent developments on the global political stage look to pave the way for an improvement in risk sentiment. Trade war concerns have ebbed further after the China Commerce Ministry welcomed a possible visit by US Treasury Secretary Steve Mnuchin for trade talks in a sign that the two sides are opening the doors to negotiations getting underway. On his IMF trip, Mnuchin told reporters that "a trip is under consideration" and that he is "cautiously optimistic" about the chance of an agreement with China. Furthermore Mr Mnuchin indicated that he had met with PBOC Governor Yi Gang in Washington and the US "appreciated" market opening measures for China's securities and insurance sectors. The comments on trade, added to the positive mood that followed North Korea's announcement at the weekend that it would halt missile tests and close down a nuclear site. So far this morning, the major equity markets in Asia look to be closing in the green whilst US stock futures point to another positive open. US Treasury yields are now up at 2.97%, well up from the low of 2.71% at the start of April but still resisting the elusive 3% level last seen in early 2014. The benchmark EUR/USD rate is flitting either side of the technically supportive level of 1.22. The CBOE Volatility index (VIX) has also settled down in/around the 15 level after a volatile few weeks where it traded as high as 25 in late March during the height of the US/China trade spats.
Sterling suffers as Brexit issues come back into focus
It looks as if Theresa May could be looking at a major inter- party split ahead of a crucial vote (over the customs union) in the House of Commons next month. Under pressure to clarify her stance on whether or not the UK will seek to be part of the EU Customs Union after the UK leave the EU, several of her top Cabinet Ministers are to attempt to ensure that she does not soften her stance. She is due to meet with her Cabinet today at which time it is thought that Brexiteers Johnson, Gove, Davis and Fox will warn her not to accept a customs partnership with the EU for fear of a perception that it will be a Brexit climb down. It doesn't help matters that the EU contingent seem to be getting testy and impatient, only yesterday chief EU negotiator, Michel Barnier pressed Mrs. May and her government to provide a clear blueprint in order for negotiations to move forward; He said "more clarity" is needed. The benchmark GBP/USD rate has hit nearly three week lows of close to the $1.39 level as Brexit woes begin to appear again.
Consensus PMI print does EUR no favours

IHS Markit reported that the flash Eurozone composite PMI had held steady at 55.2 in April (consensus 54.8, Investec 55.5), providing some signs of stabilisation in the slowdown seen over the first quarter and is roughly consistent with the economy growing +0.5% (qoq). Underlying this, the flash manufacturing PMI dropped for the fourth consecutive month to 56.0 in April (consensus 56.1) from 56.6 in March. Notably, export order growth has slowed to a year-and-a-half low, with respondents citing the strength of the euro as having dented competitiveness. Offsetting this was a marginal 0.1pt rise in the flash services PMI to 55.0 (consensus 54.8). Despite the better than expected data, the benchmark EUR/USD spent the day on the back foot, partly due to the improving global risk sentiment (details below).
Irish Banks: New CEO set to be appointed to Ulster Bank?
Ulster Bank, the Irish banking subsidiary of RBS, is set to name Jane Howard, a senior executive within the UK retail arm of RBS, as its new CEO, according to reports in both The Irish Independent and The Irish Times in recent days. Although Ulster Bank did not comment on the speculation around the potential CEO appointment, Ms Howard's CV would suggest a highly experienced choice to fill the position being left by outgoing CEO Gerry Mallon, who although only being in the position since June 2016, announced in January that he was leaving to head up Tesco Bank in the UK. Ms Howard has filled a number of senior roles across the RBS Group over the last twenty years, most recently as a managing director within the RBS UK Personal Banking division. Separately, Ulster Bank yesterday sold around €1bn of residential mortgage-backed securities (RMBS) to investors through its Ardmore Securities Number 1 vehicle, the oversubscribed sale generating "strong interest from UK and European-based investors" according to The Irish Times this morning. The RMBS sale was the first by Ulster Bank in over a decade, and suggests the bank is continuing to try and diversify its funding base away from retail and corporate deposits.
Gaming: A discussion piece on the possible £2 limit on FOBTs
Firstly, it should be noted that the Times has campaigned for a staking limit of £2. Yesterday the Times reported that Philip Hammond (PH) had prevented a cut to the maximum stake for FOBTs. The Times had supposedly learnt that Treasury had refused to sign off a decision because it says it is not confident that lost duty on that option would be fully replaced, with PH having supposedly rejected (vetoing) a package of punitive measures put forward by the DCMS. The article also said that the biggest bookmakers were considering voluntarily dropping the maximum stake to £20 to head off a bigger reduction. Today, the Times has said that a cut on FOBTs to £2 is set to be announced within weeks (after the 3rd May due to purdah). Today the Times is saying that PH never opposed a move to cut stakes to £2, contradicting yesterday's article. The article also says that PH is close to a deal with Matt Hancock (head of DCMS). Apparently the change in tone came after a number of high profile Tory MPS suggested that they were willing to rebel if the government did not back a £2 limit (note that there are many MPs who want £2, but that this needs to be an evidenced based review). The article goes on to say that a final decision needs to be signed off by Theresa May.
Economic events
09.30 UK Public Sector Borrowing
13.00 UK CBI industrial Trends Orders
14.00 US S&P/CS HPI Composite
14.10 UK BoE Deputy Governor Woods speaks
15.00 US CB Consumer Confidence
15.00 US New Home Sales