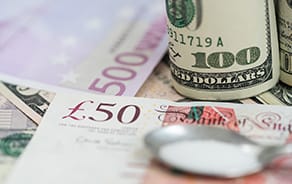 Chinese data points to robust growth
GDP rose by 1.4% q/q over Q1 2018. On a year-over-year basis output was up 6.8% over the period, in line with consensus expectations and in line with the Q4 outturn.

Overall, the figures serve to show that the Chinese economy grew robustly over Q1, providing reassurance that for now the authorities are continuing to deliver ongoing reforms, without applying too much of a squeeze to growth. Other China economic releases out this morning point to Q1 having also closed on a solid footing. The March retail sales and industrial output figures both delivered a beat on expectations. Retail sales were up 10.1% yoy, up from 9.4% in February and ahead of the 9.7% consensus. The Chinese National Bureau of Statistics summed up the Q1 figures saying that "the first-quarter economic performance has set a good foundation for the full year, although international uncertainties are increasing and domestic development remains uneven". This is a view we share, and whilst clearly recent trade war developments add downside risks, we look for around 6.6% growth for 2018 overall, a managed deceleration as reform efforts are progressed, from 2017's (upward revised) 7.0% pace.
All eyes on UK labour data
Last month's UK labour figures painted a picture of a pretty tight labour market generating greater pay growth momentum. The headline unemployment rate was recorded at 4.3%, its joint lowest reading since 1975 whilst there was also a step-up in pay growth. Furthermore, there was a clear rise in hours worked, by 0.6% in the past quarter, after a run of soft readings. Whole economy earnings stood 2.8% up yoy in the three months to January. Stripping out bonus payments, pay growth reached 2.6% (3m yoy). We expect to see the unemployment rate hold steady at 4.3% again inbtoday's numbers. As such we suspect it will be the pay growth which are set to grab the headlines. Here base year effects make it likely that we see a clear step-up in the pace of pay growth. We are pencilling in earnings growth of 3.1% on a 3m yoy basis, the first time pay growth will have breached the 3% mark since September 2015. Ex-bonuses we look for 2.8% (3m yoy). Importantly that would also see pay growth step ahead of CPI inflation over a three month period for the first time since March last year, as the household cash squeeze starts to turn around. CPI inflation averaged 2.9% over the three months to February. This rise in pay growth will, we suspect, keep the BoE on track for a May Bank rate hike as it continues to eye domestically generated inflation pressures. Furthermore this will be particularly so if we see a further rise in hours worked, signalling further tightening in the jobs market.
GBP/USD hits post Brexit highs
GBP/USD traded at its highest levels since the Brexit vote overnight, as sentiment around the pound continues to improve. There are a number of factors behind the move, with the progress in Brexit negotiations over recent months and the growing likelihood of a rate hike among the major drivers. For buyers of Dollar with Sterling the current levels are attractive, particularly considering that the currency pair dropped as low as 1.1850 in the aftermath of the Brexit vote. With Brexit negotiations likely to weigh on the Pound over the coming months, and more aggressive rate hikes expected in the US than the UK, there is a strong possibility that we could see GBPUSD retreat over the coming months. If you are of this view, hedging forward at these levels might be a wise decision, however if you feel that there is further upside in the rate, a Forward Extra is worth considering.
At present, a Forward Extra to purchase USD with GBP in 6 months' time, could allow you to lock in a worst case forward rate of 1.4250. However, if GBPUSD continues to rise, the Forward Extra will allow you to take advantage of a move higher in the rate up to 1.5000 in 6 months' time. If GBPUSD is trading above 1.5000 you must trade at your original protected rate of 1.4250, but most importantly, you remain protected at your worst case rate at all times.
For more information on this and other hedging products, please contact the Investec Treasury team today.
GRN/HBRN: CBRE comments on the industrial market
CBRE released its latest (Q118) Dublin Industrial & Logistics MarketView report yesterday. The report shows a strong start to 2018, with take-up of 71,595 sq m in the quarter, +41% y/y. Lettings accounted for 58% of this total. The prospects for take-up over the coming months look encouraging, with demand for 56,500 sq m prevailing at the end of the quarter. Prime industrial rents have firmed to €102.20 per sq m (€9.50 per sq ft) and are now just 5% below the generally accepted level where a typical development (as opposed to, say, a more bespoke design and build project) begins to make economic sense. CBRE foresees a further 7% uplift in prime rents over the remainder of 2018. Prime industrial yields were stable at 5.5% at quarter end.
CRH: Breedon to acquire Lagan Group
Breedon Group has announced that it has entered into agreement to acquire Lagan Group, a leading heavyside building materials company in the UK and Ireland for £455m. In 2017 Lagan generated revenues of £249m and EBITDA of £46m, implying a LTM EV/EBITDA acquisition multiple of 9.9x. The acquisition is to be financed by debt and a £170m equity placing. FY synergies of £5m (2% of sales) are expected by year 3, which brings the acquisition multiple down to 8.9x. Lagan Group is one of the largest privately owned construction groups in Ireland with activities ranging from a 700k cement plant in Meath, nine active quarries, 13 asphalt plants and nine RMC plants. Breedon's CEO points out how this transaction allows it to enter a growing market with immediate scale and opportunities for expansion. Looking at the island of Ireland, the cement market will now be controlled by CRH, LafargeHolcim, Breedon Group and just one independent. Looking at the UK and Ireland combined, there are just two additional producers namely Cemex and HeidelbergCement.
Tullow Oil: New non-exec Chair announced
Tullow Oil has announced a new chairperson. Tullow has selected Dorothy Thompson as its new Chair. She will take over from Aidan Heavey (Founder and CEO until 2017) in July. Dorothy is seen as having successfully organised a major turnaround at Drax as its CEO, including an expansion into the US.
Economic events
09.30     UK     Unemployment rate
09.30     UK     Average Earnings
10.00     GE     ZEW survey
14.15     US     Industrial Production
15.00     CA     Bank of Canada meeting