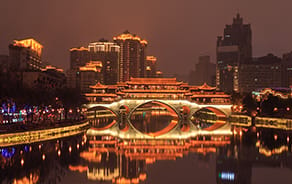 Chinese equity sell off continues
Chinese equity markets were weaker again overnight with the Shanghai Composite falling 1%, despite an encouraging reading of service sector activity, with the Caixin Services PMI rising to 53.9 in June from 52.9 in May.
Market expectations had been for a fall to 52.7 and this follows the official services PMI, released earlier in the week, which saw a very small rise to 55.0, beating expectations. The uptick in the services PMIs should provide some reassurance over the health of the Chinese economy, offsetting the slight softening in June's Manufacturing PMIs, particularly so given that services now account for more than 50% of GDP.
 
CNY finds its feet
 
Aside from economic activity it is also worth noting that the CNY strengthened for a second consecutive day, with the onshore rate currently trading at CNY 6.6135. Having weakened by 4.1% since mid-June, the verbal intervention from PBoC Governor Yi Gang in yesterday's China Securities Journal appears to have stemmed the downward pressure, at least for now. With the timing of the Governor's comments yesterday suggesting that the Chinese authorities may be trying to draw a line in the sand for USD/CNY around the 6.7 level. Sticking with China, Beijing has indicated that it will match the tariffs that the US is set to impose on Chinese imports this Friday (i.e. on $34bn worth). Given the midnight timing, that might suggest China will make the first move as it were, versus having previously followed up on the US. indicates little hope in Beijing that US will back down before Friday.
 
UK services PMI
 
The UK services PMI came in at 54.0 in May, up from 52.8 in April and further above the snow-affected March reading of 51.7. While service providers reported a catch-up from the weather-related disruption, new work rose at one of the most subdued rates since the summer of 2016. Employment growth was also weak, though anecdotal evidence suggested this largely reflected skilled labour shortages rather than a softening in hiring intentions.
 
Turning to June, we expect consumer-facing segments of the services sector to have registered further improvements now that the squeeze on household finances has come to an end. Additionally, we don't expect the US-EU trade dispute to have weighed on new business flows during the month, with the 'flash' June PMIs for the Eurozone exhibiting no discernible impact. As such, we look for a small uptick to 54.2 in June.
 
Irish Economy: Services PMI improves to a five month high
 
Like the Manufacturing PMI release on Monday, today's Investec Services PMI Ireland report shows that the rate of growth in activity has improved to a five month high (in this case 59.5, up from May's 59.3 reading). The increase was driven by stronger client demand, with the New Business index reversing almost all of the moderation seen in the previous month. This appears to have been mainly driven by domestic clients, as the rate of expansion in New Export Business cooled (albeit slightly) in June (although the UK and US were cited by some respondents as sources of new demand). Irish Services companies responded to the increased demand by adding to headcounts at the fastest pace seen in 2018 so far, but despite these additional resources the sequence of growth in Outstanding Business extended into its 61st month in June. On the margin side, there was another rise in Input Costs in June, with higher energy, insurance and salary costs said by panellists to be behind this. Firms were, however, able to pass on at least some of this increase by upping Output Prices once again. Regardless, the Profitability index was little changed in the three months to end-June from May's report, with the sequence of above-50 readings now stretching to 20 survey periods. The forward looking Business Expectations index strengthened in June, pointing to greater optimism by services companies. Allied to the increase in Employment growth to the fastest pace in the year to date, it is clear that Irish services companies are upbeat on the prospects for the sector.
 
Irish Economy: Unemployment at a 10.5 year low
 
The latest Monthly Unemployment release shows that the seasonally adjusted unemployment rate fell another 10bps m/m to 5.1% in June. This is the lowest unemployment rate since October 2007. Following the demise of the Celtic Tiger the unemployment rate peaked at 16.0% in early 2012 before retreating to its current level as economic conditions have strengthened here. The rapid decline in the unemployment rate has given rise to concerns in some quarters about the slack in the labour market. Recently released data show that average earnings increased by 2.0% last year after growth of 1.3% in 2016. Two factors that give some comfort are net migration (this rose to 19.8k in the year to end-April 2017 from 16.2k in the previous year) and Ireland's low participation rate (61.5% in Q118), where appropriate activation measures and/or tax reforms could unlock a greater supply of labour.
 
Hibernia REIT: Press report regarding New Century House / Dublin crane count rises
 
Today's Irish Times reports that Credit Suisse is close to buying Hibernia REIT (HBRN)'s New Century House in the North Docklands for c. €66m. Separately, the newspaper reports that the number of cranes on Dublin's skyline rose to 79 at the start of this month from 72 at the beginning of June. HBRN acquired that 86,000 sq ft building in March 2014 for €47m. The Grade A office building is fully let on a long lease to Bank of Ireland which runs to 2024 (with an upward only rent review in early 2019). The Irish Times / Savills Crane Watch rose to a five month high of 79 at the start of July. Some 54 of these were working on sites on the south side of Dublin, with 25 on the north side. In the same month last year there were 57 on the south side and just 12 on the north side, which illustrates how activity has shifted more towards the north core and North Docklands areas in recent times. HBRN has been actively recycling capital in recent times, offloading The Chancery and two small assets in the South Docks at strong prices during FY18 (year-end March).
 
Irish Economy: Public finances end the half-year on a positive note
 
The latest Fiscal Monitor from the Department of Finance shows another strong performance in June. Tax receipts were 2.1% higher than profile (target) in the month and the YTD performance improved from 0.4% above profile in May to 0.7% above profile in June. A year-on-year comparison shows that tax receipts were +5.4% in H1 with positive y/y changes in Income Tax (7.7%), VAT (2.8%) and Corporation Tax (14.6%) reflecting a buoyant domestic economy and tightening labour market conditions (as evidenced by the latest unemployment data covered separately this morning) in particular. Excise duties continue to underperform however, likely driven by falling sales of new cars. This tax head was -11.2% y/y in H1 and -7.1% versus profile in the same period. Looking at the expenditure data, net voted (discretionary) spending was 0.6% lower than profile in the period to end-May, but still +8.6% y/y. Current spending was marginally (0.2%) higher than profile, primarily due to increased Health expenditure, with the net underspend arising from lower than planned capital spending. Overall, the Exchequer recorded a deficit of €823m in the first half of the year. Although this compares unfavourably with the surplus of €2.49bn recorded in H117, last year's balance was flattered by the receipt of almost €3bn in proceeds from the successful sale of AIB shares.
 
Economic releases
 
09.00 EZ Services PMI

09.30 UK Services PMI

11.55 UK BoE Saporta Speaks