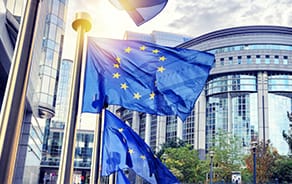 Conte confirmed as Italian PM
Following three days of discussions President Mattarella finally approved Giuseppe Conte as the new Italian Prime Minister, formally handing him the mandate to form a government.
Reportedly the President pressed upon Mr Conte the need to ensure Italy's economic and financial stability before handing him the mandate. Mr Conte will now begin forming a government, holding talks with members of the Chamber of Deputies (Lower House) this morning. Matteo Salvini (Lega Nord head) and Luigi Di Maio (5 Star head) look set to get the Interior and Labour Ministry respectively, whilst Paolo Savona is tipped for Finance Minister. Before formally taking up his seat Mr Conte will need to pass a confidence vote in both Houses of Parliament, the dates of which are yet to be set. After a torrid week in Italian bond markets, sentiment is slightly more positive this morning with 10yr yields falling 6bp 2.33%.
 
May FOMC minutes
 
The minutes to the 1-2 May FOMC meeting, in which policy was held steady, were published last night. In broad terms they showed the committee content with its gradual tightening plans and on track for another 25bp increase in the Federal funds target rate range (to 1.75-2.00%) at its 13 June meeting. However there was further evidence of debate amongst FOMC participants over (the lack of upward momentum in) wage growth and the extent to which this might track higher going forward, depending on shifts in labour participation, for example. The uncertainty here alongside what looks to have been a fairly lengthy discussion on the impact on trade disputes, enhances the prospect of the Fed maintaining its 'gradual' emphasis on its rate rise plans. Overall the FOMC continued to view risks to the economic outlook to be roughly balanced. But the minutes flag 'possible adverse effects of tariffs and trade restrictions, including the potential for postponing or pulling back on capital spending'. Overall, given development on the trade front and the evolution of economic indicators since the early May meeting, it is likely the Fed will press ahead with a 25bp June hike. We look for two further hikes after this in the remainder of this year and two more next year. The market reaction was relatively muted after the minutes were released at 7pm last night. US stocks recovered some of their early losses and went on to close higher whilst the dollar retreated a little from its highs.
 
Sterling on the back foot after weak inflation data
 
April inflation figures on the whole were weaker than expected. Headline CPI inflation eased to 2.4% from 2.5%, which was against consensus expectations of a steady reading of 2.5% (Investec 2.6%). Core CPI also softened more than expected to 2.1% from 2.3% (consensus 2.2%). Meanwhile both CPIH and RPI inflation met expectations at 2.2% and 3.4% respectively. Producer price inflation figures released at the same time saw input prices recording year on year growth of 5.3%, slightly below the consensus of 5.8%, whilst factory gate prices were slightly firmer than expected at 2.7% (consensus 2.3%). Overall the headline CPI miss yesterday resulted in EURGBP briefly clipping the pivotal 88p benchmark level.
 
Aryzta: Q3 IMS
 
Aryzta this morning issued a short Q318 IMS one week ahead of schedule, noting that Q3 EBITDA margins are "below management expectations" and that it expects FY18 EBITDA to be c.9-12% lower than prior guidance. On a reported basis, Group revenue declined 16.8% to €811.4m mainly due to disposals (-8.9%) and FX (-6.7%) with organic revenue declining 1.2% where a 2.6% dip in Europe and 1.3% dip in North America was augmented by a 9.3% increase in Rest of World. The much weaker than expected outturn in Europe was put down to the impact of insourcing in Switzerland and Germany and weak consumer spending in the UK. Management notes that the disposal programme is "on-track" and has announced a €200m 3-year cost reduction programme. In its previous profit warning Aryzta guided that EBITDA on a LFL basis excluding FX and disposals would be c.15% below FY17A EBITDA (-20% on a reported basis) having previously guided EBITDA flat in the year. This is now being lowered a further 9-12%. On the disposal side while management states that its disposal programme is "on track" with €140m realised to date, there is no update on how the remaining €310m in disposals are progressing to hit the over €450m in disposals guided by the end of FY18 (July).
 
HBRN: FY results
 
HBRN has today released its FY18 (year-end March) results. Helped by supportive market conditions; the benefits of prior acquisitions and its development pipeline; rent reversions; and the letting-up of vacant space, the results show strong momentum. The group posted revenues of €49.1m (FY17: €42.5m) and EPRA EPS of 2.8c. Higher underlying profits paved the way for a 36% hike in the dividend to 3.0c. Helped by gains on investment properties of €87.8m, EPRA NAV strengthened to €1.591. HBRN's balance sheet contains net debt of €202.7m at end-March equating to an LTV of just 15.5 %, while cash and undrawn facilities stand at €197.3m (€120.3m net of committed development spend). The results show progress on the group's development schemes. During FY18 HBRN completed two schemes, 1WML and 2DC at an aggregate profit on cost of more than 65%. A further two schemes, 1SJRQ and 2WML, are nearing practical completion (expected later in 2018). Given the progress made on lettings (over 96% of the office space at last year's completed schemes has been let), HBRN has elected to sanction Cumberland Phase II, a 50,000 sq ft office building in Dublin's CBD (we flagged this as a possibility in our latest note on Hibernia, The Landscape is Changing, published on May 14th) with an expected completion date of H120. HBRN is also making progress in "preparing and optimising" the three (longer-term) pipeline office schemes and it has increased its landbank at the strategically located Gateway site in south-west Dublin to 45 acres with the purchase of 31.3 acres of agricultural land. On the asset management side, the annual contracted rent roll has widened to €56.0m (from €49.5m at end-H118); the vacancy rate across the in-place portfolio has halved to 3% in the past 12 months; and the portfolio WAULT to earlier of break/expiry now stands at 7.3 years (from 6.9 years at end-H118). The reversionary potential of HBRN's 'in-place' CBD offices stands at 20.6% with an average period of the earlier of rent review or expiry of 2.6 years.
 
Airlines: Wizz results
 
Wizz airlines delivered 24.7% passenger growth and a 24% increase in revenues with net income of €275m. Staff costs rose in part because of a structural crew salary increase of 5%. Cancellation and delay related costs were €20.1m, an increase of 64.8% YoY. Significant progress has been made during the year with over 35% of seats now provided by the more efficient A321ceo aircraft, the launching of the Wizz pilot academy and cash of €1,142m at year end. Guidance for FY19 is for net income of €310m - €340m.
 
Paddy power Betfair: Definitive deal with FanDuel announced
 
Yesterday evening, PPB announced that a definitive agreement had been reached between themselves and FanDuel (2nd largest global daily fantasy sports operator behind DraftKings) in relation to US combination. Under the agreement, PPB will contribute its existing US assets (Betfair US had gross assets of $612m at 31/12/17, and generated revenue and pre-tax losses of $141m and $18m in FY17 respectively) along with $158m of cash (which will be used to pay down Fanduel net debt of $76m and fund NWC). PPB will own 61% of the business and therefore consolidate 100% of the subsidiary. In CY17 FanDuel generated revenue of $124m, an EBITDA loss of $37m, and a pre-tax loss of $44m. FanDuel had gross assets of $124m at 31 December 2017. There is a call and put option mechanism in place to enable PPB to buy, and Fanduel to see the remaining 19% and 39% of the business at 3 and 5 year intervals respectively. Fanduel has a customer list of 7m people (1.3m actives). PPB will control the business with its majority share, which will allow it to have the right to appoint a CEO and Board, although existing Fanduel investors will continue to have Board representation. On a PF basis, including expected synergies but prior to further investment in sports betting (some of which will be able to be capitalised, but some of which will be expensed), the combined business is currently operating at broadly EBITDA breakeven. The transaction is not expected to have a material impact on PPB's 2018 underlying EBITDA.
 
Ibstock: Trading update, conditions normalising
 
Ibstock, the UK based brick manufacturer (80% UK, 20% US), has issued a pre-AGM trading update. It says that while there was a slow start to the year in the UK, mostly reflective of poor weather conditions, volumes have begun to return to normal in recent weeks. Similar observations are also made about the US market. These comments, unsurprisingly, echo those made by close peer Forterra and other product manufacturers such as Polypipe and confirm a clear normalisation in trading conditions in the UK. The Construction Products Association (CPA) recently issued revised forecasts for growth in the overall UK construction market of +0.1% (prev+0.2%) for 2018 and +2.7% for 2019 (prev +1.7%). The Housing figure forecast for 2018 increased to +4.7% (from +3.0%) with forecasts remaining unchanged for the following year +2.1%. Commercial, Industrial & Infrastructure forecast output deteriorated a little for 2018 to +0.3% (from +0.6%) but increased to +3.4% (from +2.7%) in 2019. CPA are forecasting quite a large swing in forecasts for Private Housing RMI in 2019 to +2.0% (from -2.0%) but maintain forecasts for a flat market in 2018.
 
C&C: Chairman change at company AGM
 
C&C Group has this morning announced that Sir Brian Stewart will step down as Chairman after eight years in the role. Stewart Gilliland is set to replace him. Mr Stewart is due to retire at the conclusion of the companies AGM on the 5th July. His successor, Mr Gilliland, joined C&C as a director in 2012 and has extensive experience in the drinks industry. He was previously chairman of Booker Group from 2015 until it was acquired by Tesco in early 2018. He was subsequently appointed to the Board of Tesco as a non-executive director. He is also a senior independent director of Mitchells and Butlers.
 
Glanbia: Capital markets day
 
Prior to its Capital Markets Day in Downers Grove, Illinois, Glanbia issued a short statement reiterating its previously stated FY18 guidance that on a pro-forma basis adj. EPS is expected to grow between 5% to 8% at constant currency, with growth more weighted to the second half of the year. The company also published its mid-term (5-year) ambition, which is to: (i) grow total Group revenue (including share of JV) to €5.0bn by 2022; (ii) achieve a 5-year average adj. EPS growth of between 5% and 10% at constant currency out to 2022; (iii) achieve an annual ROCE of 10% to 13%; and operating cash flow conversion greater than 80%. Growth is to be achieved organically and through selective M&A.
 
Economic Releases
 
09.00 UK BoE Gov Carney Speaks

09.15 UK FOMC Member Dudley Speaks

09.30 UK Retail Sales

09.30 EZ ECB's Praet Speaks

12.30 EZ ECB Minutes

13.30 US Jobless Claims

15.00 US Existing Home Sales

15.35 US FOMC Member Bostic Speaks

18.00 UK BoE Gove Carney Speaks