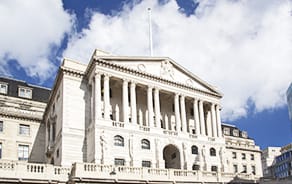 Disappointing retail sales pile further pressure on the pound
UK retail sales figures released yesterday were weaker than market expectations, down 0.5% mom on a headline basis and down 0.6% ex-auto fuel, whilst the Bloomberg consensus was for +0.2% on a headline basis and +0.1% on the 'core' metric.
However the outturns were largely in line with Investec's view (we had -0.6% mom for headline and 'core' retails sales). Although this looks to be a sizeable miss on market expectations, note that the June fall comes off the back of two solid rises and as such the three month average is far from weak on a 3m/3m basis (+2.1% which is the highest 3m/3m rate since Feb 2015) – the strongest calendar quarter performance seen for over 14 years. Indeed, headline retail sales rose by 1.4% mom in May following a 1.8% mom rise in April. In terms of a reaction, markets have chosen to focus on the monthly rate and have judged it to dampen the likelihood of an August rate hike. This has seen cable (GBPUSD) slip below the $1.30 threshold for the first time since September. Still, we reiterate that retail sales had previously enjoyed a barnstorming couple of months, making June's decline almost inevitable. Meanwhile, labour market and inflation figures released earlier in the week - though softer - were consistent with the expectations of the Monetary Policy Committee (MPC). Our expectation for Q2 GDP is also bang in line with Bank staff projections at the June MPC meeting.

Hike or no hike

We continue to expect that the Bank of England rate will increase next month to 0.75%. Note that we are set to hear from a number of MPC members before they go into 'purdah' next Friday. External member Silvana Tenreyro is expected to pen a piece for the Evening Standard over the next few days, while Deputy Governor Ben Broadbent set to speak on Monday. If the Bank wants to make sure markets are on the right page ahead of the August meeting, these look like ample opportunities to do so.

Draghi to raise rates before term ends

According to a Bloomberg survey of economists, Mario Draghi is expected to fit in one interest rate increase before his term as ECB president ends. Draghi is due to leave the European Central Bank in October 2019, with survey respondents backing a rate hike the month before his eventual departure. The result of the survey certainly matches market expectations that rates will remain at record low levels at least through the summer 2019. Next Thursday sees the ECB's Governing Council (GC) meet ahead of the summer holiday period – it will be interesting to see whether Mr Draghi provides further guidance on the Bank's policy path, specifically the exact timing of the anticipated hike.

Dollar slumps as Trump leans on Fed independence

EURUSD rose over 100 bps yesterday evening after trading below 1.1600 in the afternoon. The move came as US president Donald Trump broke a long standing taboo in criticising the Federal Reserve's current policy of raising rates. Trump claimed that he was "not thrilled" with the Fed raising rates and that a stronger dollar would slow the economy, suggesting that it was interfering with the good work he was doing on the economy. His attempt to temper his comments caused almost as much concern when he stated that he was "letting" the Fed do what they feel best, suggesting that at some stage he may not be so accommodating.
The move came just a day after Fed chief's Jerome Powell's 2 days of testimony boosted the dollar as he suggested the Fed were on course to raise rates 2 further times in 2018, and downplayed concerns over trade concerns.
The story may yet continue to run, as Trumps full interview is due to be aired this morning (6am US time), while the White House has already issued a statement clarifying Trumps comments and stating that the presidents respects the independence of the Fed.

Irish Economy: On track to meet our full-year expectations

Quarterly national accounts data released yesterday by the CSO show that the Irish economy contracted by 0.6% q/q in GDP terms in Q118. On an annual basis output was a remarkable 9.1% above year-earlier levels. We had expected a soft quarterly outturn for Q1 given the disruption caused by the extreme weather events seen in the opening months of 2018. Indeed, the Investec Manufacturing PMI fell to a 12 month low of 54.1 in March, while the Investec Services PMI reading of 56.5 in the same month was the weakest in the year to date. A number of other indicators help to illustrate this disruption, such as Retail Sales, where the value of sales fell 5.1% m/m (on a seasonally adjusted basis) in March before surging 6.9% m/m in April. To this end, the annual growth rate is somewhat more meaningful (in as much as Irish national accounts data, with the usual caveats around multinational distortions, can be). The expenditure side of the national accounts shows that the 9.1% y/y increase in GDP was produced by a 2.7% y/y increase in personal consumption; a 3.7% y/y rise in net government expenditures; a 3.8% y/y decline in gross fixed capital formation (investment); a 6.1% y/y rise in exports; and a 1.1% y/y fall in imports. The extent of the rise in personal consumption is a little surprising given the relatively lacklustre annual move in retail sales volumes in Q1 (+1.0% y/y). Furthermore, Department of Finance data show that aggregate consumer tax (VAT, excise and customs) revenues were only +1.2% y/y in Q1. Government consumption growth of 3.7% y/y is double the rate guided by the Department of Finance for FY18 (+1.9% y/y). Export growth of 6.1% had been signalled by strong merchandise trade data (goods exports +7.1% y/y in the year to date) and, to a lesser extent, the export component of the Investec Services PMI releases. Elsewhere in the release we note that the national accounts measure of goods exports was +10.0% y/y in Q1, while services exports rose 1.1% y/y in the same period. The drop in GFCF was down to the multinational sector, as imports of intangibles (mainly intellectual property) fell by a third on an annual basis. Underlying investment was much stronger, with expenditures on building and construction rising at a double-digit pace while underlying (excluding aircraft) spend on machinery and equipment increased by a sixth over the Q117 outturn. The fall in GFCF produced the 1.1% y/y drop in the national accounts measure of imports (goods imports rose 7.9% y/y while services imports, which includes intangibles, fell 5.4% y/y). Balance of Payments data released alongside the national accounts show that a current account surplus of €9.6bn was recorded in the quarter, which equates to 12.4% of quarterly GDP. This outturn was flattered by the fall in services imports noted above, but it suggests that last year's 8.5% surplus is on track to be at least matched in 2018. Finally, as a sense check we note that the CSO provides an estimate for 'modified total domestic demand', which aims to strip out the multinational distortions. This measure rose 4.8% y/y in Q118, which we think is a good proxy for the underlying progress being made here.

Glenveagh: Prospectus sheds more light on investment plans

Glenveagh yesterday released a prospectus relating to its proposed €205m (net) capital raise. After the market close on Tuesday Glenveagh launched a firm placing and placing and open offer to raise net proceeds of €205m by way of an accelerated book build. Demand for all of the shares was secured. Concurrent (but independent) of this move, its largest shareholder Oaktree sold 55m shares, cutting its stake by half to 8% (based on the number of shares in issue before the capital raise). The prospectus provides plenty of detail on the potential uses of its investment capacity. Earlier this week the group detailed how it had a pipeline of €426m worth of land acquisitions. The prospectus details how these could accommodate 8,241 units spread across: 1,185 of plots on the market; 1,381 plots over which the group is in exclusive negotiations; and a further 5,675 plots which are under active negotiation. This compares to Glenveagh's existing landbank of c. 10,000 plots. The sites are principally (c. 90%) located in the Greater Dublin Area, with the remainder located in Cork. Beyond the pipeline opportunities, Glenveagh believes that there are €803m worth of 'future potential sites' that could accommodate more than 12,000 units (10,411 at Glenveagh Homes and 1,775 at its Glenveagh Living unit) and which are expected to be brought to market over the coming year. The EGM to approve the capital raise will be held at 11am on 13 August. Assuming investors support the plan dealings in the new shares will commence at 8am Dublin time on the following day.

Dalata: easyHotel to enter the Dublin market

easyHotel has today announced that it has acquired a freehold site in central Dublin, on which it plans to develop its first hotel in the Irish market. The site, which is on the corner of Benburb Street and Wood Lane, has existing planning permission for a 96 bedroom hotel. The group hopes to vary this permission to develop a 130 bedroom hotel at a total cost of €18m (of which €9m relates to the land cost). This is the latest of a string of announcements of hotel investments in the Dublin market, which is a function of the buoyant conditions here. STR Global data released earlier this week (see yesterday's Daily for more colour on this) show that the Irish capital has the highest occupancy rate (82% year to date, 91.8% in June) of its sample of 35 European cities, helping to produce RevPAR growth of 8.9% y/y in the first half of the year.

Economic Releases

09.30 Uk Public sector finances
3.20 US Fed's Bullard speaking