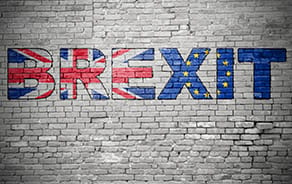 Dollar falls on US inflation and Brexit news
US Inflation figures for February saw headline CPI recorded at +0.2% m /mas expected, core CPI (ex food and energy) was also as expected, with
inflation recorded at +0.2%.


The annual rate of inflation was recorded at +2.2% and 1.8% for the headline and core measures respectively. Despite the on expectation outturns the dollar spent the afternoon and overnight session on the back foot as the FOMC prepares to meet to announce (21 March) what is sure to be the first 0.25% rate hike of 2018. The sharp dollar down move probably had as much to do with the firing of US Sec.of State, Rex Tillerson, as it did with the on point CPI prints. If reports are correct, Mr. Tillerson received his marching orders via Mr. Trumps favourite mode of communication, Twitter. Mr. Trump told reporters yesterday that their differences came down to "personal chemistry". Mike Pompeo, the current Director of the CIA will replace him as Sec.of State.
Up today
Things kick off in Europe with the German IP print and their final revisions to February CPI. We'll then get the Eurozone Q4 employment. Some ECB heavy hitters in the shape of President Draghi, Peter Praet and Vitor Constancio are all due to speak throughout the day. The European Commission is due to release a statement in relation to the recent US aluminium & steel tariffs. Across the pond In the US we get some more crucial data with PPI and retail sales both due.
ECB speakers out in force
Today sees the 19th annual "ECB & its watchers" conference take place in Germany today. The conference has gathered together ECB members, market participants and academics since 1999, when the ECB assumed responsibility for monetary policy. This year's gathering is timely, coming as it does just a week after the ECB removed the final reference to an easing bias from their meetings statement, although that announcement was significantly tempered by very dovish language from Draghi in the following conference.
The meeting will see ECB luminaries, including Mario Draghi, Peter Praet & Vitor Constacio, come together to discuss topics such as Quantitative Easing and policy normalisation, the pursuit of financial stability, and the sustainability of the European Monetary Union. The main event given the ECB's recent meeting will likely be the first debate on policy normalisation along with Draghi's opening remarks, as the market attempts to gain more clarity on when the ECB will begin to reign in its asset purchase programme.
Permanent TSB: FY17 results
Total income increased by €11m (+3%) to €443m (FY16 €432m), operating expenses reduced by €12m to €329m. This leaves cost income ratio at 74% at a headline level (FY16 74%), or 64% excluding regulatory charges (FY16 61%). Fully loaded CET1 increased to 15.0% at year-end (FY16 14.9%) though this was down from the 15.3% seen at Q317. TRIM guidance has been left intact at previous levels (250bps impact on CET1). Total new lending volumes grew by 74% y/y to approximately €1bn, with their residential mortgage market share increasing to 12.6% (FY16 9.1%). Consumer lending and SME lending increased by 48% to €90m and 75% to €18m respectively. NIM increased to 180bps (FY16 148bps), though this was down on the 183bps seen in 9M17, implying 171-173bps in Q4  as mortgage competition started to bite, with guidance for an improvement towards the mid-180bps area in 2018. Gross loans amounted to €20.6bn, reducing by €0.7bn (-3% y/y) from December 2016. NPLs reduced by €0.6bn (-10% y/y) to €5.3bn or c.26% of gross loans, primarily due to reduced default flows, an increase in cures and the targeted voluntary surrender programme undertaken on the Buy-To-Let portfolio. Management expects to see growth in the performing loan book in 2018. However, an impairment charge of €49m (FY16 €68m write back) was taken for the year. It is primarily driven by model changes associated with non-performing loans, this is partly offset by general improvements in portfolio and underlying collateral performance. The impairment charge contains an €83m charge against owner occupier home loans and a €34m reversal against BTL loans. IFRS 9 implementation is also expected to cost c.€100m or 107bps of CET1 but will be phased in over five years.
The bank also clarified some of the details around the proposed Project Glas NPL disposal – it will contain €3.7bn in total NPLs, this made up of €2.8bn in OOHLs and €0.9bn in BTLs. Of the €2.8bn in OOHLs, €1.9bn related to untreated loans and €0.9bn in split mortgages that remain classified as NPLs.
REITs/Housebuilders: Savills' musings on the market, HSQ changes hands and Urbeo seeks €400m

Savills has released its latest report into the Irish commercial real estate investment market. The commercial property market turned in a good performance in 2017, despite the headwind represented by the trebling of stamp duty (to 6%) in October's Budget. Take-up in the office market firmed to an all-time high of 3.6m sq ft, with other segments also seeing strong demand as the economy continues to lead its European peers. Capital values rose 1.6% after taking the stamp duty hike into account. In terms of transaction volumes, these moved to more normalised levels last year after the unusually strong 2016 performance, which was inflated by the sale of a small number of very large (by Irish standards) assets, particularly in the retail space. Some €2.28bn of tenanted property was bought last year, which is c. 30% above the 15 year average. Of these, 18.4% were outside of the capital, led by the Cork market. Typical investment sizes continue to revert towards normalised levels for the Irish market, with an average deal size of €8.84m, -11.2% y/y (after excluding 2016's jumbo sales), while sub-€50m transactions accounted for more than half of all investment volumes – the first time since 2012 that this has been the case. Of the €2.28bn of property that changed hands last year, offices led the way with €856m, followed by retail (€670m, this was helped by the €250m Square deal), mixed-use (€310m), industrial (€144m) and multi-family (€113m). These outturns don't necessarily reflect the demand in each segment, as a lack of supply held back transaction volumes in a number of areas such as multi-family, while even in the office space the bulk of transactions were outside of the Grade A stock due to a paucity of available assets. On the multi-family space, investors are more willing to accept fractured ownership in schemes, with average units purchased as a percentage of the total scheme units falling to 34.5% last year (it was 100% in 2012). Interestingly, Savills sees rents continuing the climb in the office market (to just under €700 per sq m by end-2019), while super-prime retail rents are expected to move back to c. 15% below the Celtic Tiger era peak by the middle of next year. In other property news, Irish telco Eir's headquarters (the 226,040 sq ft HSQ) has traded for €176m in an off-market deal, according to today's Irish Times. This represents a net initial yield of 5.7% following a fixed rent review scheduled for July. Elsewhere, a new mixed-tenure Irish housing fund, Urbeo, is looking to raise up to €400m for investments in the Irish PRS market. State investment fund ISIF is on board as an anchor investor, "subject to certain conditions being met". The Savills' report shows that the market is moving back towards normal as more of the legacy issues are tidied up. One in five assets that transacted last year was sold on behalf of a receiver, which is less than half of this vendor type's share in 2013. Looking ahead, Savills sees a market that will be more granular, leading scale investors to turn more to forward commitment arrangements to deploy their capital. Economic resilience is expected to persist for a number of years, supporting all segments of the property market, although the effect of interest rate hikes needs to be monitored.
Symrise: FY17 results
Symrise this morning issued FY17A results reporting a 7.2% increase in FD EPS to €2.08 from a 2.0% increase in EBITDA to €630.3m and 3.2% increase in revenue to €3.00bn. LFL revenue growth was 6.3%. At the group level, EBITDA margin contracted 24bps. Management describes the start to 2018 as "dynamic" and so remains "confident for further development in the fiscal year 2018". That said guidance remains relatively unchanged to that of last year, namely for the top line to "outperform" the relevant markets with a market rate in the 3-4% quoted but EBITDA margin is now flagged to be "around 20%" - previously "over 20%". At the divisional level, Scent & Care reported a 3.8% increase in EBITDA to €248.1m despite a 3.7% dip in revenue to €1.26bn. EBITDA margins expanded by 141bps (+234bps forecast). The division recorded LFL growth of 3.9% which was tempered by a -6.8% impact from the sale of a Pinova division. The Flavor division reported a 3.9% increase in EBITDA to €242.9m from an 8.5% increase in revenue (9.3% LFL) to €1.10bn. Conversely to Scent & Care, margins contracted 97bps (-261bps forecast) over FY17A. The Nutrition division reported a 4.3% increase in EBITDA to €139.4m from a 9.6% increase in revenue (6.5% LFL) to €631.3m.
Economic events
09.00     EC       ECB conference, Draghi speaking
9.45       EC       ECB's Praet speaking on policy normalisation
10.00     EC       Industrial Production
12.30     US       Retail sales