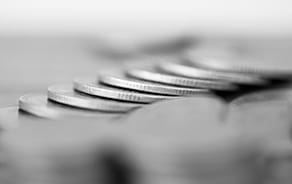 Dollar higher, equities lower after FOMC minutes
The minutes highlighted the Fed view that the US economic expansion is expected to gain momentum as a number of FOMC participants said they had raised their growth forecasts or saw 'upside risks' to their previous numbers, highlighting the recent tax cuts and supportive financial conditions as reasons for this.

On top of expectations that the recent spending bill (which came after the January meeting and so were not reflected in the minutes) would add further upside to these forecasts, the Fed minutes add additional weight to market expectations that the Fed might now look to raise rates by somewhat more than the most recent (December) 'dot plot' implied. The Fed's next formal forecast update is not due until it meets on 20/21 March, but the minutes clearly state that 'a majority of participants noted that a stronger outlook for economic growth raised the likelihood that further gradual policy firming would be appropriate' - the word further is the key focus for Fed watchers here. Note that these minutes relate to Dr Yellen's last meeting at the helm of the Fed. So far Jerome Powell, her successor, has said very little about his plans to take policy forward from here; we may get more clues on this next week when he gives his monetary policy testimonies to Congressional committees. 10-year Treasury yields rose by around 5bp to 2.94% compared against their pre-minutes position, whilst US stocks sold off, with the S&P 500 erasing its earlier gains, ending 0.6% lower.
Tory Brexiteers lay out demands in open letter to Theresa May
It was reported yesterday that 62 pro-Brexit MP's penned an open letter to UK PM, Theresa May insisting that certain demands be met before any agreement with the EU is signed off. Among their demands are that the UK must have regulatory autonomy from the EU and that it will be able to negotiate its own trade deals during the planned two year transition period. The fact that 62 signatories is the same number required to put a vote of no-confidence forward isn't lost to the cynics amongst us. The UK cabinet are meeting in Chequers today to attempt to hammer out an approach to Brexit in order to maintain their 'deep and special relationship' with the EU.
Positive UK Wage data clouded by mixed messages from labour market
The latest UK jobs report released yesterday at 09.30 is a bit of a mixed bag, although the main takeaway is that wage growth is showing further signs of life. Regular pay rose by 2.5% YoY excluding bonuses and is a further sign that the tightness we've seen in the labour market is causing firms to raise pay packets to retain staff and hire new talent. It's worth remembering that YoY comparisons are currently being flattered by the fact that wages stayed virtually unchanged through last winter. But even so, when we look at the three-month over three-month change - a better measure of the current momentum in wage growth - pay packets are rising at around a 3% annualised rate.
For the Bank of England, which has said rising wages are a key argument for tighter monetary policy, yesterday's data makes a May rate hike all the more likely - although as always, this still relies on renewed Brexit progress over coming weeks.
Having said this, the employment picture is starting to look slightly more concerning. UK unemployment surprisingly edged up to 4.4% in the three months to December, against consensus and Investec expectations for it to hold at 4.3%.
IRES: FY17 results
IRES has today reported its FY17 results. Helped by full-year contributions from prior-year acquisitions (which contributed c. 30% of its portfolio), IRES reported 22% growth in FY17 EPRA EPS to 6.0c. The company intends to declare dividends of 5.2c for FY17, which equates to a 3.6% yield based on yesterday's closing price. This equates to a payout of c. 87%. In terms of the balance sheet, IRES had gearing of just 33% at end-2017, leaving c. €150m of investment capacity. Management has a number of growth options ranging from traditional M&A to forward-funding deals (such as the recent partnership at Hansfield Wood) and the build-out of its remaining development sites following FY17's successful completion of The Maple. Two near-term development projects are Rockbrook, where a new planning application is in preparation, and Bakers Yard, where a planning application for a 61 apartment and three commercial unit scheme was lodged in December. Staying with the balance sheet, IRES had EPRA NAV of €1.208 (basic) and €1.185 (fully diluted) at end-2017.
Irish Banks: KBC FY17 shows €61.5m tracker provision, €52m credit provision release
KBC Group has released its FY17 results this morning, with these showing that the bank took a €61.5m provision in Q417 against the ongoing Irish tracker mortgage investigation. The Q4 provision is in addition to the €54m provision taken in Q317, and brings the total provisioned cost of dealing with the tracker mortgage issue to €116m for KBC. The bank also disclosed that it had a €52m credit provision release in Q4 from its Irish operations, resulting in €215m in total impairment provision releases for FY17 in Ireland. For Ireland, KBC is guiding for a net provision release of €100-150mn for full year 2018.
Bank of Ireland: From Chairman Kane to Citizen Kane
BIRG has confirmed recent media reports that the Chairman of the group, Archie Kane, intends to retire later this year. A process of selecting Mr Kane's replacement will now begin, with Deputy Chairman Patrick Kennedy (a former CEO of listed gaming group Paddy Power Plc) the most obvious internal candidate, but the process is also likely to look extensively at external candidates. Mr Kane (65) has been Chairman since 2012. The decision by Mr Kane to retire is not hugely surprising given the generational shift in senior management which is currently taking place at BIRG, seen most obviously in last year's appointment of Francesca McDonagh (42) as CEO.
Economic Releases
09.00    GE    German Ifo Business Climate Index (Feb)
09.30    UK    Gross Domestic Product
12.30    EC    ECB Publishes Account of Monetary Policy Meeting
13.30    US    Initial Jobless Claims
15.00    US    FOMC member Dudley speaks
17.10    US    FOMC member Bostic speaks
20.30    US    FOMC member Kaplan speaks