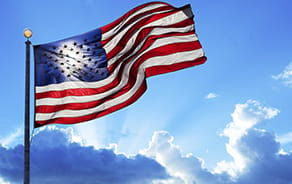 Dollar slumps as 'dot plot' remains unchanged
As widely expected, the Fed, in a unanimous vote, opted to raise the Federal funds target rate range by 25bps to 1.50-1.75%.


The tone of the statement was more positive overall than the previous one, particularly looking to the next couple of years. Indeed it explicitly said the 'economic outlook has strengthened in recent months' which looked to be a nod to the positive uplift to growth this year and next from recent fiscal announcements. Chair Powell, in what was his first press conference as Fed chief, largely held this positive tone in his briefing too, although he did note that the Trump administration's trade policy was becoming a concern for business. Chair Powell, showing continuity with a point often made by his predecessor Janet Yellen, sought to emphasise that the Fed still sees itself on a gradual path for rate rises.
No change on the 'dot plot'
Dot plot markets also closely eyed the somewhat more hawkish steer on the likely path for Fed tightening. Here the 'dot plot' maintained the three hike view of the appropriate path for rate rises this year, but only just; if one further participant had considered four hikes appropriate then the median view would have shifted. The 'dot plot' also included an extra dot (25bp hike) for next year on top of what was in the December projections, such that it now has three hikes for 2019 factored in, whilst pointing to 37.5bps of tightening in 2020. The higher 'dot plot' path over the 3-year horizon and the more upbeat tone on the economic outlook in the statement were supported by a clear upgrade to growth forecasts for the next two years. These were also supported by the unemployment rate projections, now seen falling to 3.6% (was 4.0% in December's forecast) by end-2020, whilst PCE inflation was seen above the 2.0% goal at 2.1% (was 2.0%) in Q4 2020.
Longer term
It's also worth noting that the estimate of the 'longer-term' Fed funds rate was pushed up, implying the Fed's normalisation course might also now have further to run. One final point from Chair Powell's briefing was that he indicated he is contemplating expanding the briefings (currently they only come after 4 of the 8 FOMC meetings a year); this might give the Fed more flexibility in making policy changes, as typically policy shifts have come in press conference meetings. The USD has weakened across the board after the announcement/statement with €:$ moving from around $1.2270 just before to $1.2360 this morning. 10-year US Treasury yields rose to 2.91% from 2.89% initially and have edged back down below 2.86% at he open this morning. US stock markets were undecided on how to react, with the S&P500 eventually ending down 0.2%.
Bank of England Super Thursday
The Bank of England (BoE) is likely to keep the Bank rate unchanged at its March meeting with all Monetary Policy Committee (MPC) members expected to back the decision in a unanimous vote at 12:00 today. Expectations of rate hikes from the BoE have ramped up significantly since their February meeting where the BoE warned that monetary policy would "need to be tightened somewhat earlier and somewhat more than expected in November". Since then, expectations have grown to suggest that the BoE will hike rates 2 or 3 times between now and the end of the year. It is rather likely that the MPC members will want to opt for the re-affirming tone of the statement saying rates are going to go higher earlier and to a greater extent compared to last year's expectations. Such monetary policy statement would then cement market expectations of a 25 basis points rate hike in May, once the Brexit-related uncertainty eases after the European summit scheduled for Thursday and Friday this week. The market is currently pricing in 65% probability of 25 basis point hike in May and 72% probability of another 25 basis point hike at the MPC meeting in November.
HeidelbergCement: Full FY results
HeidelbergCement has reported its full FY17 results having already provided detail on sales and EBITDA. The company has increased its FY dividend by 19% to €1.90, the eighth year in a row. The company has provided its first guidance for 2018, where it is looking for a modest increase in revenue and for current operations to grow by a mid to high single digit level on a LFL basis. At a regional basis it expects price recovery in Europe to catch up with US profitability. On a country basis, it sees price increases in Italy as well as price growth in France and in Eastern Europe. It considers the UK market to have stabilised. In the US it sees new state infrastructure spending in most of its key states, while in some key Emerging Markets like Indonesia it expects strong demand growth and prices to stabilise, while in India demand is also expected to improve.
FBD: Trading update on Storm Emma
FBD yesterday evening released a trading update in regard to the estimated claims impact arising from Storm Emma, which recently battered Ireland with significant amounts of snow, wind and rain. FBD has estimated that the impact of Storm Emma will be between €6-8m, net of reinsurance (including reinstatement premia), with the "unusual weather event" so far characterised by a smaller number of higher value claims than FBD would usually experience during a typical wind storm. However we would note that Storm Emma saw the heaviest period of snowfall in Ireland in at least 35 years, and we are therefore again reassured that the company's new reinsurance policy has once again (after Storm Ophelia) protected it from a potentially much higher cost of claims.
Cairn Homes: Planning granted at Blake's in Stillorgan
Cairn Homes has received planning permission at its 3.3 acre mixed-use development site known as "Blake's" in Stillorgan, South Dublin. Permission has been granted for 151 student accommodation units (548 beds), 103 apartments and some retail and ancillary facilities. Approval was granted through An Bord Pleanala's fast-track Strategic Housing Development process, which was introduced last year to expedite the planning process for residential developments consisting of at least 100 residential units or 200 student bed spaces, and the decision came just 13 weeks following Cairn's submission on 20th December. This development is part of Cairn's increased focus on student accommodation and is part of a pipeline of 1,700 student bed spaces across five sites that are located close to major colleges and universities.
Economic Releases:
09.00      EZ      ECB Economic Bulletin
09.00      EZ      PMI
09.30      UK     Retail Sales
12.00      UK     BoE Interest Rate Decision
12.30      US     Jobless Claims
13.45      US     PMI
17.00      UK     MPC member Ramsden Speaks