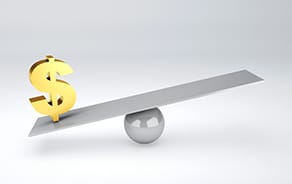 Dollar soars as US 10 year yields blow through 3% level
One commentator noted that the US now has the highest 2y, 5y and 10y yield in all of the G10. The dollar had been on a similar trajectory for the earlier part of yesterday's trading session but the release, yesterday afternoon, of some very positive US retail sales data really sealed the deal. The greenback has surged across the board with EM currencies (e.g. ZAR -2.3% & PLN -1.6%) hurting the most on the sharp move. The benchmark EUR/USD rate moved nearly 100 points lower in about three hours yesterday afternoon only to stop and bounce off the late December 2017 low of in/around 1.1820.

UK pay growth points to tightening labour market

Headline UK pay growth actually softened from 2.8% (3m yoy) to 2.6%, matching market expectations (Investec forecast 2.5%). However our focus (along with the BoE) is on the regular (i.e ex-bonus pay) numbers, which give a better steer on the extent to which the tightness of the labour market is pushing up on compensation. Regular pay growth looks to be clearly rising. It stood at 2.9% in the three months to March, inching up from 2.8% in the three months to February, meeting our own forecast and consensus expectations. Regular pay growth has now risen for four consecutive months and is well up from the recent low of 1.8% in spring last year. Furthermore, focusing on private sector pay growth figures, pay growth reached the 3.0% mark for the first time since November 2016. Last week the Bank of England's Inflation Report presented a picture in which the MPC was pausing to reassure itself that softer Q1 economic activity data did not signal the start of a shift down in economic momentum. However it continued to judge that gradual rate rises would, in all likelihood, continue to be appropriate. That view is predicated on an outlook in which domestically generated inflation pressures are rising, amidst a tight labour market. The BoE focuses on the regular pay growth figures and so will see the firming in compensation in yesterday's data as further evidence of these pressures, coming alongside the other reports of upward pay pressure it cited in its May Inflation Report.

Euro area GDP in line with expectations

Euro area GDP figures released yesterday for Q1 were unrevised at the 'flash' estimate, with the pace of GDP growth estimated at +0.4% q/q, as expected by the market and ourselves. Released at the same time were industrial production figures and the German ZEW survey. Eurozone industrial production was marginally softer than expected at +0.5% against a market consensus of +0.7% m/m, whilst German's ZEW survey was marginally firmer than expected on the current situation measure (87.4) and as expected on economic expectations (-8.2). Given the numbers were basically as expected there had been little movement in the euro following the release with €:$ holding around the $1.1920 range. Much of the subsequent EURUSD movement was reflective of rising US 10-year treasury yields, which is covered in greater detail in our main commentary this morning.

C&C : FY18 results

C&C this morning issued FY18 numbers reporting adj. EPS of 22.0c from an operating profit of €86.1m and net revenue of €548.2m. Admiral Taverns contributed €1.1m to PAT, in line with forecasts. Looking forward, management notes that March and April has been in line with expectations, albeit that revenue and profits will be more H2 weighted on lower anticipated contract manufacturing volumes in H119E than H118E. On a divisional basis, in Scotland (37.9% of FY18A operating profit) Tennent's enjoyed market share growth and revenue up 5%. Brand volumes were flat against a total beer market that was down 2%. The division reported an operating profit of €32.6m from net revenue of €211.5m. In Ireland (46.6% of FY18A operating profit), while overall Bulmers brand volumes were down 6% reflecting reduced draught distribution with market share dipping to 69% from 77%, on-trade market share in packaged remained solid at 85% (88% at February 2017), a category that accounts for 28% cider volumes and 47% by value. C&C marginally grew its market share of off-trade cider to 57% from 56% with Bulmers holding its market share at 47%. The division reported an operating profit of €40.1m from net revenue of €215.0m over the period. C&C Brands (England and Wales), which accounted for 8.0% of FY18A operating profit, saw the AB InBev distribution deal start to kick in through H218 (volumes up 9%) after a weak H118A (-6%). Magners volumes were flat over the year against strong comparatives (+12.8% in FY17A). The division reported an operating profit of €6.9m from net revenue of €81.2m over the period. While Export (5.9% of FY18A operating profit), which is consolidating and enhancing its international distributor network, saw volumes up 3% in FY18A, the North American business (1.6% of FY18A operating profit) continues to be negatively impacted by declines in the overall cider market, with brand volumes down 25%. Over the period, the combined entities recorded operating profit of €6.5m from net revenue of €40.5m.

Paddy Power Betfair: Strategic options in US being pursued following the repeal of PASPA

Paddy Power Betfair confirms it is in talks with FanDuel in the US, reported as a result of a leak in the Legal Sports Review in the US. FanDuel is a US online daily fantasy sports provider with 6m registered users and over 1m active users (DraftKings has 10m registered users; FanDuel is the 2nd largest DFS company in the DFS industry behind DraftKings). In November 2016 FanDuel and DraftKings tried to merge, however the merger was terminated in July 2017 due to it being blocked by the Federal Trade Commission as the combined company would control a 90% market share. PPB would own the majority of the merged entity (note that this is a merger between PPB US (only) and Fanduel following a cash injection. PPB still fully intends to undertake the £200m share buyback it has already announced, and has stated that this will start shortly. It also still intends to buyback a total of £500m shares over the course of 12 to 18 months.

Dalata: New hotels in Birmingham and Bristol

Dalata this morning announced the next steps in its UK expansion. It has signed agreements to lease two new hotels to be built in the UK – a Clayton Hotel in Bristol and a new Maldron Hotel in Birmingham. These projects will add 580 rooms to Dalata's portfolio. The 250-room 4* Clayton Hotel, Bristol will be located on Broad Street in the city centre and is expected to open in Q3 2020. The 330-room 4* Maldron Hotel, Birmingham will be located on Suffolk Street near the city's main train station and shopping districts and a short distance from Dalata's existing Birmingham hotel which it acquired in August 2017. The new property is set to open in early 2021. Both hotels will operate on 35-year operating leases, subject to five-year rent reviews linked to the Retail Price Index.

Mondi: Q1 update

Mondi has issued an IMS for Q1 this morning which points to Group EBIT of €295m, +7% YoY ahead of our forecast of €277m. The company has nudged up its FY estimate of maintenance shuts to €115m from €110m and flags once again inflationary cost pressure as well as adverse currency moves, but it also sees the outlook for the business as being positive thanks to a strong pricing environment and good demand growth. On a divisional basis, Packaging Paper (52% of FY18E EBIT) the company points out how it has benefited from higher containerboard and sack kraft prices. Fibre Packaging (10% of EBIT) has been passing this same paper cost inflation through to its end customers, which were "largely reflected" in Industrial Bags, whole "good progress has been made…with efforts in this regard ongoing" for corrugated. Consumer Packaging (12% of EBIT) is reported to have benefited from cost restructuring but continues to be held back by declining volumes in person care components. The Group has announced plans to cease production at its plant in Scunthorpe (UK) by the end of the year. Finally, Uncoated Fine Paper (26% of EBIT) also benefited from higher pricing but was held back by higher maintenance costs at its Richards Bay mill in SA and a lower forest fair value gain.

AIB Group: Fixed rates cut at EBS mortgage arm

EBS, the mortgage subsidiary of AIB Group, has announced significant cuts to its fixed rate product suite this morning, in a further sign of heightened competitive pressures in the residential mortgage market. EBS has announced cuts of between 15-25bps to its entire range of fixed rate owner occupier mortgages, with a headline rate of 3.0% across its 1-5 year fixed rate prices for both new and existing borrowers, this in addition to its continued 2% cashback offer to new mortgage accounts borrowing from the institution.

Permanent TSB: Trading statement confirms split mortgages pulled from Project Everest NPL sale

PTSB has issued a Q118 trading statement today ahead of their AGM, and as well as providing an update on trading conditions for the start of FY18, they have also confirmed that owner occupier split mortgages will be pulled from the proposed Project Everest NPL disposal. PTSB's trading statement shows continued progress on the commercial front, with new lending volumes up 60% y/y in Q1 at c.€300m, with their market share of new mortgage lending at c.14%. Net interest margin of 176bps in Q1 (FY17 180bps) was adversely impacted by reduced NII due to the sale of treasury assets (though other gains booked on these disposals) and is indicative of the headwinds facing margins at all of the domestic Irish banks given the heightened competitive pressures in the sector over the last 6-12 months. NPLs reduced by €0.1 billion (-2%) to €5.2bn in Q1, primarily due to cures and reduced default flow, but the board has also decided to pull the inclusion of c.€900m of so-called split mortgages from the proposed €3.7bn Project Everest NPL disposal, following significant political and media criticism of their original inclusion. In tandem with other related decisions and refinements, this means the size of Project Everest has now been reduced to €2.2bn, which will increase the pressure on management (from regulators as well as the market) to explain how they intend on reducing NPLs to the 5% of gross loans which is required over the medium term. Pro-forma fully loaded CET1 (FLCET1) decreased to 13.2% at Q118, compared to 15.0% at FY17, impacted by a 100bps fully loaded impacted of IFRS9, and, it appears, the further incremental phasing in of the ECB TRIM provision.

Economic releases

10.00 EC CPI
12.00 US MBA Mortgage Applications
13.00 EC ECB's Draghi speaks
13.30 EC ECB's Coeure speaks
13.30 US Fed's Bostic speaks
14.15 US Industrial Production
15.30 EC ECB's Praet speaks