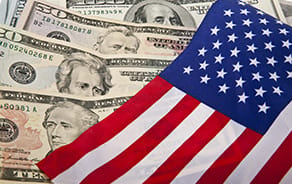 Dollar steady after FOMC hold steady
As widely expected, the Federal Open Market Committee (FOMC) held policy steady last night at its second meeting with Jerome Powell as Chair.
As such the Federal funds target rate remains at 1.50%-1.75%. This was a unanimous decision. There was no press conference and no forecast update so changes to the policy statement were the key focus. Here the main shifts came on the language regarding price developments where the Fed said that inflation on both headline and core measures 'had moved close to 2 per cent', whereas preciously it has talked of inflation continuing to run below this level. Furthermore it said it expected inflation to run near to the FOMC's 2 per cent objective over the medium term, as it sounded more assured that inflation was set to run around target. Note though that the FOMC statement did add the word symmetric to its mention of its inflation goal, perhaps serving to highlight that as inflation likely moves further above 2 per cent this summer the Fed will not overreact, acting as a reminder of the undershoots in 2017 when the Fed maintained its gradual tightening path. Furthermore, the statement also deleted the March mention of the Fed 'monitoring inflation developments closely'.
June hike (almost) in the bag
Overall the statement clearly points to the Fed being content to continue on its path of gradual rate rises. Indeed, it states that the FOMC thinks 'economic conditions will evolve in a manner that will warrant further gradual increases'. Its next decision and forecast update is due for release on 13 June when we expect the Fed will raise rates again (by 25bps) and may well add a fourth dot to its median 'dot plot', given how close it was to four hikes at its March projection round. Markets are now pricing in a 76% chance of a 13 June hike. After initial gains in the minutes after the announcement, the S&P 500 fell ending the session 0.7% lower. US 10-year Treasury yields were little changed at 2.97%. The USD initially weakened on the announcement but those losses were largely reversed out. The benchmark EUR/USD rate currently stands at $1.1980 from around $1.196 pre-FOMC statement.
Brexit war cabinet
Yesterday evening, a narrow majority of ministers rejected the Prime Minister's supposed favoured option of a "customs partnership" at the government's 'Brexit war cabinet'. Prior to Amber Rudd's resignation as Home Secretary, there was said to be a narrow majority that backed Theresa May's preferred option, though her successor, Sajid Javid, reportedly tipped the balance by labelling the hybrid model as "untested and unprecedented". Earlier in the day, the Prime Minister had come under fire from the Eurosceptic European Research Group (comprised of 60 Tory MPs) who warned the Prime Minister the government would "collapse" if she pressed ahead with a customs partnership. In the face of this opposition, Theresa May has asked officials to draw up revised proposals for both of the two customs options first put forward last year.

Irish Economy: Investec Services PMI picks up in April
The latest Investec Services PMI Ireland report shows a marked recovery in growth in business activity in April, likely helped by the easy comparative provided by the adverse weather in March. The headline PMI strengthened to 58.4 in April, a three month high, from the 56.5 recorded in the previous report. The report shows an acceleration in demand, with New Business firming to a six month high while New Export Business was the strongest in the current 17 month sequence of expansion. In turn, this increased demand saw Backlogs of Work increase at a faster pace, extending a series of unbroken growth that commenced in June 2013. Amid attempts to alleviate capacity pressures, and in anticipation of further new business growth, service providers took on extra staff in April, with Employment increasing at the quickest pace in the year to date. On the margin side, higher staff costs combined with rising fuel and insurance prices to produce the strongest upturn in input costs for 16 months. Robust demand conditions enabled companies to pass at least some of these cost pressures to customers, helping the rate of expansion in the Profitability index to inch higher in the period to end-April. The forward looking Confidence index improved to a seven month high.
Irish Economy: Tax receipts continue to run below target
Exchequer Returns for April released by the Department of Finance show a continued undershoot versus profile (target) from tax revenues, notwithstanding reasonable year-on-year growth. Spending discipline is being maintained, but the YTD Exchequer deficit grew to €3.4bn from €2.5bn in the same period of last year. Tax receipts of €2.8bn in April were +4.3% y/y, but -2.1% versus profile. In the YTD, tax revenues of €14.7bn were +3.6% y/y but 1.4% behind profile – a marginal deterioration from the 1.2% miss versus profile in Q1. All of the four main tax headings, Income Tax, VAT, Corporation Tax and Excise Duties, are tracking behind expectations in the period to end-April, but the underperformance is small in each case. Income Tax was on target in April (€1.87bn) and +5.8% y/y to end-April but -1.1% versus profile in the same period. Similarly, VAT receipts were +1.6% y/y to end-April but slightly (0.6%) below target in the four-month period. Corporation Tax is heavily weighted towards later in the year, but is -3.1% versus profile YTD and Excise Duties, while above target in April, is a similar margin below profile YTD. Gross voted (discretionary) current expenditure of €18.1bn was broadly on track to end-April – an overspend of €192m (1.1%) largely related to timing issues with welfare payments. Gross voted capital expenditure of €1.1bn to end-April was 19% below profile, although it is now customary to see an underspend in the early part of the year, and +20% y/y.
Irish Economy: NTMA cancels another €500m of legacy debt
The NTMA announced yesterday that it has cancelled another €500m of the Irish FRB that had been due to mature on 18 June 2047. This debt was linked to the landmark IBRC transaction in 2013, which was a major milestone on the road to Ireland's return to creditworthiness. To date the NTMA has repurchased €11bn of the €25bn of bonds issued as part of the 'Prom Note' deal, with €1.5bn of these repurchases taking place this year. All of the bonds were held by the Central Bank of Ireland, whose holdings have previously attracted adverse comment from the ECB relating to monetary financing concerns, although Frankfurt has since acknowledged the progress made in reducing the stock of IBRC-related assets. While the effective servicing cost of the IBRC-related bonds is immaterial (as the Central Bank repatriates most of its profits to the Exchequer), the repurchases serve to improve the optics of Ireland's headline debt metrics.
Irish Economy: Construction skills shortage noted by the SCSI
A report referenced in the Irish Independent yesterday says that skills shortages have overtaken access to finance as the major concern of construction sector surveyors. The findings, taken from a report by the Society of Chartered Surveyors Ireland (SCSI), are backed up by a recent report carried out by the Central Bank. Slightly more than 80% of surveyors in Ireland say the sector is now in the midst of a skills shortage, an increase of 7% in the last six months. In particular, plasterers, carpenters, electricians, bricklayers and plumbing are in short supply alongside quantity surveyors and commercial managers. While 70% of surveyors expect headcount to increase, the SCSI warned it is hard to see just where qualified workers to fill these vacancies would come from. The number of people at work in the sector is currently down -46% vs 2007, with factors such as the cost of accommodation reducing the number of those willing to come to Ireland to work. Specialist labour costs are already increasing with one example being the price for block-laying increasing by 25% in the past six months. With more than half of surveyors seeing increased activity in the last six months and 11% more surveyors outside of the capital seeing increased activity, labour constraints are set to continue.
Dalata: Trading statement released
Dalata this morning released a short trading statement in advance of its AGM later today. Trading is said to be a "little ahead" of the group's expectations in the first four months of the year. RevPAR growth in Regional Ireland has been in line with expectations while RevPAR growth in Dublin has been "marginally ahead" of expectations. The group notes that STR has reported weaker market conditions in the UK in Q118, but Dalata is outperforming the market there in terms of RevPAR growth, as it has done in recent years, and the performance of its UK hotels is in line with the group's expectations. The Maldron Hotel Belfast City opened slightly ahead of schedule on March 13th and is said to be trading well with very positive customer feedback.
Kerry: Q1 update
Kerry issued a Q118A IMS this morning with FY18E guidance reaffirmed. The company reported a 0.1% increase in Group revenue. LFL growth of 4.5% consisted of 3.7% volume, 0.9% price and -0.1% trading currency. Acquisitions added 4.0% to reported revenue growth but were more than negated by a -8.4% FX headwind. Group trading margin was said to have been "maintained with T&N reporting a +20bps expansion but CF a 60bps contraction with underlying margin expansion offset by the transaction currency impact. A 4bps expansion was expected at the Group level. Management has re-iterated guidance of 6% to 10% growth in adj. EPS in FY18E. On a divisional basis, Taste & Nutrition reported 5.2% LFL revenue growth, comprising 4.3% volume and 0.9% pricing while in Consumer Foods the underlying business grew 2.1% (volume 1.6%; price 1.0%; trading currency -0.5%). Kerry has reported a solid set of Q118A numbers and re-iterated guidance. On a regional basis, the newly created APMEA region (APAC plus MEA) was the key driver with volume growth of 9.7%, but Europe continued to see volume growth recovery (+3.1% versus +1.9% in Q117A), while the Americas region recorded solid volume growth of 2.9%.
Vicat: Q1 update
After the market close yesterday Vicat reported Q1 sales growth of 11% on a LFL basis, with Cement sales +11%, Aggs +9% and Other products +15%. On a regional basis growth was driven by Asia (+41%), the US (+20%) and France (+6%) but on the other hand Europe ex-France (-2%) and Africa Middle East (-15%) acted as a drag. While management was pleased with the performance it pointed out that it should not be considered representative of the performance anticipated for the FY. Looking ahead, Vicat sees market volumes in France moving higher and selling prices firming up slightly over the course of the year. In Switzerland volumes are expected to be stable and selling prices to edge higher against the backdrop of a still fiercely competitive industry environment. Italy is also expected to see selling prices and volumes edge higher. Elsewhere, healthy progress is expected in the US while in Egypt profitability is expected to be hit by the security situation.
Economic releases
10.00 EZ CPI
10.00 EZ PPI
13.00 EZ ECB's Constancio Speaks
13.30 US Continuing Jobless Claims
13.30 US Nonfarm Productivity
13.30 US Trade Balance
13.30 EZ ECB's Coeue Speaks
14.45 US Markit Composite PMI
14.45 US Services PMI
15.00 US ISM Non-Manufacturing PMI