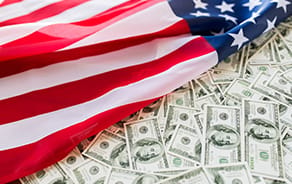 Dollar weakens as Trump blasts Fed tightening
The dollar weakened for the 4th consecutive day after President Trump's comment yesterday (just before 5pm UK time), where he complained at a Hamptons fundraiser last week that Fed Chair Powell hasn't been a "cheap money Fed Chair" and where he reportedly lamented Fed hikes.
Indeed, €:$ has risen from a low a little below $1.14 yesterday morning to above $1.15 this morning. Key things to watch out for over the remainder of this week in terms of dollar momentum here forward will include US-China trade talks (Weds/Thurs), although note that President Trump said yesterday that he doesn't expect much from these. Later in the week, Fed Chair Powell is set to speak from the Jackson Hole Economic Policy Symposium on Friday at 3pm, where his comments will be scrutinised for any clues on how he will take policy forward amidst a US economy firing on all cylinders.

Raab/Barnier meeting

New Brexit secretary Dominic Raab has cast his upcoming meeting with Michel Barnier in a positive light. David Davis' replacement stated that he was looking forward to meeting Michel Barnier, and reiterated his confidence that the UK and EU would be able to strike a deal that is beneficial for both parties. The meeting comes against a backdrop of negative headlines around Brexit, with the most recent round of talks failing to deliver any significant progress on the issues of the Irish border, and recent reporting on the 84 "no deal" contingency papers due to be published by the UK government. EURGBP reached a 1 week low overnight trading close to 90p and remains close to the top of the 12 month range this morning.

EUR/GBP trading 0.8975 this morning looking to test 0.90p again

Hedge idea for GBP buyers for the first half of 2019, protect EUR/GBP 0.8800 at all times and benefit from favourable moves up to 0.9500 from Jan to June 2019

Main Points
Protected at all times at 0.8800 at expiry 28th Jan to 28th June 2019
Can participate in movements up to the limit rate 0.9500 at expiry each month
If the market rate is at or above the Limit rate 0.9500 at expiry each month, then the company is obliged to deal at the plus rate 0.8975

IRES: Well placed to exploit growth options

IRES' recent H1 results revealed a positive underlying performance, while a material upward revision to the book value of its property assets has helped to resolve some of the 'hidden value' we have previously written about. IRES has a menu of growth options – buy, build and/or forward fund. One of the highlights of the recent interims was the operational performance. Occupancy at the units held throughout the period was 99.6% at end-June and the net rental income margin came in at 80.3%. There was also 17% y/y growth in EPRA NAV to €1.33 at end-June, as the weighted average cap rate reduced by 25bps (to 4.98%) since the start of the year. However, IRES' portfolio is valued in-line with the national average, despite its assets being of a high quality and 100% located in the country's main economic hub. With gearing of 33% (versus its self-imposed limit of 45%), IRES has the balance sheet to exploit a number of different channels for growth. It has six development assets at different stages of the planning process that are capable of delivering >650 apartments (the detail in today's Irish Independent article on one of these is in-line with our expectations); management continues to evaluate acquisition opportunities (although competition for assets has intensified); and it is attracting interest from housebuilders looking to partner on schemes.

Dalata: Strong RevPAR growth driven by high occupancy levels

The latest data from STR Global continue to show strong RevPAR growth in the Irish and Dublin markets in July. RevPAR in Ireland in July was +5.6% y/y. Higher ADR (+6.7% y/y to €147.54) was the main driver for this as occupancy (88.1%) was 100bps below July 2017. The Dublin market continues to perform strongly, though its rate of growth has slowed y/y again in July. RevPAR in Dublin in July was +6.2% y/y. Occupancy rates remain at elevated levels (90.1%) and highlight the shortage of hotel accommodation in the city.

Economic Releases

09.30     UK     Public sector Net Borrowing