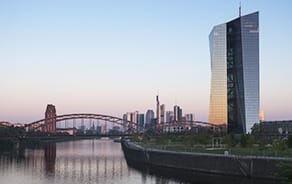 Draghi pulls a dovish rabbit out of a hawkish hat
Yesterday's ECB decision saw the key policy rates unchanged, as universally expected.
The ECB did however surprise markets with two changes to its non-standard measures. On the hawkish side, the GC announced a planned end date to its asset purchase programme. Dependent on incoming data the ECB now anticipates a reduction of net asset purchases to €15bn a month from October 2018, with purchases formally ending in December. Then as if to negate any hawkish sentiment, the ECB adjusted its interest rate guidance, to state that it expects its key interest rates to remain at their present levels at least through to the summer of 2019. That replaces the previous view of rates remaining at their current levels for an 'extended period of time'.
 
Euro tumbles on 'enhanced' guidance
 
Whilst the decision on asset purchases was expected at some point, recent data outturns had left the general consensus expecting a decision in July rather than today. However despite the somewhat earlier than expected announcement on QE, it is really the 'enhanced' interest rate guidance that has driven markets. The new wording of the ECB's guidance now suggests that the expected first rate hike will not come until after next summer. The earliest possibility is therefore September, slightly later than markets were pricing in. As a result the euro has fallen sharply, by almost 3 cent versus the US dollar (from yesterday's highs) to in/around $1.1550 this morning, whilst Euro area sovereign yields have also fallen across the board.
 
Balancing act
 
Overall yesterday's decision looks to have been one designed to balance the competing views on the GC. The end of QE placated the more hawkish members, whilst the interest rate guidance looks to have been an important nod to the doves. Indeed such a balanced move would not be without precedent. Last October's decision to cut asset purchases to €30bn per month from €60bn, was accompanied by strong wording around QE reinvestment and a decision to keep QE open-ended, a decision which was not unanimous. Additionally President Draghi made a number of references to policy optionality and the fact that the ECB would stand ready to adjust all its instruments if necessary. In light of the updated interest rate guidance we have decided to push back our expected timing of the first ECB interest rate hike to September 2019 from June, when we expect a 20bp rise in the deposit rate to -0.20%.
 
Global trade tensions set to escalate
 
Concerns over global trade look set to rise today as US officials confirmed that President Trump was preparing to confirm 'significant' US tariffs on $50bn of Chinese imports, as had been previously warned. It is expected that President Trump will unveil a list of revised goods that will be targeted later today, with the list reportedly shrinking to 800 different product lines from 1300 originally. Further measures targeting China could arise later this month, with Trump previously suggesting that the US could seek to tighten restrictions on Chinese investments in the US, with an announcement by the 30 June. If President Trump does formally confirm the tariffs later today it is set to escalate the situation with China, with Beijing officials having already warned of a significant response.
 
CRH: Ash Grove acquisition approved
 
Having announced the agreement to acquire Ash Grove Cement for $3.5bn last September, CRH has now received regulatory approval for the deal and the transaction is expected to close in June 2018. At the time of its last trading update in April 25, management indicated that this deal was likely to close in the coming weeks.
 
REITs/Housebuilders: New CSO data on housing completions
 
Ireland's CSO yesterday published the first issue of what will be a quarterly publication on New Dwelling Completions. This report follows issues about the reliability of the previous method of measuring housebuilding activity, namely connections to the ESB (State electricity utility) national grid. The report shows that 14,446 units were completed last year, which compares to the ESB measure of 19,271 connections. The delta between the two is mainly (57%) down to reconnections to the grid, followed by dwellings in unfinished developments (23%) and non-dwelling connections (20%). While completions have more than trebled from the trough of 4,575 units in 2013, they still lag far below even the low end of the range of estimates (30,000 - 50,000 per annum) of new household formation in Ireland. In the first quarter of 2018 some 3,526 units were completed here, +26.9% y/y. As an aside, we note that the completions data exclude student accommodation units (Cushman & Wakefield has forecast that 2,850 of these will be delivered in Dublin alone this year), as these are classified as 'bed spaces' and don't meet the test for classification as a 'dwelling' (self-contained units of living accommodation). Earlier this week the CSO said that annual house price inflation had quickened to 13%, with this strong growth down to the mismatch between supply and demand. This new CSO dataset provides a more accurate picture of the extent to which housebuilding is lagging behind new household formation, lending further weight to our long-held view that the path of least resistance for both prices and rents lies to the upside.
 
Irish Economy: CBI publishes Macro-Financial Review
 
Ireland's Central Bank has this morning published its Q118 Macro-Financial Review. The report sets out the bank's current assessment of conditions in Ireland and identifies risks to the economy and financial system. The report notes that the financial system is strengthening, aided by an economy that is "growing at a healthy risk". Despite this, it believes that "the risk of an abrupt negative change to financial market conditions has intensified". Chief among these risks are: (i) the potential for a hard Brexit, which could impact investment decisions, NPL evolution, funding markets and cross-border financial services; (ii) the still-elevated levels of household and Sovereign debt in Ireland; (iii) the banks' relatively high exposures to the property market; and (iv) rising protectionist sentiment globally. The CBI has been alert to these risks, recently flagging the potential for a change in the countercyclical capital buffer (CCyB, which has been set at zero since its implementation in 2016) while Governor Philip Lane has also commented on the risk of a property price fall in the coming years. While growth in new lending remains high, we would flag that the stock of total lending has only begun to stabilise, having fallen by over half (on an adjusted basis) since the 2008 peak, while the flow of new mortgage lending in 2017 was less than a fifth of peak levels. As the CBI itself notes, "at this juncture, the main potential [adverse] trigger events are considered to be external developments". This limits Irish policymakers' ability to directly confront these threats. However, we would note that after a decade of deleveraging, household, corporate and Sovereign balance sheets have become better equipped to meet future challenges.
 
Economic Releases
 
09.45 EC ECB's Coeure speaks


10.00 EC CPI YoY/MoM


10.00 EC Trade Balance


14.15 US Industrial Production


14.15 US Manufacturing Production


18.30 US Fed's Kaplan speaks