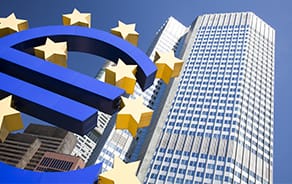 The ECB took a step further towards ceasing its QE programme at today's Governing Council (GC) meeting, ending the easing bias on its asset purchase policy.


As we suggested in our preview yesterday, the GC removed the phrase in its accompanying statement stating that, if the inflation outlook weakens, 'the Governing Council stands ready to increase the asset purchase programme (APP) in terms of size and/or duration'. Meanwhile as widely expected, the GC kept the main parameters of its policy stance unchanged. All key rates remained on hold - the deposit rate at -0.40%; the refi rate at 0.0%; and the marginal lending rate at +0.25%. Furthermore the pace of asset purchases was kept steady at €30bn per month until the end of September this year, or beyond if necessary. We note that this month marks the second anniversary of the last time the GC cut rates – a 10bp reduction in the deposit rate to -0.40%. In his press conference, ECB President Draghi took some of the sting out of the change, clarifying that this neither represented a shift in the ECB's reaction function, nor in expectations. Indeed, the ECB's staff forecasts for both GDP and HICP (inflation) were very similar to those published in December. The GDP profile now stands at 2.4% for 2018, 1.9% for 2019 and 1.7% for 2020 against 2.3%, 1.9% and 1.7%. Meanwhile the new HICP profile stands at 1.4%, 1.4% and 1.7%, respectively (from 1.4%, 1.5% and 1.7%). It is the confirmation of a positive trend rather than a revolutionary change in the environment which underpins today's move. Indeed on a couple of occasions Mr Draghi referred to the decision as a 'backward looking measure'.

In terms of market reaction, the euro rose initially against the dollar, but reversed course relatively promptly to make net losses of around 0.5 cents to trade at $1.2330. Similarly 10-year Bund yields turned tail and are currently yielding 0.63%, 4bps lower than before the ECB decision.
Trump tariffs
Last night President Trump signed a presidential proclamation introducing a 25% tariff on steel imports and 10% on aluminium. The final draft of the tariffs did however include some flexibility, in that Canada and Mexico were excluded and that other allies could also request to be  excluded. A key question now is how other countries respond, both China and the EU have suggested that they could introduce their own tariffs, although the EU may request to be excluded, although there has been no news on that front as yet. President Trump did however raise the prospect of further tariffs ahead, suggesting that the US would introduce so called 'reciprocal taxes' on imports where third party countries currently charge higher duties on US goods. Markets seem to have taken the news in their stride the S&P 500 closed up 0.5%, Asia is also positive, but that may also be due to the apparent softening of tensions with North Korea, amid talk that Trump could meet Kim Jong-Un.
Amended as per below
Non-farm payrolls rose by a firm 200k in January, above market expectations of +180k and the H2 2017 average of +179k. At the same time, unemployment remained flat at 4.1% for the fourth successive month. But the eye-catching feature of the report was the rise in hourly earnings (pay), which compared with a year earlier, strengthened to 2.9%, its highest rate of growth since mid-2009.
In terms of what to expect for February's numbers, we would note that the economy overall remains solid. Moreover various labour market indicators during the month, such as weekly jobless claims and the employment components from the Philadelphia and Empire State Fed surveys were all solid, signalling that labour market conditions remain tight. Hence it seems likely to us that payrolls will record another robust gain. We are pencilling in a rise of 180k.
INM: FY17 Results – Read all about it 

Independent News & Media (INM) has today released its FY17 results. The publishing group has reported revenues of €293.0m but good work on costs saw underlying operating profits come in at €27.5m. INM also booked net exceptionals of -€12.1m, mainly due to an impairment charge relating to the Belfast Telegraph masthead. The balance sheet threw up few surprises, with net cash of €91.5m and retirement benefit obligations of €77.5m. As expected, no dividend has been declared. The revenue line shows an annual decline of 9.4%, driven by steep falls in total advertising of 10.6% and circulation (-8.4% y/y), with the latter also impacting distribution revenues (-9.5% y/y). The advertising fall was concentrated in publishing (-13.0% y/y) while digital revenues were flat y/y at €15.1m. Total costs were €265.5m, -6.2% y/y. This helped the operating margin climb to 11.9% from 9.4%. Over the past year INM has transformed its leadership team, with the appointment of a new CEO, Chairman and three other new non-executive directors in recent months. There are few updates on legacy governance issues, with the group saying that it "continues to comply with requirements from the ODCE and is taking all necessary steps to meet the ODCE's requests". There is also little new on the strategy front, with the group continuing to look at "potential partnership and acquisition opportunities". The bolt-on acquisition of certain assets of Hegadon Limited was finalised in early 2018 (for a total consideration of €4.7m). The board has brought in EY to consult on "all the group's operations to develop a clear strategy for future growth", with the establishment of an implementation team to deliver this strategic plan involving "investment in people and technology".
CRH: Dodge Momentum Index for February
The Dodge Momentum Index level for February was at 146.9, a +0.5% increase on January's revised level of 146.2. Broken down, the increase comes due to strong upward movement in the institutional building component, +8.2% MoM to 142.6 from 131.8. This was partially offset by weakness in the commercial building component which fell -4.8% MoM to 150.4 from 157.9. The commercial component has declined for two consecutive months, with Dodge commenting that commercial building could ease in 2018 as a result of rising office vacancy rates. In contrast, institutional building construction is still feeding off the large quantity of state and local bonds issued for institutional buildings over a number of recent election cycles, helping to boost sentiment in this sector. The Dodge report also notes that 16 projects with a value of more than $100m or more entered the planning phase in February, with the largest having a value of $450m.
IPL Plastics: Full year results
IPL Plastics, the rigid plastic packaging manufacturer and company formerly known as One51, has today announced a solid set of full year results. EBITDA before exceptionals increased by 46% to €70.9m from €48.5m in 2016, while revenues increased by 36.2% to €474.4m from €348.2m in the previous year. Adjusted EPS rose 8.8% to 12.01c from 11.04c. On a divisional basis, the IPL division increased revenues to €293.7m, a 44% increase. However the OPG segment underperformed in 2017 with revenues decreasing to €114.1m from €126.9m. Strong overall revenues and earnings were driven by organic growth and the successful integration of recent acquisitions Encore (November 2016) and Macro (June 2017). The company noted that group results for the second half of the year suffered due to increased input costs as well as the decline in the value of the US and Canadian Dollars against the Euro, trends which the company say "have continued into 2018." Net debt has increased by 52.8% to €233m to help fund the company's North American acquisitions and other capital expenditure projects. In December 2017 the company received shareholder approval to initiate corporate restructuring plans which saw the two Canadian shareholders in the IPL division, Caisee de Depot et Placement du Quebec and Fonds de Solidarite, swap their 33% stake in the IPL division for a combined stake of 41.5% in the parent company. The restructuring along with the change of company name from One51 is setting up IPL Plastics for a potential IPO in the near term. Group CEO Alan Walsh reiterated this saying the company has "made progress towards a possible IPO and listing on the Toronto TSX later this year."
SIG FY: Results
SIG has reported FY17 results. Revenue +7.4% to £2.8bn. Operating profit +5.1% to £94.3m and EPS +0.1p to 9.8p. Market commentary is largely corroborative of recent comments from Kingspan, Grafton, Travis Perkins etc. In the UK & Ireland they saw +1.6% LFL sales growth with price inflation being more than offset by falling volumes of -2.9%. Operating margins in the region fell 50bp's. While new housing starts continue to grow, RMI markets have remained subdued and there have been some delays in new starts in commercial new build. "We are seeing an increasingly challenging environment ". In contrast they are seeing "increasingly confident markets across Mainland Europe and Ireland". They also note they there were signs of both labour and capacity constraints during H2 in Europe.
Irish Economy: NTMA raises another €1bn
Ireland's NTMA yesterday raised €1bn from the tap of two benchmark bonds. The NTMA raised €500m from a tap of the 10/22 Treasury Bond at a yield of just 0.109%, helped by strong demand of €1.35bn (2.71x covered), and a further €500m from a tap of the 05/28 Treasury Bond at a yield of 1.07% (2.49x covered). These sales have brought the agency's proceeds from the issuance of benchmark bonds in 2018 to €6.25bn, leaving the NTMA well on its way to its FY18 funding goal of €14-18bn of bond sales.
Economic Releases
09.30 UK Construction Output
09.30 UK Industrial Productions
09.30 UK Inflation Expectations
09.30 UK Manufacturing Production
13.00 US Nonfarm Payrolls
17.40 US FOMC Rosengren speaks