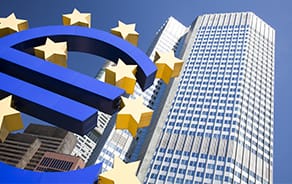 ECB minutes express 'volatility' concern
The ECB's account to its January meeting were published yesterday afternoon.

It highlights how nervous the ECB is about getting its policy steps and messages wrong as it edges closer to the policy exit. The minutes do highlight that 'some' on the governing council expressed a preference for dropping the easing bias on QE (i.e. to increase bond buys if necessary), but as we saw in the policy statement last month, any move to adjust this language was overruled by the majority. The overall tone was one of caution with the minutes flagging that policy will evolve to avoid abrupt, disorderly adjustments later – perhaps giving yet any pointer to the prospect of the ECB opting to taper QE purchases once it gets to its current QE end point of September 2018. Policymakers also 'expressed concern' about the euro's volatility so presumably would also want to avoid being the source of any more of this through its policy communications and actions. The minutes had little reaction on the FX markets, the benchmark EUR/USD is still sitting around the $1.23 level.
Q4 2017 UK GDP data disappoints
At the second estimate Q4 GDP figures were revised down to +0.4% from +0.5%, whilst the broad consensus and our own forecast had been for it to be unchanged at 0.5%. The UK statistics office pointed to a number of very small revisions across a few categories pushing the GDP estimate down. The release today also provided our first glimpse into the expenditure breakdown of growth. That showed household spending remaining relatively subdued in the final quarter of the year whilst net trade acted as a drag on UK growth and business investment figures were flat on the quarter, the weakest showing since Q4 2016. The revisions, which included an 0.1pp upgrade to Q3 GDP to 0.5%, pushed 2017 GDP growth for the full calendar year down to 1.7% from 1.8% previously, with that representing the slowest UK growth rate since 2012. Sterling has moved relatively little off the back of the data.
Progress from Cabinet chequers meeting may prove short-lived
Theresa May and 11 senior cabinet ministers spent most of yesterday at the PM's retreat chequers trying to thrash out a unified approach for the next stage of brexit negotiations. Details remain sparse, and feedback from attendees was mixed. It is hoped that plan hammered out yesterday will be agreed by the whole cabinet at a meeting next Tuesday before she outlines the strategy in a major policy speech next week.
The next phase of trade negotiations kicks off in March. So far the UK government has suggested a 3 pronged approach to Brexit, stating that they would seek to continue to follow EU rules completely in some areas (car manufacturing and data sharing have been mentioned as examples), remain closely aligned in other areas and diverge completely in other areas. However the EU has already rejected a so called "cherry picking" approach, and reiterated that in a very timely presentation yesterday in which they stated that "the UK views on regulatory issues in the future relationship including the "three basket approach" are not compatible with the principles in the EU council guidelines".
Without a majority in parliament, May has little room to force either a "harder" or "softer" approach on her brexiteer or remain colleagues. A leadership challenge continues to be a threat, as outlined most recently by the letter from 62 brexiteer party members outlining their position. As a result, it seems that May will be forced to outline a compromised negotiation stance which will be immediately at loggerheads with the EU's long outlined negotiating position.
CRH: Saint Gobain results released
Saint Gobain has reported FY results. FY sales increased 4.4% to €40.810bn while FY17 EBITDA expanded 5.9% to €4.23bn. All regions performed better in the second half of the year compared to the first half, with momentum remaining strong. In France FY LFL sales growth was 3.5% with 4.8% in H2 and 6.0% in Q4, while in Western Europe LFL sales growth was 3.1% with 3.6% in H2 and 3.8% in Q4. The trend was similar in North America (FY 6.0%, H2 9.8%, Q4 10.3%) and Asia and EM (FY 9.2%, H2 11.4%, Q4 12.0%). This momentum was also seen at a divisional level, for example Interior Solutions (FY 5.9%, H2 7.6%, Q4 8.9%), Building Distribution (FY 3.6%, H2 4.1%, Q4 4.0%). For Building Distribution in the UK management points out that growth was driven by price but volumes declined. The operating margin for the division was at 3.4%. In Interior Solutions the FY trading margin slipped to 9.5% from 10.3% as price increases remained behind the sharp increase in raw materials and energy costs.
Kingspan: Full year results
Kingspan has reported full year results for the period ending 31 December 2017. The company already gave a trading update on 13 November and an acquisition update on 15 December. Revenue was up +20% to €3,668m, Trading profit/EBITA up +11% to €378m, Group trading margin of 10.3%, a decrease of 70bps, Basic EPS up 11% to 159c and Total dividend for the year up 10% to 37.0c. Insulation Boards saw lfl sales +15% and margins +50bps. In contrast, Insulated Panels saw lfl sales +12% and margins -120bps. In Mainland Europe the company noted strong performance in France, Benelux and the Nordics but contrasted this with Germany which was described as "deeply competitive" as capacity increases weighed on market prices. They also noted that while the UK (20% of sales) was resilient for much of the year "growing economic and political uncertainty made itself increasingly evident in market activity" and order intake weakened sharply towards year end.
Independent News & Media: Print circulation continues to slide
The latest ABC data show that print circulation continues to fall sharply in Ireland. The 'Daily' market fell 3.9% on a like-for-like basis in H217, while the 'Sunday' segment fell by 3.6% sequentially. INM's titles were not immune to these industry-wide trends. Print circulation of its flagship Irish Independent fell 4.7% in H217 to 90,107, while its stablemates The Irish Daily Star and The Herald fell 3.5% (to 48,687) and 7.7% (to 36,097) respectively. The combined INM share of the daily quality market was little changed at 50% (H117: 51%) while the share of the daily popular margin was unchanged at 23%. In the Sunday space, INM's market leading Sunday Independent and Sunday World title saw their circulation fell by 3.7% (to 178,323) and 6.7% (to 133,946) respectively. The data include the Irish edition of The Times for the first time, which had a print circulation of 10,109 in H217. It launched this edition on the 3rd of June, so this may explain some of the deterioration elsewhere in the daily space. Another factor is the growing embrace of digital subscriptions. The Irish Independent has 2,796 digital subscribers in addition to the print figure cited above, while The Irish Times saw 29% y/y growth in digital subscriptions to 16,939 (its print circulation is 62,423).
Irish Banks: Ulster Bank's FY17 results show large provision charges for NPL disposals and tracker mortgages
Ulster Bank, the Irish subsidiary of RBS Group, reported FY17 results this morning, showing an operating loss of €151m after some significant (€245m) and unguided Q417 provision charges in relation to resolving tracker mortgage (and other legacy business) issues and a change in the bank's NPL strategy to allow for further portfolio disposals. Ulster Bank Ireland reported an operating loss of €151m for FY17 (adjusted operating profit of €109m excluding one off provision costs). Gross new lending increased by 3.4% from €2.5 billion in 2016 to €2.6 billion. Further cost efficiencies have been achieved, with adjusted expenses reducing by €43 million in 2017. RWAs of €20.2 billion reduced by €0.9 billion, or 4.3%, compared with 2016. NPLs (or Risk Elements in Lending) down by 9.8% to €3.7 billion, representing 15.9% of gross customer loans, compared with 17.5% in 2016. NII increased to £421m from £409m in FY16, NIM of 1.67% for FY17 after 1.62% for FY16, including an Q417 exit NIM of 1.76%. Ulster has taken a €153m provision in Q417 against tracker mortgage and other legacy business issues. This brings the FY17 provision charge for tracker and other legacy business issues to €192m. Ulster Bank reported a net impairment charge of €92m in Q417, compared with a release of €11m in Q3 2017, with the Q4 result including a provision relating to a change in the non-performing loan strategy to allow for further portfolio sales. A net impairment loss of €68m was reported for FY17 compared with a €138m release in 2016.
Economic Releases
10.00     EC     CPI (Jan)
15.15     US     Fed's Dudley & Rosengren speaking
18.30     EC     ECB's Coeure speaking