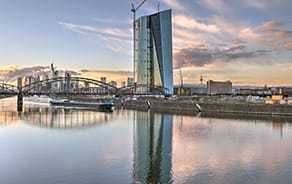 The ECB's Governing Council (GC) convenes for its second meeting of the year later today.


Today's policy decision (12:45 UK time) is unlikely to yield any changes in monetary policy, with the key policy rates unchanged at -0.40% (deposit rate), 0.00% (main refinancing rate) and +0.25% (marginal lending rate) respectively. The current €30bn a month pace of asset purchases (until September 2018) should also be reaffirmed. President Draghi's press conference as usual will begin at 13:30. Today's meeting will also see the GC armed with a new set of ECB staff macroeconomic forecasts. The last set of forecasts published in December witnessed notable upgrades to the growth outlook, with GDP growth forecast at 2.3% in 2018 and 1.9% in 2019. Arguably the growth forecasts face the risk of another small upward revision this time around.

Inflation & euro key

From a policy point of view it is inflation that really matters and on the price pressures front, the GC in January judged that there had been few new developments and that the outlook for inflation was broadly unchanged. Indeed data since January's meeting is unlikely to have shifted the GC's view on inflation, HICP in February was recorded at 1.2%; its forecast for Q1 as a whole stands at 1.3%. With regard to the updated inflation forecasts, there are a number of competing points to consider, which may ultimately mean there is little change in the forecasts. One area that will likely be touched upon once again is the euro. Amidst the recent rise in the euro, the most recent meetings have seen the ECB make reference to euro movements as a source of volatility which requires monitoring. January's press conference in particular made reference to factors outside the Euro area (comments from US officials) which had been pushing the euro higher.

Guidance
Whilst maintaining a cautious approach to policy there is one area that could be in focus today- the wording of the ECB's guidance. The accounts to December's GC meeting revealed that the forward guidance language could be revisited early this year, with some members expressing a preference for removing the easing bias on QE guidance (GC stands ready to increase the asset purchase programme in terms of size and/or duration) at January's meeting. Although the GC ultimately concluded that such a move was premature, March's meeting could see an adjustment.  More broadly the ECB policy outlook continues to be one based on patience, given the still subdued underlying trend in inflation. Nonetheless, the recent noises from the GC has signalled the ECB's intention to conduct a very small taper from September, which would effectively end QE by the end of this year. The outlook for interest rate policy remains a little more uncertain. Given that the current language is very vague and only stipulates interest rates are to remain at present levels 'well past' the end of net asset purchases. Our own view is that the first ECB hike is likely to come in Q2 2019, via a 20bps increase in the deposit rate to -0.20%, although we would not rule out a possible move earlier.
US tariff update
Having opened the session down 1%, the S&P closed down only very marginally at -0.05%, as fears over US trade protectionism and trade wars abated. This came following the White House's spokesperson Sarah Sanders suggestion that there could be 'carve outs' for the likes of Canada in the announced steel and aluminium tariffs. However the issue has not gone away. Reports yesterday suggested that the President was formally set to sign the order on steel and aluminium today. There are also questions as to whether Trump announces broad tariffs on Chinese imports as has been reported - on the campaign trail he reportedly suggested tariffs of 45% on Chinese goods. Whoever takes over as National Economic Advisor will also be important, as Gary Cohn was seen as a more stabilising hand against some of the more nationalist voices among Trump's advisors. Various Republicans have voiced their objection to Trump's planned tariffs and whilst constitutionally it is Congress that has the power over tariffs, various laws introduced over the years have delegated certain powers to the President which basically provide loopholes for the President to avoid Congress in introducing tariffs as he sees fit.  Where this goes remains to be seen, given Nafta talks are being conducted at present, there could be an aim to push talks along and tariffs may just be limited to the announced steel and aluminium increase, but given the EU has threatened retaliatory measures, the US could respond in turn as has been suggested by Trump.
Trump is expected to formally sign off on planned tariffs on steel and aluminium imports at 5 pm today.
ICG: Full year results
FY17 EBITDA was –3% yoy to €81.0m. Basic EPS was +40.4% to 44.1c. The full DPS was increased by 5% (for the fourth year in a row) to 12.16c. The Group is now in a net cash position of €39.6m vs a net debt position of €37.9m last year. YTD car volumes are +9.1% benefiting from additional high speed ferry sailings against undemanding comps. On the flip side, RoRo volumes are -3.3%, impacted by bad weather which saw conventional sailings decrease 9%. The C&T YTD performance sees Port Lifts +5.7% and Container Carryings +4.6%. Despite Brexit uncertainty, management says that the economic outlook for its markets continues to improve and looks forward to another year of volume growth. The company also points out that it is set to benefit this year from the introduction of its new ferry, the W.B. Yeats, in the summer of 2018.
Bank of Ireland: €750m raised via 7yr covered bond at 0.69%
Bank of Ireland yesterday issued a €750m 7yr ACS (covered bond) at a coupon of 0.625% and an implied reoffer/issue yield of 0.694%. The 0.625% 03/25 ACS issue (AAA rated by Moody's and DRBS) by BIRG yesterday is the first benchmark sized issuance (excluding self-held issues) by the group since October 2015, which is indicative of the excess liquidity the bank has been (and continues to) holding in the interim. The new issue is effectively a refinancing of the upcoming maturity of the €500m 03/18 2.75% ACS, and demonstrates the NIM benefits that continue to accrue as higher coupon legacy debt instruments roll off and are replaced by lower coupon new issuance.
Origin Enterprises: Half year results
Origin Enterprises this morning issued H118A numbers reporting an adj. EPS of 0.27c from a total Group EBITA of €4.0m. The core Agri-Services business recorded an EBITA of €2.3m while the share of profit of Associates & JVs came in at €1.7m. Revenue of €586.9m was up 4.0% over H117A. An interim dividend of 3.15c was declared, similar to H117A. On a LFL basis, revenue from Agri-Services was up 3.6% reflecting increased agronomy service revenue and crop input volumes along with increased fertiliser prices. No forward guidance has been provided nor was expected at this stage in a business where up to 95% of profits can be generated in the second half of the fiscal year. Management notes that sector sentiment "remains stable against an improved short term planning environment" and that there is "a good foundation for the seasonally more important second half". In Ireland and the UK, underlying volume growth of 0.4% was due to earlier timing of fertiliser demand, with an improved sales mix expanding margins resulting in a 24.5% increase in operating profit. The B2B business delivered a "satisfactory result" in H118A with an improved performance from Feed and Amenity offsetting a lower underlying contribution from fertiliser. Continental Europe recorded 3.9% volume growth as a result of good early season momentum.
Grafton: RICS survey points to subdued UK housing market
This morning's RICS survey suggests activity in the housing market has remained subdued. The headline national house price balance fell to a joint five-year low of zero in February and down sharply from the +8% recorded in January. Activity remained sluggish, however, with new buyer enquiries declining at the national level for the eleventh consecutive month as the balance eased to -16% from -11% in January. Additionally, new instructions saw a decline of -24% (the sharpest fall since July 2016), causing the average inventory per branch to fall to a new record low of around 42.
INM: New Chairman appointed
Independent News & Media yesterday announced the appointment of Murdoch MacLennan as its new Non-Executive Chairman. Mr. MacLennan has been Chairman of The Press Association since March 2010 and Deputy Chairman of Telegraph Media Group since last June (having been CEO of TMG for 13 years). In terms of wider industry appointments, he was President of IFRA, the global association for newspapers, between 1997 and 2003, while since 2016 he has been a member of the Council of Google's Digital News Initiative. He is also the Chairman of the Scottish Premier League, where his experience of The Old Firm derby may come in helpful given the intensely competitive nature of the Irish newspaper industry. MacLennan was first appointed to the board of INM on 01 March when he and three others were elected at the recent EGM.
Economic Releases
12.45   EZ   ECB Interest Rate Decision
13.30   EZ   ECB President Draghi press conference
13.30   US   Jobless Claims