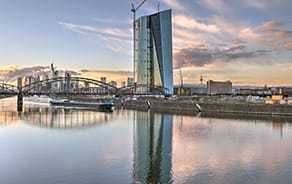 ECB's Nowotny gives euro a boost
In an otherwise dull, range-bound day in the FX markets it was left to the current governor of Austria's central bank (Oesterreichische Nationalbank) and member of the European Central Bank 's governing council to provide some light relief.

Mr. Nowotny, a noted hawk, took the markets by surprise yesterday afternoon when he said that the ECB will end their current asset purchase (QE) programme this year and that they could lift their deposit rate to -0.20% from -0.40% to start the rate hike process. Given that the official ECB guidance of late has been cautious, this comment was somewhat incendiary and ultimately took the benchmark EUR/USD sharply higher from 1.2330 to 1.2380. The hawkish euphoria didn't last and it wasn't too long before we heard from an obviously miffed ECB where they were at pains to point out that "Mr. Nowotny's views don't represent the governing council" and that his "views are his own."
All eyes on UK IP
UK factories limped into the new year in January, with manufacturing output growth growing just 0.1% (mom) after having risen 0.3% in December. Still, this was enough to extend the manufacturing sector's record run of sequential growth to nine months, while growth on a year-on-year basis accelerated to 2.7% from 1.4% in December. Could this streak be extended to 10 months in February? Though the output component of the manufacturing PMI fell to an 11-month low, it nevertheless remained in expansionary territory. Note, however, that the survey was conducted 12-23 February and therefore does not capture the snow seen the final three days of the month. We believe it is likely that heavy snowfall will have disrupted factory output, though we expect the impact to be relatively modest given that affected only a brief period of the month. As such, we have pencilled in a fall of 0.2% (mom) for February. Wider industrial production should fare better. Temperatures averaged just 2.4°C in February; the second coldest February since 1996. Given that the cold snap followed a warmer-than-average January, households may have been more acutely aware of the shift in temperature and therefore may have been more inclined to turn up the central heating. As such, higher utilities output should help to provide some offset from the weak manufacturing figures. Still, we expect a pronounced softening in industrial production to 0.2% (mom) from January's distorted 1.3%, largely due to the normalisation of oil and gas output following the Forties pipeline disruption.
CPI, FOMC minutes to give dollar direction
Between mounting concerns over trade and geopolitical tension, comments from European central bankers, and the latest developments in the trump investigation, it's been hard to keep track of all of the factors driving the EURUSD rate this week. EURUSD is currently trading close to a 2 week high. That previous high 2 weeks ago was set shortly after the Federal Reserve announced a rate hike in March, but disappointed markets by sticking to the projections for just 3 rate hikes in 2018 rather than four. Today could see focus shift from geopolitical concerns and return to central bank policies as we see the latest CPI data from the US and the release of the minutes to last month's FOMC meeting.
The minutes could remind markets that the Fed is firmly in a rate hiking cycle and while the mean projection was for three rate hikes, there were plenty of members suggesting that three rate hikes would be more appropriate before the end of the year. Whether we see three or four rate hikes will likely come down to data, and to that end, the latest inflation data will be significant. CPI data for March is expected to continue its positive run, with forecasters expecting a 6th consecutive months with above 2% annual inflation. More significantly perhaps, core inflation (excluding food and energy prices) is expected to top 2% for the first time since March of last year. If consensus forecasts are accurate, the latest data would certainly boost the case for an extra rate hike, however it is worth bearing in mind that the Fed's preferred measure of inflation (PCE) is lagging CPI by close to 0.50% and the core measure (the latest iteration of which is released at the end of the month) hasn't topped 2% since 2012.
Irish REITs: Sharp fall in the Dublin Crane Count
The latest Dublin Crane Count from The Irish Times supported by Savills shows a sharp m/m decline in the number of machines on the Dublin skyline. On the first of this month there were 71 cranes over the city, 18 over the northside and 53 on the southside of the city. This represents a decline of 7 m/m which is attributed to the completion of works at a number of sites in the Docklands area of the city. The number of cranes over Dublin peaked at 80 in December before retreating to its current level. In contrast to a number of commentators who fret about what they perceive as a potential glut of office accommodation, our chief concern on the supply front relates to the limited availability of high quality Grade A space in the city (the vacancy rate is flirting with its all-time low).
Irish Economy: Successful syndicated bond sale
Ireland's NTMA has raised €4bn from the syndicated sale of a new 15 year benchmark Treasury bond. The sale attracted a strong €12.5bn of demand (3.13x covered) from 190 individual accounts, helping to produce a yield of 1.319% (MS+4bps, slightly better than IPT of MS+5bps). The main investor categories were asset managers, insurance companies and pension funds (53%), banks (25%), central banks and official institutions (9%) and hedge funds (13%). In terms of country distribution, this was led by the UK (46%), followed by Germany / Austria / Switzerland (13%), the Nordics (8%), France and Italy (7% apiece) and the Americas (6%). As a result of this move the NTMA has raised €10.25bn from bond sales in the year to date, which compares to a FY target funding range of €14-18bn.
Food Ingredients: Chr Hansen Natural Colors Q218 numbers
Chr. Hansen issued Q218A numbers reporting flat FD EPS at €0.39 from a 1.7% increase in operating profit to €71.2m and a 1.7% increase in revenue (9.0% LFL) to €263.7m. Management reiterated FY18 guidance of organic revenue growth in the 8-10% range with an EBIT margin of around 28.9%. It has however lowered growth expectations in the Natural Colors division to "below the long-term ambition of around 10%". On a divisional basis, Cultures & Enzymes EBIT grew by 6.5% to €47.6m from a 4.8% increase in revenue to €153.7m. The division recorded 12.0% organic revenue growth. Health & Nutrition reported a flat EBIT outturn at €18.6m despite a 2.4% dip in revenue to €57.2m, with organic growth of 7.0%. The Natural Colors division reported a 26.5% decrease in EBIT to €5.0m from a 2.6% decrease in revenue to €52.8m. The division recorded LFL revenue growth of 4%.
Airlines: easyJet submits a revised expression of interest for Alitalia short haul business
easyJet has submitted a revised expression of interest for a restructured Alitalia, as part of a consortium. easyJet has expressed interest throughout the period that Alitalia has been in administration (since May 2017). Alitalia is likely to burn through the latest government loan soon and the EC and Lufthansa (another member of the consortium) are putting pressure on the Italian government to conclude a sales process. Italy is the 4th largest market for scheduled and charter airlines in Europe, representing just under 15% of European capacity, and growing at around 5% yoy. Ryanair has the largest market share in Italy at around 22.0%, with Alitalia second at around 15.8% and easyJet third at 10.9%.
Economic events
09.30    UK    Industrial Production
09.30    UK    Manufacturing Output
12.00    EC    ECB's Draghi speaking
13.30    US    CPI
19.00    US    FOMC minutes