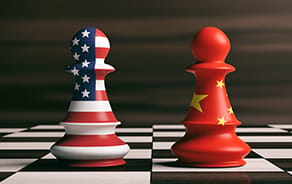 Equity markets slump as Trump threatens more tariffs
In an escalation of the trade dispute between Washington and Beijing, US President Donald Trump has instructed US trade representative (USTR) Robert Lighthizer to begin preparing tariffs of 10% on a further $200bn of imports from China.
The administration has released a list of goods that would be affected by the tariffs, which includes a number of consumer items such as furniture, handbags, pet food and bicycles. A public notice a comment process has now kicked off and is set to run through to August, with hearings held from August 20 to 23. Subsequently, the USTR would be able to impose any potential tariffs as early as September. China's commerce ministry responded by saying it was "shocked" by the latest US threats and would complain to the World Trade Organisation. Though it has yet to say how it would retaliate, it has previously matched US tariffs on a like-for-like basis. The US announcement came after Wall Street had closed, though Asian equities are weaker across the board this morning, led by the Shanghai composite which is currently trading down 2.3% since the open. European and US futures are all pointing to negative openings.
 
BoC to hike 0.25%
 
Ourselves along with market consensus see the Bank of Canada (BoC) hiking rates (for the first time since January) by 0.25%, from 1.25% to 1.5% at 3pm this afternoon. The BoC Governor, Stephen Poloz has been vehement that any movement in the rate will be data dependent and with inflation sitting above target, wage growth moving in the right direction and a strong reading from the recent 'Business Outlook survey' he looks justified in adding the 0.25% later today. With this rate hike well priced in, markets will be tuning into the language surrounding the ongoing trade spat with the US and any negative impact the BoC feels it may have on the economy. Therefore, today's rate increase could very well be an ECB style dovish hike.
 
Monthly UK GDP and trade figures
 
The ONS published its first monthly estimate of GDP yesterday morning, which showed that output had grown 0.3% month-on-month in May, in line with consensus and Investec forecasts. This was the strongest growth recorded since November and followed April's +0.2% reading. On a sectoral basis, the service sector expanded by a firmer-than-expected 0.3% in May (consensus +0.2%) from an upwardly-revised 0.4% in April. In contrast, manufacturing output disappointed by growing 0.4% (consensus +0.7%, Investec +0.2%), against expectations for a firmer bounce back from a revised 1.3% slide in April. Wider industrial production was even weaker, dropping 0.4% on the month (consensus +0.5%, Investec +0.1%) following a 1.0% decline witnessed in the previous month. However, the ONS noted that this was largely due to a crack in the Sullom Voe pipeline, which led to oil and gas output declining 7.4% month-on-month. Construction output grew by a solid 2.9% (consensus +0.6%), though the volatile series saw April's reading revised down 0.5pp to flat (0%). Despite the headline GDP reading come in as expected and the dominant services sector beating expectations, cable weakened around half a cent to $1.325 after having flirted with $1.33 in the lead-up to the release. EURGBP continues to trade above the 88p mark.
 
Hibernia REIT: Sale of the Century
 
Hibernia REIT has confirmed the sale of New Century House to a fund managed by Credit Suisse for €65.3m. Management say this price is "modestly ahead" of book value and the sale is expected to conclude in September. The sale comes as no surprise given both recent press speculation about the sale (The Irish Times, 4 July) and HBRN's form for recycling capital (it sold three buildings at strong prices in its last financial year).
 
Irish REITs: Positive updates from JLL and CBRE
 
Both CBRE (Dublin Office & Industrial Marketview Q218) and JLL (Ireland Investment Market Report Q218) released reports on the Irish commercial property space yesterday, providing positive read-through for the REITs. JLL's analysis shows that €955m of property assets traded in Q218 across 35 transactions. Five €100m+ deals accounted for almost 70% of the total value of transactions, led by the off-market sale of a Dublin office portfolio for €160m; GRN's sale of Westend Retail Park for €147m; and CRN's sale of the Hanover Quay PRS scheme for €106m. Given these large sales, it is unsurprising that the capital accounted for 95% of the value of deals in Q2, although we note that there were six transactions totalling €39m in the Cork market. Turning to CBRE's findings, the agents' research shows that office take-up was a strong 1.8m sq ft in H118, which shows that the pace of activity is in-line with last year's record take-up of 3.6m sq ft. The IT sector remains the dominant source of demand, accounting for 43% of take-up in H1, followed by co-working entities such as WeWork on 15%. The headline Dublin office vacancy rate was stable at 6.17% at end-Q2 (was 5.96% at end-Q1), but within that the vacancy rate for centrally located Grade A accommodation stands at just 2.72%. Prime rents and yields were stable at €65psf and 4.00% respectively in the quarter. There has been a lot of commentary about the extent of office construction in the city, but while there are 31 schemes totalling 4m sq ft of space under construction at this time, the agents note that there is 3.9m sq ft of requirements at present (a figure which is likely to grow given the economic backdrop). Elsewhere, there was 1.2m sq ft of industrial take-up in H118, again in-line with the run-rate seen in 2016 and 2017. However, CBRE expects an uptick in H2, with "several transactions in legals" going into Q3. Prime industrial rents were flat at €102.2 psm in Q2, but the agents see this growing 8% by the year-end. Prime yields were flat at 5.5% in Q2. The vacancy rate across Dublin's 25 most modern industrial parks is just 8.4%. There have been €1.9bn worth of investment transactions in the Irish property market in the first six months of 2018, which compares to the annual average of €1.8bn in the preceding 15 years. JLL now envisages €3bn of transactions in FY18, up from €2bn previously.
 
Permanent TSB: Project Glas deadline pushed back
 
The Irish Independent is reporting that the deadline for final bids for the Project Glas NPL disposal have been pushed back a week, to July 26th, amid speculation that some of the interested parties in the transaction have exited the bidding process. Project Glas is understood to include around €2.2bn in non-performing loans, made up of a mix of owner occupier and buy-to-let loans, though it has been downsized from the original €3.7bn in loans included within its scope. The sales process has come under heavy media and political criticism since its announcement earlier this year, amid concerns that unregulated 'vulture funds' may acquire these loans, with Goldman Sachs and Loan Star both understood to have expressed an interest in purchasing the loans. However, Cerberus, who was previously understood to also be involved in the bidding process, is now believed to have ended its interest, according to today's Irish Independent. Other unnamed hedge funds are also reported to be interested in acquiring the loan books, according to the newspaper.
 
Grafton: Trading update
 
Grafton has reported a trading update that points to strong trading in May and June. Group LFL sales were 8.2%, benefiting from the favourable weather. This was particularity notable for the Irish Retail business, Woodies which reported LFL sales +25.9% in this two month period. The strength in May and June was broad based with UK Merchanting LFL sales +5.8% (after recording -0.3% for Jan-Apr), Ireland Merchanting LFL +9.6% and the Netherlands Merchanting LFL +7.7%. Looking at H1 as a whole Group LFL sales were +3.8% with UK Merchanting +1.8% and Ireland Merchanting +6.3%. Total sales growth was +8.6% boosted by the acquisition of Leyland and new store openings from Selco. Management indicates that it enters H2 well placed to deliver its expectations for the financial year.
 
Economic releases
 
12.00 US MBA Mortgage Applications

13.00 EC ECB's Mersch speaks

13.30 US PPI

16.30 EC ECB's Nouy speaks