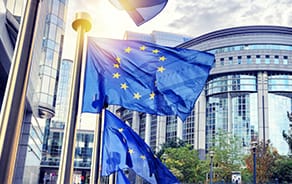 Euro bounces as threat of Italian elections dissipates
Italian markets rebounded yesterday as hope rose that another round of elections might be avoided.
Italian bonds rallied with 10-year yields falling 29bp, whilst the FTSE MIB gained 2.1%. Developments yesterday saw the President and his candidate for Prime Minister Carlo Cottarelli agree to put on hold temporarily discussions for an interim administration, whilst they gave 5 Star and the League a renewed attempt at forming a government. 5 Star's Di Maio appeared open to renewing attempts at forming a government with the League, even suggesting that a new candidate for the Finance Minister's position be proposed. However the League were cooler on the proposition, with Salvini himself seemingly ruling it out yesterday morning, before suggesting in the afternoon that he could form a government with either 5 Star or the Centre-Right Bloc. One factor that may be at play here, is that Salvini is secretly playing for another election given the League's rise in the opinion polls since March's election and a hope that he can capture power on his own or at least jointly with a party with similar ideologies. Indeed one story this morning has suggested that the League and the right-wing Brothers of Italy could join at the next election. Therefore markets are set to remain in wait and see mode today as they await comments from the main populist parties. One further point of note is that if a 29 July election were to be called as has been reported this week, it would have to be called today, given that there is a 60 day period between an election's call and the actual vote.
 
Spain
 
The Spanish parliament holds a no-confidence debate in PM Mariano Rajoy today, with a vote tomorrow, following a court ruling on corruption within Rajoy's centre-right Popular Party (PP). The debate has been called by Socialist Party (PSOE) leader Pedro Sánchez, who would become PM if tomorrow's vote goes against Rajoy. The PP is a minority government with 134 of the 350 seat Cortes (plus a handful of allies) and may have the support of centrist party Ciudadanos (32 seats) on the grounds that the latter is insisting on immediate elections if the motion of no confidence is passed. This means that Sánchez would need the support of virtually every other deputy to topple Rajoy, including Catalan and Basque nationalists, which reports overnight suggest he has. We note that this is a very different situation from Italy, bearing in mind that none of the major parties in Spain is calling for a confrontation with the EU, let alone an exit from the euro.
 
UK consumer confidence (May)
 
According to yesterday's release by GfK, UK consumer confidence rose by two points to -7 in May, delivering a slight beat on the -8 consensus (Investec forecast -7). There were improvements recorded in four of the five index sub components including with a five point increase in consumer views over the economic situation over the past 12 months and a four point rise in views of household personal financial situations for the next 12 months. Only the 'major purchase index' component fell back. Although consumer confidence remains at subdued levels, the two point rise takes it in the right direction and may prove to be the start of a slow improvement over the months ahead amidst a rapid moderation in inflation and as pay growth rises. However with Brexit uncertainty persisting and with the Bank of England having not canned rate hikes altogether (we expect an August Bank rate hike), we are unlikely to see a step-change to a much more positive consumer backdrop over the months ahead.
 
CRH: Organisational change - new global Products division
 
CRH is to establish a new global Products division. The new division will incorporate the existing Europe Lightside, Europe Distribution and Americas Products divisions, will be led by Keith Haas (currently President, Americas Products) and will operate alongside the Americas Materials and Europe Materials divisions. This new division is expected to account for 30% of group EBITDA. This announcement is made in advance of a conference being held in New York later today at which further details will be discussed. The company also announced that they are targeting an improvement in Group EBITDA of +300bp's by 2021 and say that they are likely to have €7bn of financial capacity over the next 4 years (after capex and dividends), providing significant opportunity for further shareholder value creation.
 
Total Produce: Weather impacts H118, Dole deal still to be approved
 
Total Produce this morning issued a short trading statement covering the first five months of the year noting that the Group is targeting continued LFL growth over 2018 and that its expectations are unchanged. That said, management cautions that first half growth will be limited due to the unusual weather and currency movements (weak SEK, USD and GBP) over the first five months at least. The Dole deal and concurrent raising of $180m to part finance the deal are mentioned and it is noted that the deal is still subject to regulatory approval. As expected, the final dividend of 2.4527c will be paid on 01 June 2018, representing a 10% increase on FY17A.. On trading conditions, management has indicated that business lost to weather can be made up in H218 and that at current versus H217 rates, the FX environment will be more benign in H218E.
 
MSCI Index changes: SKG, GLV being added to indices at the close today
 
SKG are being added to the Standard Series from the Small Cap Series - Volume of demand c. 10 days volume, less any pre-positioning. Elsewhere, Glenveagh are being added to the Small Cap Series - c. 4m shares of demand less any pre-positioning.
 
Economic Releases
 
10.00   EC   Unemployment Rate

10.00   EC   CPI

13.30   US   Jobless Claims

14.45   US   Chicago PMI