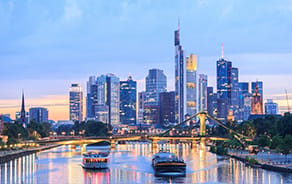 Euro jumps on ECB news and strong German data
A bit of a delayed reaction we would have thought but the FX markets seem to be grabbing on to a Bloomberg story (published just after Europe closed yesterday evening) as the reason behind the early hours EUR/USD spike.
The story in question has a hawkish slant to it, suggesting that the first ECB rate hike may come a little sooner than expected…."Some European Central Bank policy makers are uneasy that investors aren't betting on an interest-rate hike until December 2019, according to people familiar with the matter. A move in September or October next year is on the cards, the people said, asking not to be named because the discussions are confidential." The EUR bid was also helped by some positive German data, manufacturing orders recovered strongly by 2.6% in May (consensus +1.1%) following a revised 1.6% decline recorded in April. This helps to support the view that the recent weakness in the German and Euro area economies is temporary.
 
More good UK data
 
The argument in favour of an August BoE rate hike increased yesterday as June's UK services PMI survey beat expectations with a reading of 55.1 (consensus 54.0, Investec 54.2), up from 54.0 in May. This is the strongest reading for eight months, while the new business index was at its highest level for just over a year. Some of the buoyancy of the survey though was probably due to the warm weather. Cost indicators were firm with reports of increased fuel bills and stronger wage costs. The "prices charged" element of the index rose to its highest level since March.
 
Market Orders – Take advantage of upcoming volatility
 
EUR/GBP remains above 0.88 ahead of the Chequers summit tomorrow. Theresa May and her disunited cabinet is charged with agreeing the content of a white paper that is supposed to contain the vital elements of UK policy on Brexit. May's spokesman James Slack told reporters earlier this week that this summit would "set out what we want to achieve."
Market orders are an excellent tool to take advantage of volatility. Wish to know more, please call the treasury team.
 
C&C: Positive start to FY19
 
Prior to its AGM later this morning C&C issued a solid Q119A IMS noting that trading has been "positive" in all its key markets, "helped by good weather and the World Cup". In Scotland its Consumer reaction to MUP has been "broadly in line" with what the company was expecting while in Ireland the good summer weather to-date has seen Bulmers return to "moderate volume growth" in the year-to-date. Little detail on Matthew Clark Bibendum is provided at this stage in the integration process other than that service levels and operational performance is improving and that new, experienced senior management are now all in post and working to stabilise the business. As previously announced, the Chairman for the past eight years, Sir Brian Stewart, steps down today and is replaced by Stewart Gilliland. Little detail has been provided in the current IMS, coming as it does less than two months after C&C's FY18A results release.
 
Irish banks: Government rules out local public banking model
 
The Irish government last night released an extensive report and review on proposals for a Local Public Banking model to be introduced into Ireland. The report found that that there was not a compelling case for the State to establish such a model. The Irish government coalition 'Programme for Government' committed the Government to investigating the German Sparkassen model for the development of local public banks. This commitment was in response to a belief that there was a lack of competition within the Irish banking sector, and that rural/regional communities in particular were not being provided access to an adequate provision of SME credit supply and accompanying banking services. The report, which runs to over 200 pages, looked at the Sparkassen (Germany) and Kiwibank (New Zealand) models of local public banking as examples of how a local public banking model might work in Ireland. The cost to the Exchequer for the proposed new model has been estimated at a minimum of €170m, based on seven local public banks being set up on a well-defined regional basis.
 
The report found that the assumptions in the proposal based on costs, interest rates and loan attrition rates, appear challenging, and the suggested locations in the proposed pilot scheme in the Midlands would overlap with existing banks, credit unions and post offices. Further, it was not fully clear what the State's role in a local public banking system should be. The report also noted the availability of SME financing through non-bank or alternative lending institutions, and that a range of government supports for SME financing were also available. We have long held the view that the prospect of a local public banking model along the lines of the Sparkassen model was unlikely to be introduced in Ireland, given the heavy set-up and capital costs that would be required, and given the overlap such a model would have with both An Post (post office) and the credit union sector. We believe that the potential for any augmented 'community banking' services are best channelled through investment and restructuring of these institutions which are already well established across the State and within the rural/regional communities in particular.
 
Economic releases
 
11.00 UK BoE Gov Carney Speaks

13.15 ADP Nonfarm Employment Change

13.15 EZ ECB's Mersch Speaks

13.30 US Jobless Claims

14.45 US Services PMI

19.00 US FOMC Meeting Minutes