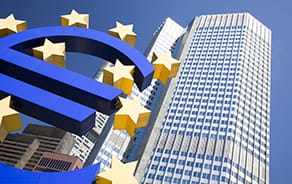 Euro jumps on hawkish ECB rhetoric
Last week's impressive eurozone (May) inflation print, where headline YoY CPI accelerated by 1.9%, a decent beat on the 1.6% market forecast, has unsurprisingly enough prompted some comment from the great and the good of the ECB.
Earlier this morning, ECB chief economist, Peter Praet said that "convergence of inflation towards our aim (2%) have been improving". ECB member and Estonian central bank governor, Ardo Hannson pointed out that "Market expectations are for interest rates to start a moderate rise in the middle of next year" and that he'd like to think "that the new normal is positive interest rates". Even more hawkish rhetoric came from the German Bundesbank president and ECB GC member, Jens Weidmann when he stated that he thought it "plausible" for markets to "expect the end of QE by the end of this year". After this deluge of ECB comment, the benchmark EUR/USD rate is almost 100 points higher than yesterday's European close.


UK services PMI


The UK services PMI (published yesterday) came in at 54.0 in May (consensus 53.0, Investec 53.2), up from 52.8 in April and further above the snow-affected March reading of 51.7. Survey compiler IHS Markit reported that service providers had experienced some catch-up from the weather-related disruption earlier in the year. However, new work rose at one of the weakest rates since the summer of 2016 with subdued consumer spending and Brexit uncertainty weighing on demand from large corporate clients. Though employment growth was weak, anecdotal evidence suggested this largely reflected skilled labour shortages rather than a softening in hiring intentions. Alongside the improvement in the manufacturing PMI, the composite PMI climbed to 54.5 in May (consensus 53.4) from 53.2 in April. Taken with yesterday's steady construction PMI, IHS Markit believes that growth for Q2 as a whole looks set to rise by 0.3-0.4% in Q2. Indications from the PMIs that the Q1 softness was temporary raises the possibility that the Bank of England MPC will vote to raise the Bank rate in August; sterling has risen 40 pips to $1.3377 following the release.


US non-manufacturing sees 100th straight month of expansion


US non-manufacturing ISM index released yesterday climbed to 58.6 in May from 56.8 in April, delivering a beat on the 57.6 consensus and pointing to the US non-manufacturing sector expanding at a more solid rate in the second quarter of the year. More impressively, the latest print marks a 100-month streak of overall expansion. Note also, that the job openings figures released at the same time were also more solid than expected at 698k, up from 633k in March and providing another pointer on the strength of the US jobs market.


SKG: IP states it will not bid for SKG


The PUSU ("put-up or shut-up") deadline specified by the Irish Takeover Panel passed at 7am this morning. No deal has been done between International Paper and SKG and this effectively bars International Paper from making an offer over the next 12 months under Rule 2.8 of the Takeover Rules.


Applegreen: AGM statement highlights challenging trading conditions and further expansion


Applegreen this morning released a statement in advance of its AGM in which it notes that the group had a positive start to the year but that it has been negatively impacted by severe weather in March, particularly in Ireland, and rising fuel prices which exert downward pressure on fuel margins. Applegreen has also added 24 sites to its portfolio since the end of last year and has reached an agreement with CrossAmerica Partners to lease a network of 43 petrol filling stations in Florida. It is unsurprising that Applegreen has cited the negative impact of Storm Emma which caused virtually all commercial activity in Ireland to cease for a number of days in early March, while the adverse impact on margins from a rising fuel environment (and vice versa) is a consistent feature of its business. More positively, the 24 sites that the group has added YTD is almost half of our forecast of 50 new sites this year, while the new agreement to lease a network of sites in Florida highlights the opportunities for capital-light expansion in the US market, although no financial details of this transaction have been released.


Irish Economy: Public finances are getting back on track


The latest Fiscal Monitor from the Department of Finance shows a very strong performance in May, which has gone some way to closing the gap between Budget Day forecasts and the revenue underperformance recorded earlier this year. October's budget projected tax revenues to grow 6.0% this year (to €53.7bn). The early Fiscal Monitors for 2018 sowed doubt on this forecast, with cumulative annual revenue growth of 3.6% y/y in the period to end-April. However, May's returns show annual growth of 8.6%, helping the year to date performance to come in at +5.0% y/y. Receipts were 5.1% ahead of profile (target) last month, putting the year to date outturn 0.4% ahead of profile. The tax headings give a good idea of the dynamics across the economy at this time. Year to date income tax receipts are +6.1% y/y, reflecting rising employment and labour earnings. VAT receipts are +1.3% y/y, broadly in line with the year to date increase in the value of core (ex-auto) retail sales. In contrast, Excise duties were -7.8% y/y, an outturn that is likely driven in the main by the 5.7% y/y decline in new car sales in the year to date revealed by previously published CSO data. The capital taxes are benefiting from rising asset values, with Stamp Receipts +40.2% y/y and Capital Gains Tax +35.8% y/y. On the expenditure side, net voted (discretionary) spending was 1.3% lower than profile in the period to end-May, but still +8.4% y/y. The outturn for national debt servicing costs tells a similar story, 1.2% lower than profile but still +9.6% y/y. All in all, helped by lower than expected spending and the modest tax revenue overshoot, the underlying balance for the opening five months of the year, at -€2.4bn, is some €603m better than had been forecast.


Irish Economy: Services PMI improves to its strongest since January


The latest Investec Services PMI Ireland report shows that the rebound from the extreme weather conditions in March continued in May, with growth of business activity accelerating for the second month running to the fastest (59.3) since January. Activity has now increased in each of the past 70 months. While the rate of growth in New Orders cooled slightly from April, it remained sharp amid reports of strength in the wider Irish economy. Overseas demand firmed last month, with the pace of expansion in New Export Business quickening to its fastest since January 2016, with a number of panellists noting higher new orders from UK clients. Helped by this healthy demand, services companies reported a further rise in Backlogs of Work, albeit not quite at the same level of growth as had been seen in April. Similarly, while the sequence of growth in the Employment index now stretches to 69 months, the rate of increase in hiring activity was slightly lower than the year to date high that was posted in April. Turning to margins, Input Costs continued to rise sharply, with some panellists noting higher fuel prices while others mentioned increased staffing costs. Firms were able to pass on at least a portion of this pressure to end-customers, although we note that the rate of inflation in Charges has moderated to a 19 month low. In any event, stronger volumes helped to deliver the fastest pace of expansion in the Profitability index since the three months to end-August of last year. While the forward-looking Confidence index rose at a slower pace last month, Irish services firms remain very upbeat, with the index remaining above the series average. Around eight times as many respondents predict a rise in activity over the coming year as against those who anticipate a decline, while data for the components of the services sector that are covered by this report (Business Services, Financial Services, TMT and Travel & Leisure) signal the breadth of optimism, with all four areas recording above-50 readings for a 72nd successive month. Taken together with last Friday's Investec Manufacturing PMI (where the headline index improved to a three-month high), the May PMI reports suggest that growth in activity across much of the private sector in Ireland has rebounded after the weather inspired softness that was seen in Q1 2018.


GRN/HBRN: IDA to move to new global HQ in Hatch Street


According to a report in today's Irish Times, the State agency responsible for attracting foreign direct investment, IDA Ireland, is to relocate its head office to the new Three Park Place building on Hatch Street in Dublin 2 (the CBD). This new lease ends IDA's 35 year association with the nearby Wilton Park House, which is likely to be redeveloped as part of a 600,000 sq ft office development by IPUT. IDA Ireland will be joined by two other State bodies (Science Foundation Ireland and the Sustainable Energy Authority) in the new 170,000 sq ft nine storey development by Clancourt Group. Reflecting the underlying dynamics in the Dublin office market, IDA Ireland has agreed a rent of €60 psf under a 25 year lease with 10 years term certain.
 
Economic releases


09.10 EC Markit Eurozone Retail PMI

10.00 EC ECB's Knot speaking

12.00 US MBA Mortgage Applications

13.30 US Trade Balance

14.30 EC ECB's Hakkarainen speaks

16.00 UK BoE's McCafferty speaks